Center Parcs Sherwood Forest Day Three
We had pre-booked the woodland awakening walk to start our day and had thus cycled back to the country club by 7 am! Now I'm not used to a great deal of physical exercise (I've been tied to a desk for the last 4 years) so my cold muscles were pretty painful by this point!
The walk, led by a ranger called Craig, took us out of the Center Parcs site into what I suppose is the bulk of Sherwood Forest. This was a nice surprise, as the Center Parcs site can at times feel a little claustrophobic, it was good to get out and see the forest in a less artificial setting. We were reliably informed that there is a path leading to the rest of Sherwood close to the site entrance so you can take advantage of Sherwood's walking and cycling paths whenever you like.

Sadly we didn't see much (any) wildlife, probably because it was this misty ...


But our ranger was knowledgeable (who knew squirrels make screaming noises?!) and successfully passed the time with discussions of the various plants, fungi and trees we passed along the way. At that time of the morning, the forest was very tranquil, I woke up along the way and enjoyed the surrounding scenery.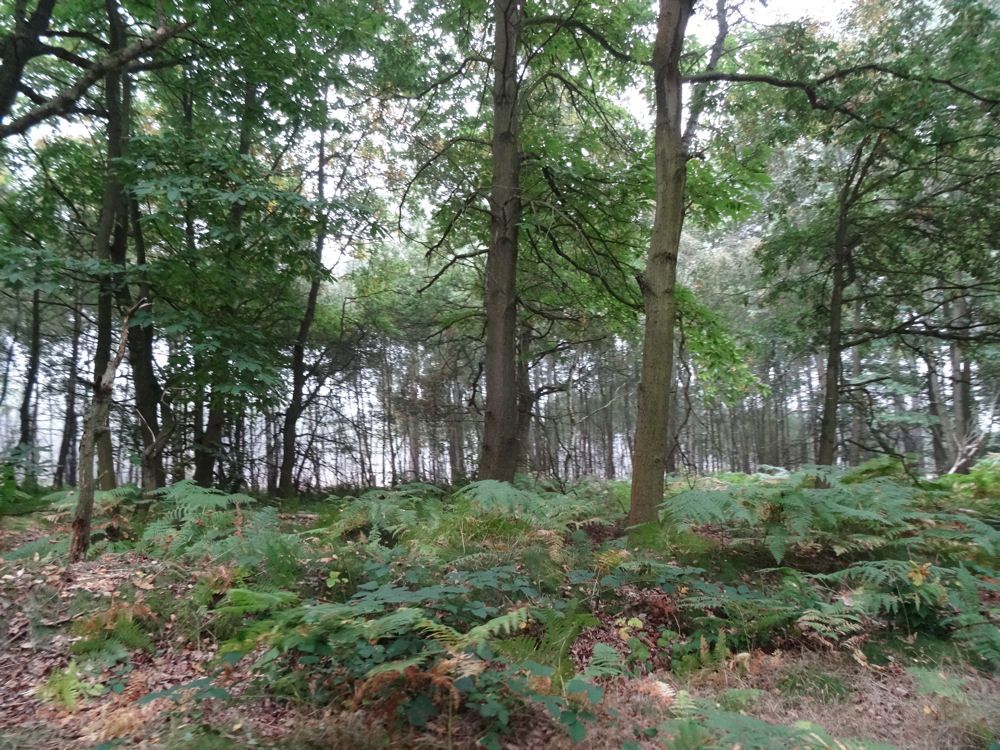 Included in the price of the activity is breakfast with your fellow walkers, on return to the country club, at the Forester's Inn. I thought this would just be a spread of say toast of croissants, but we were able to choose between a bacon, sausage or egg roll and our choice of orange juice, tea or coffee (I opted for sausage and orange juice ... both great) ... the activity was great value for money and I would definitely do it again if I return to Sherwood as you're guaranteed a unique experience every time - even if having to mingle with the other walkers (strangers) over breakfast was a tad awkward!
We then cycled back to our lodge (for a nap!), followed by coffee in Starbucks at the still deserted sports centre. Lawn bowls is something my dad has always wanted to try, so we gave it a go, but we were hopeless. I mean, thank goodness we were the only people on the rink (?) because our bowls were going all over the place, I think we managed to throw them in every direction other than straight! Needless to say, we scarpered as soon as others turned up for their booking (they looked like pros!).
The pancake house provided a perfect 'lunch' to follow our late breakfast, we both opted for sweet pancakes and ended up sharing the caramel crunch and banoffee offerings. Both were delicious, and although the service was slow, sitting eating pancakes overlooking the lake is a must whenever one visits Center Parcs!
The afternoon brought another cycle back to the country club, this time to try our hand at the driving range ... my dad is a seasoned golfer (I can't remember the last time he went a week without picking up a club) and after failed attempts at getting me to play during my childhood (think anger to the point that I threw my club and stormed off the course) ... I decided it was time to have another go! We were given an additional ball token for free from a member of staff we had crossed paths with earlier in the day (thank you!) ... and by the time we had finished (aka by the time I'd actually hit a ball) I was really quite enjoying it. We've decided I should give it another go once we're home!
Again, we spent the early evening playing badminton in the still empty sports centre and opted for dinner at Cafe Rouge - again we had booked but needn't have bothered, the food was ok, not great, but the service was friendly.
Day four highlights to follow tomorrow ...