This blog post takes you round some of the most iconic sets from the first half of the Studio Tour ... I'm talking: The Great Hall, Gryffindor Dorm and Common Room, Dumbledore's Office, The Potions Dungeon, The Burrow, Hagrid's Hut and the Ministry of Magic!
Here are the links to my other posts on the Studio Tour:
#2 Harry Potter Studio Tour - Iconic Sets (This post!)
Harry Potter Studio Tour Great Hall
The Great Hall is the only other part of the tour that is guided and thus time limited. To be honest, I always seem to ignore what the guide is saying in favour of taking in the surroundings at my own pace. It's a lot smaller than I'd imagined but contains some great detail!
The main teachers are located at the far end of the Hall:
Dumbledore at his lectern.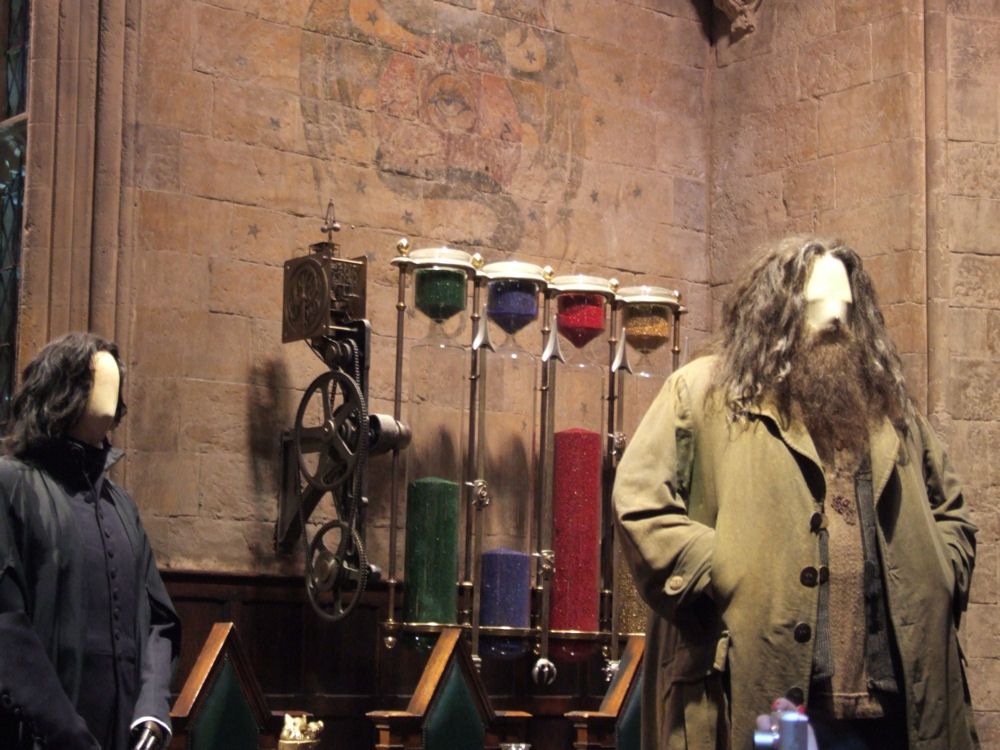 Professor Snape and Hagrid.
In the last two pictures, you can see the house points system, one of my favourite props, I really wish my school had had something similar. Question though, as a Ravenclaw through and through - why are we losing?!?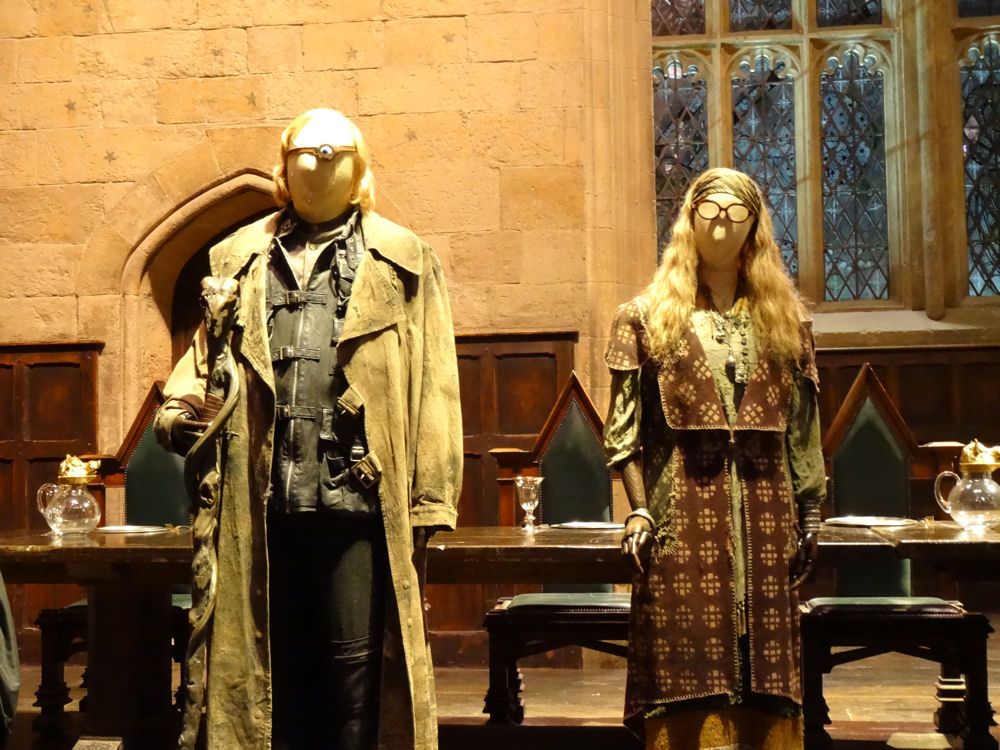 Mad Eye Moody and Professor Trelawney.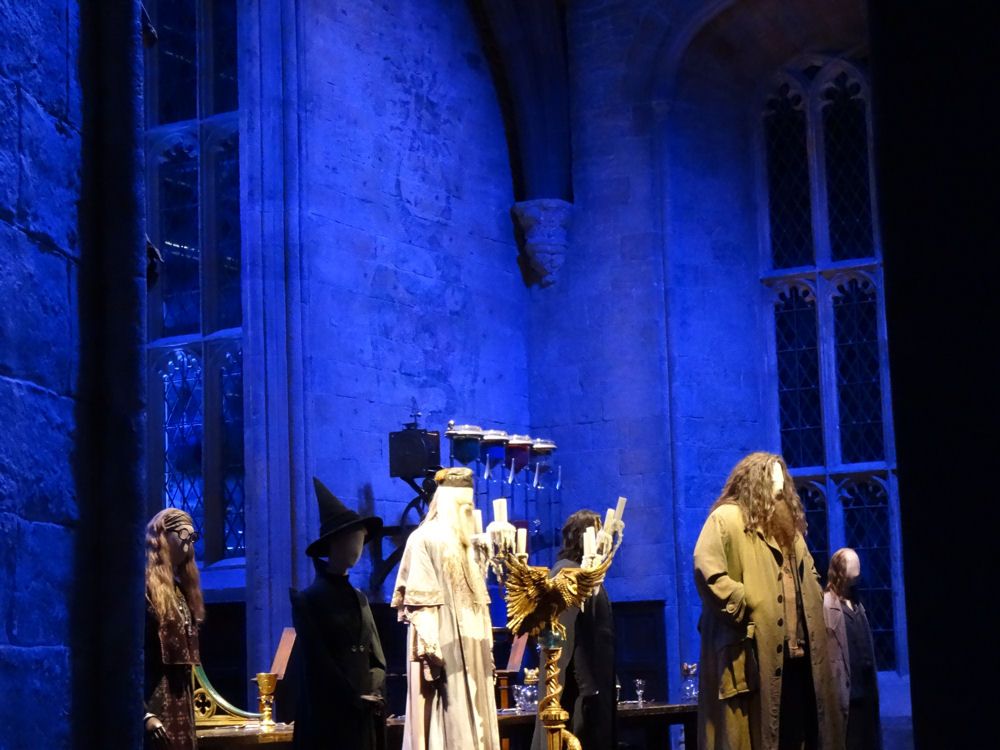 Trelawney, McGonagall, Dumbledore, Snape, Hagrid & Filch.
Along the sides of the hall are two of the long dining tables dressed with goblets, plates and cutlery and various costumes of characters from each of the houses. I also really like the house themed lanterns that line the walls and the Hogwarts & house crests above the fireplace.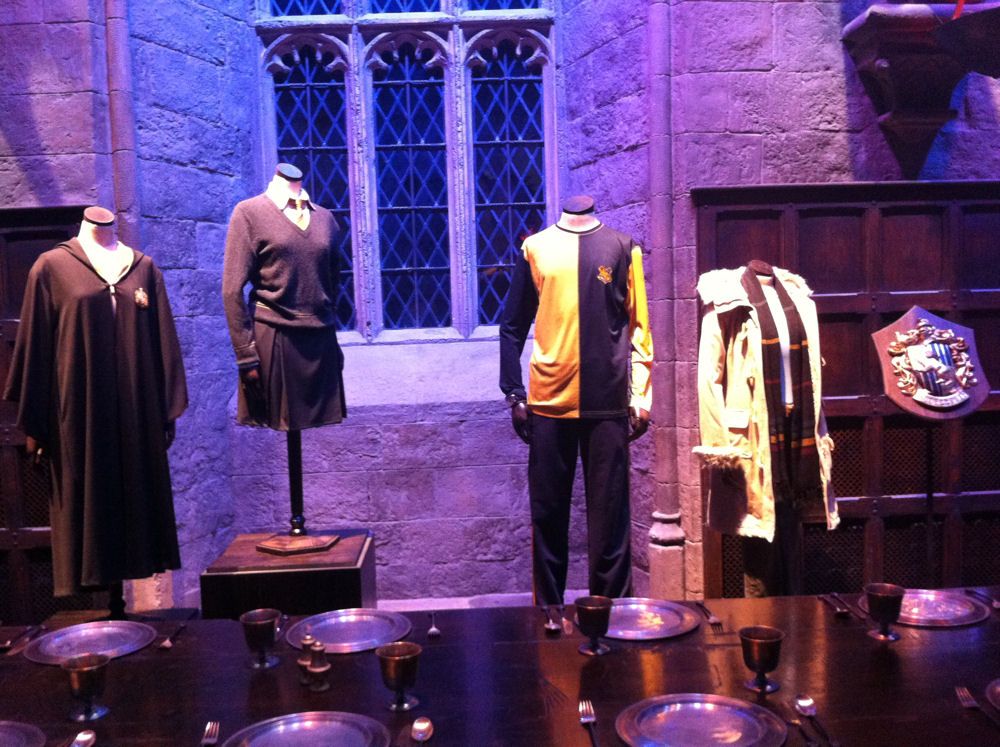 Hufflepuff students including Cedric Diggory.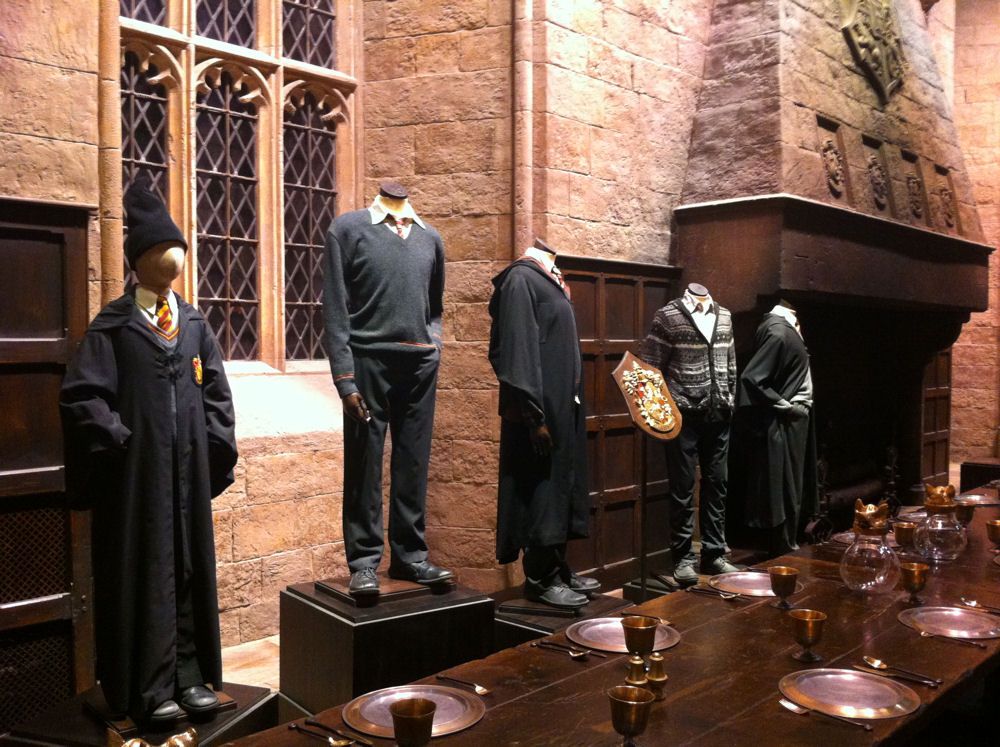 Gryffindor students including baby Harry and 7th Year Neville.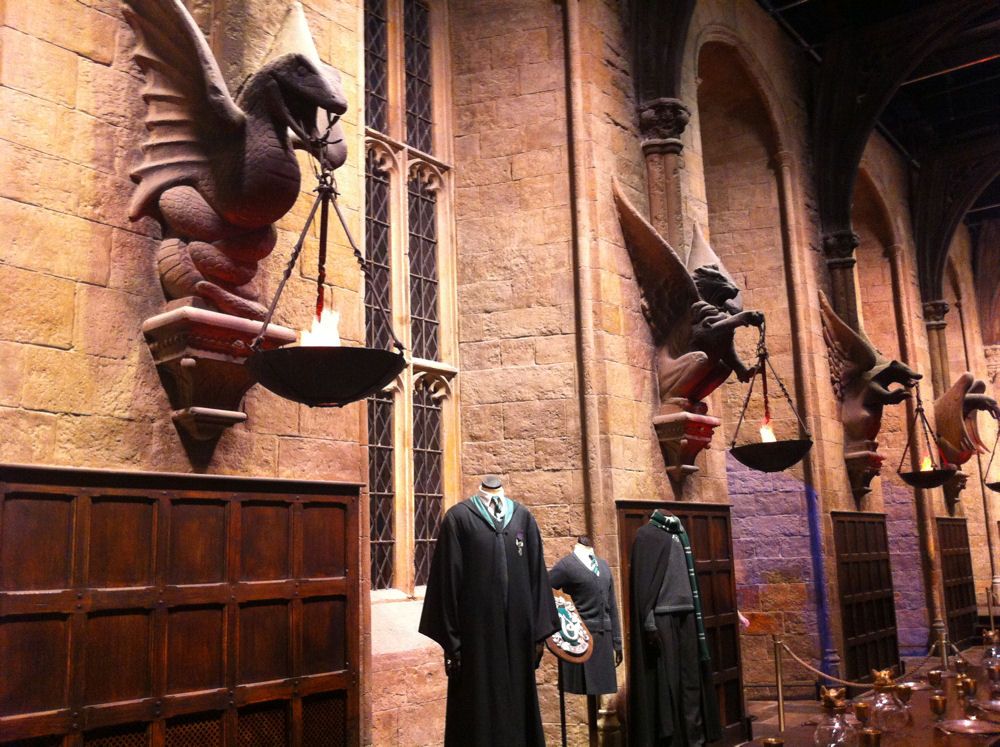 Slytherin students.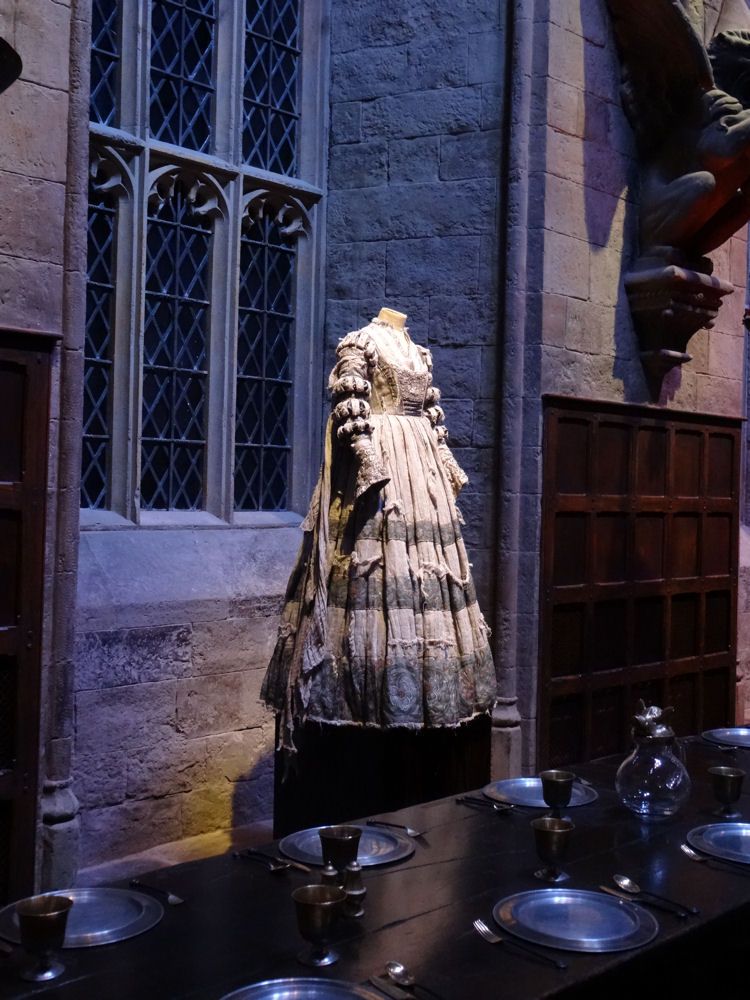 The Grey Lady.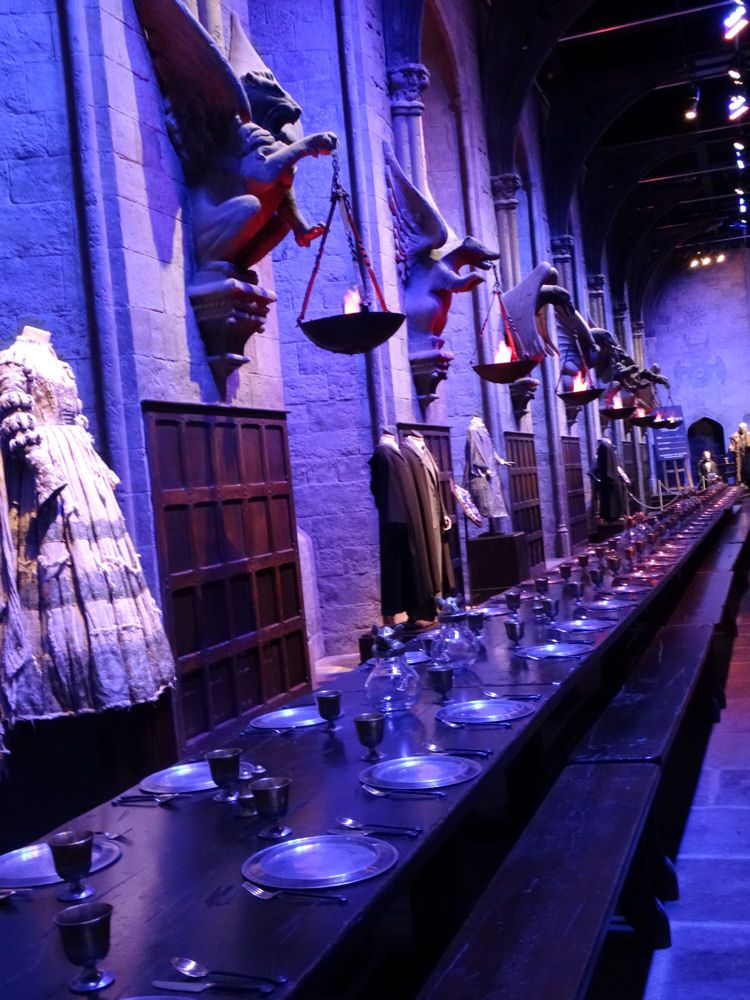 Great Hall table, lanterns and Ravenclaw students.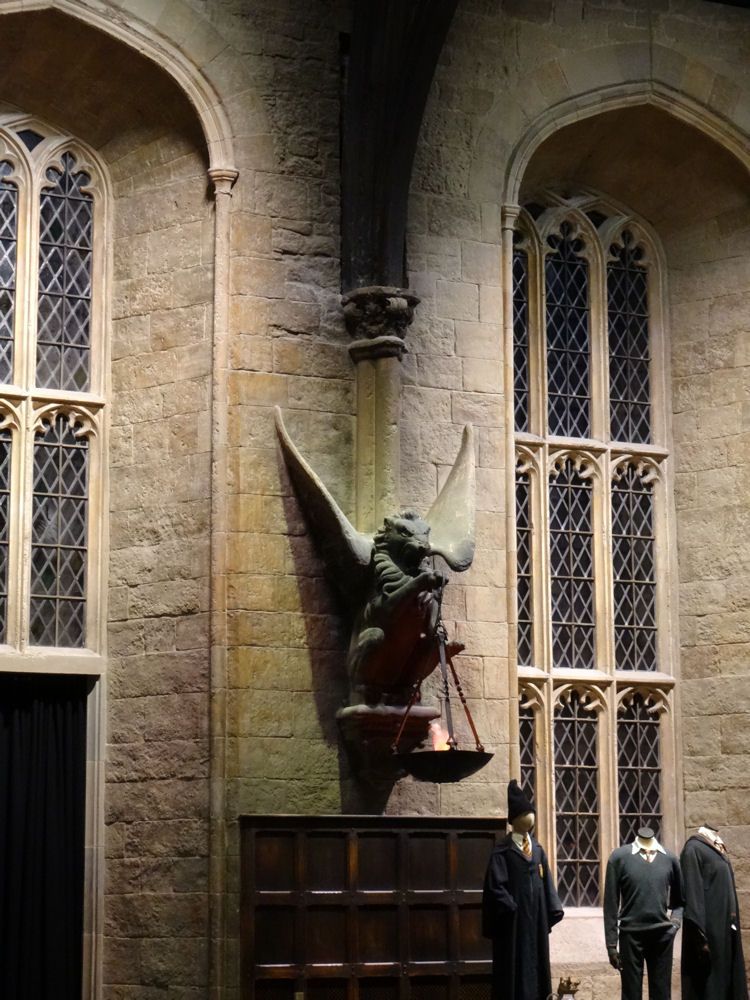 Harry over time.
During my third visit to the tour, there was a 'Back to School' exhibition on. Part of the Great Hall was dressed to replicate the O.W.L. exams that the students sit in their 5th year at Hogwarts ... I have to say, I was slightly disappointed that Fred and George didn't fly in on their brooms!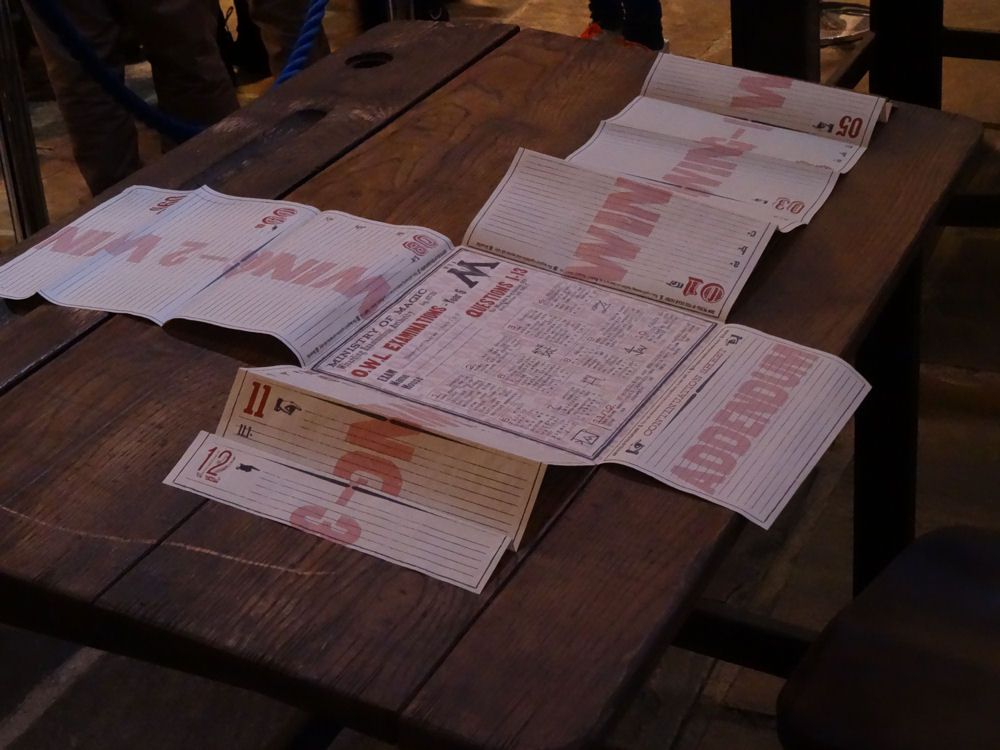 Exam table with O.W.L. exam.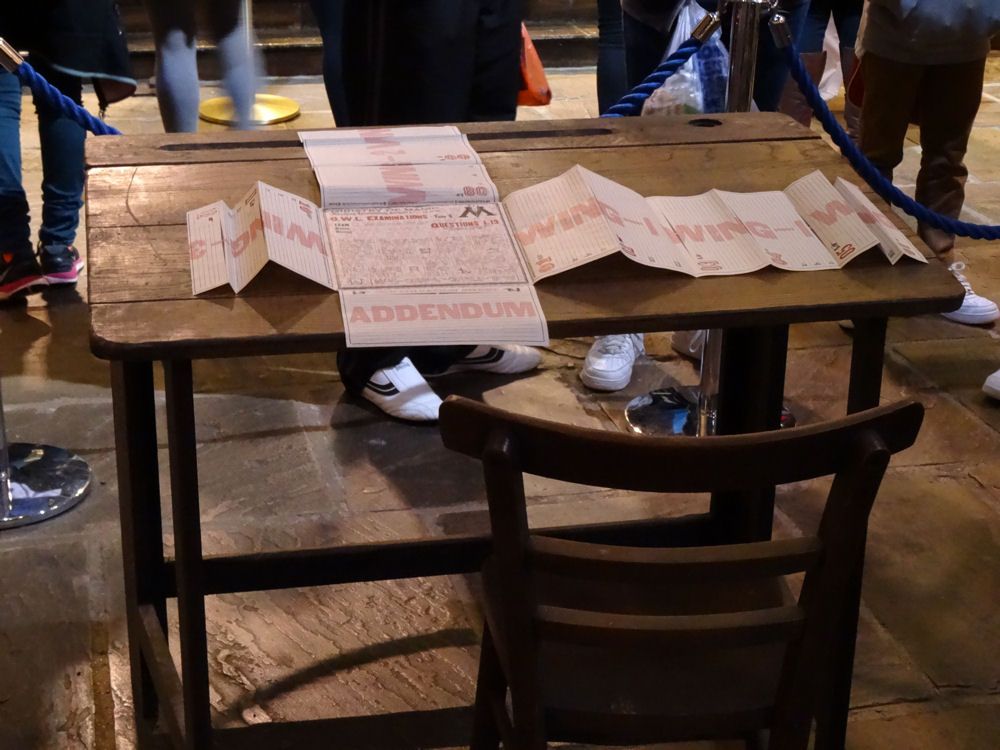 Exam table with O.W.L. exam.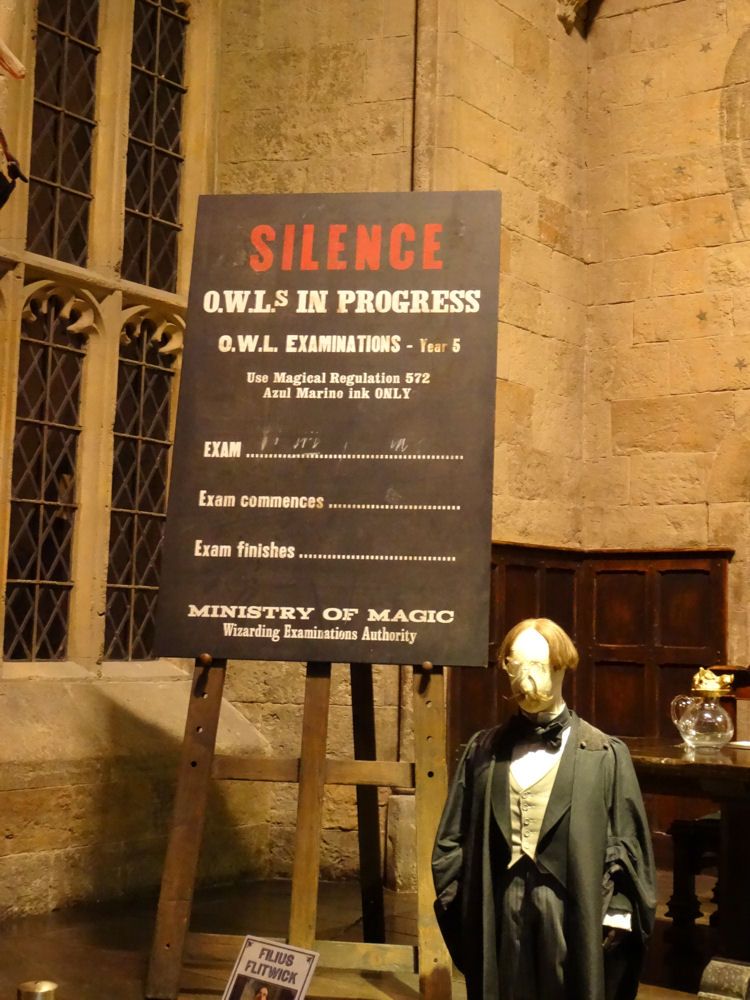 Professor Flitwick & O.W.L. in progress board.
Harry Potter Studio Tour Gryffindor Dorm
Again this set was tiny, like tiny, the beds were literally made for 10-year-olds!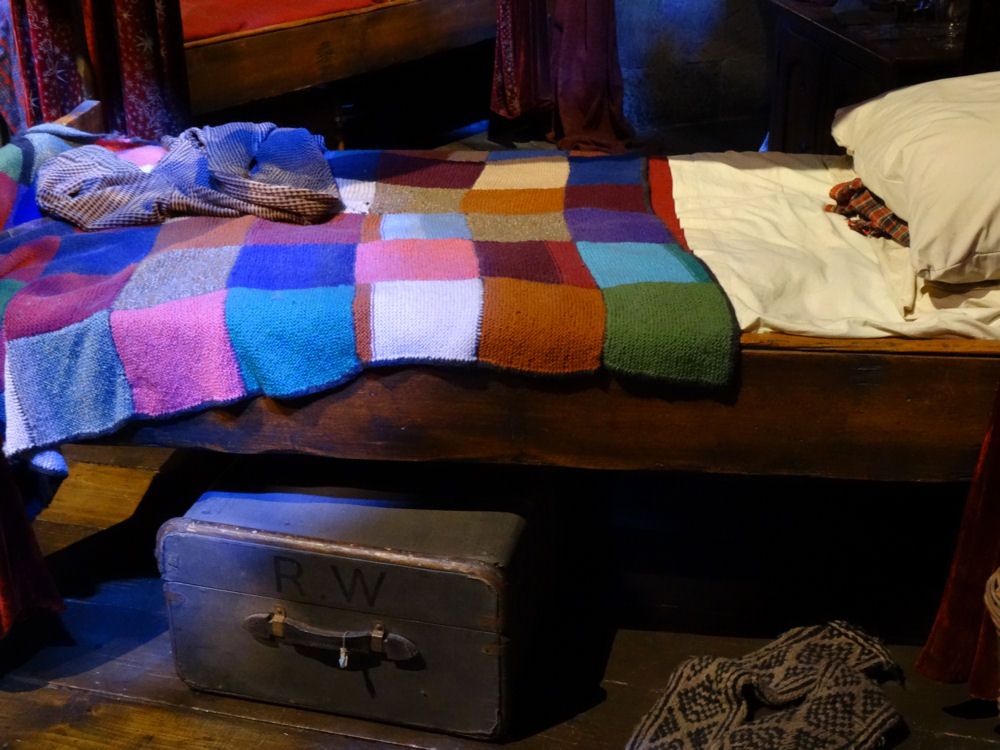 Ron's Bed & trunk.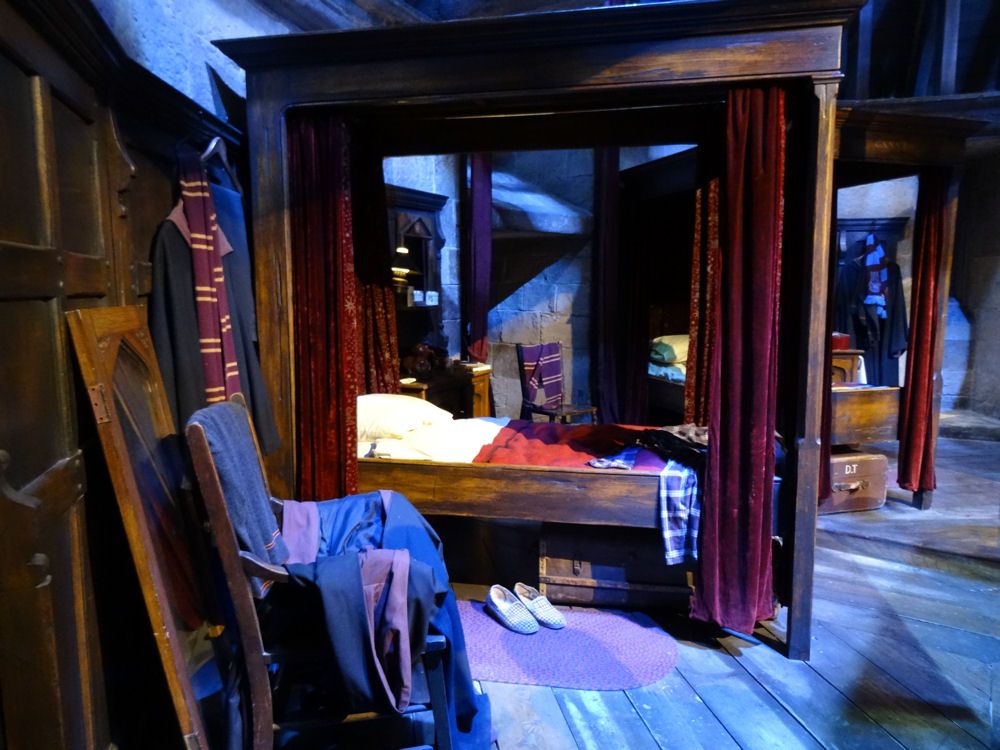 Gryffindor Boy's Dormitory.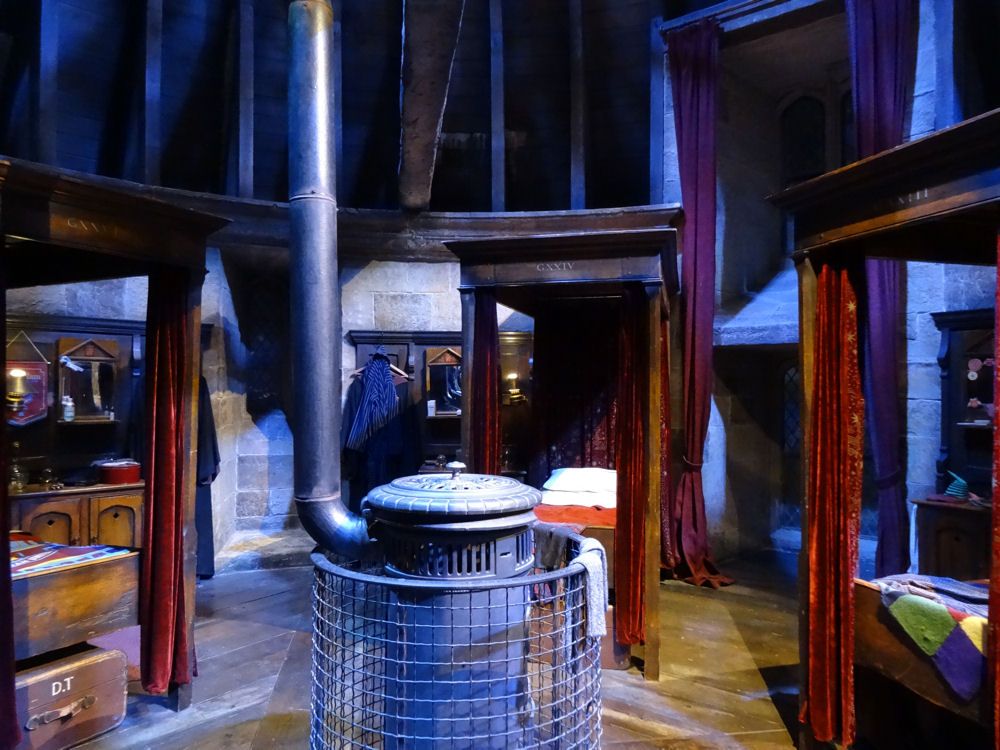 Gryffindor Boy's Dormitory.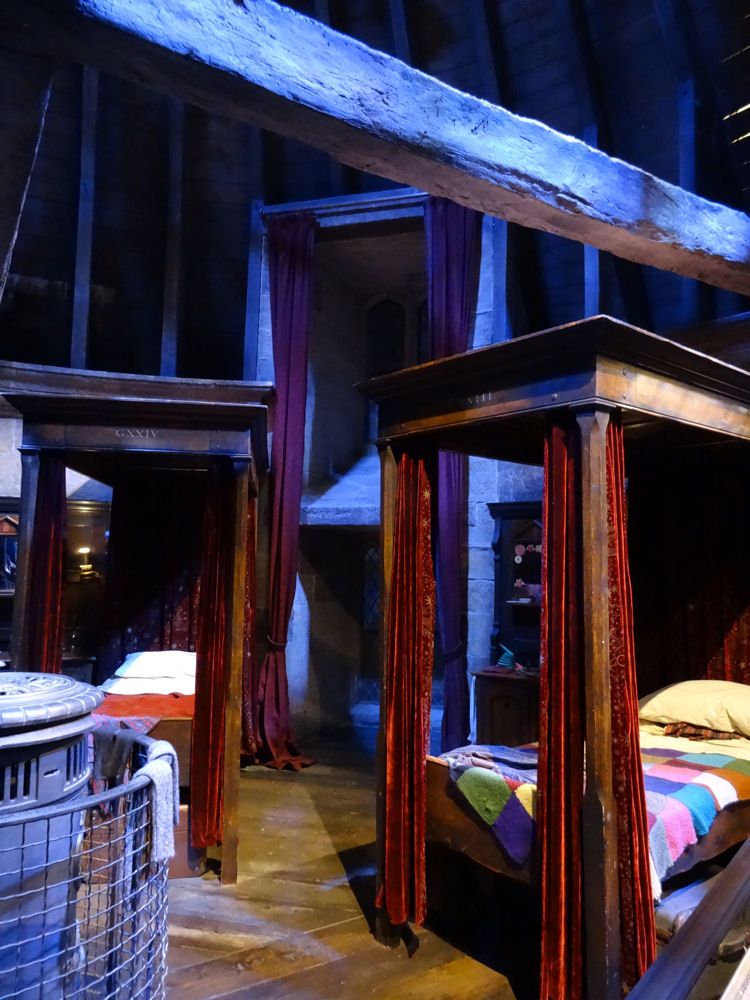 Gryffindor Boy's Dormitory.
Harry Potter Studio Tour Gryffindor Common Room
I think this was probably the set I wanted to jump right into, it looked so cosy, so homely ... I felt like I'd been there before!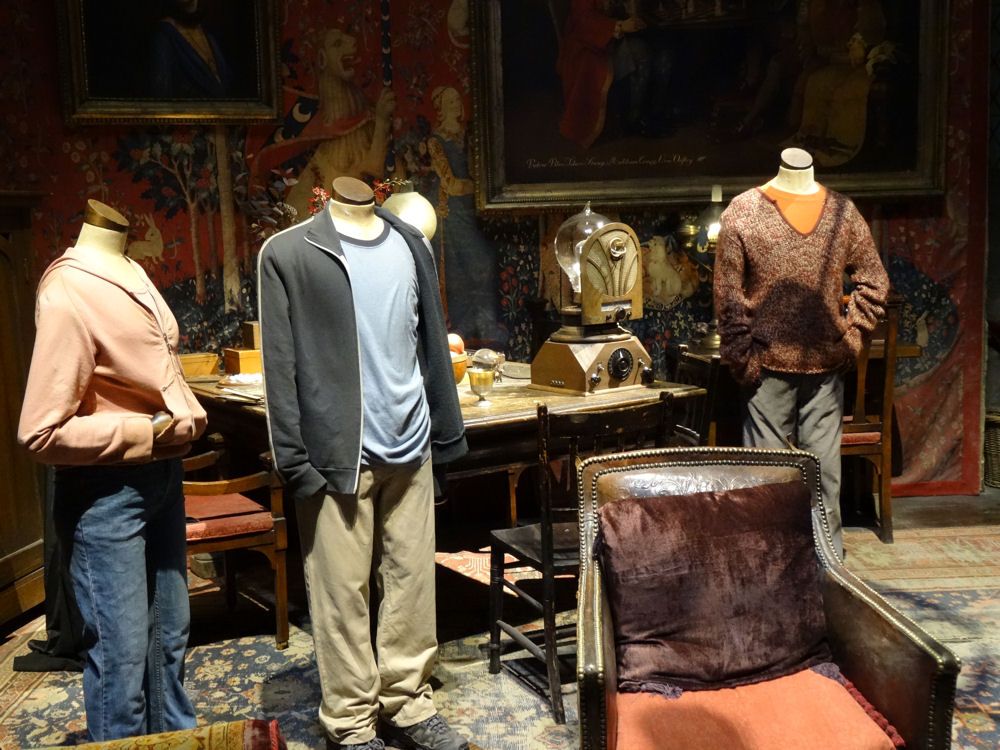 Hermione, Harry & Ron.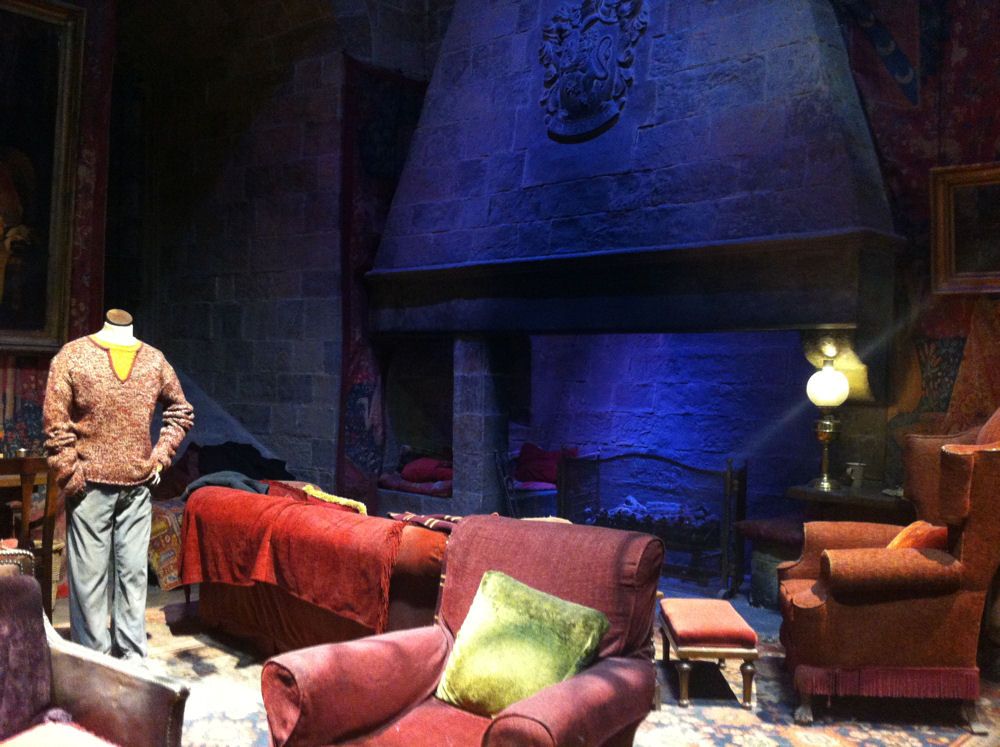 Gryffindor fireplace.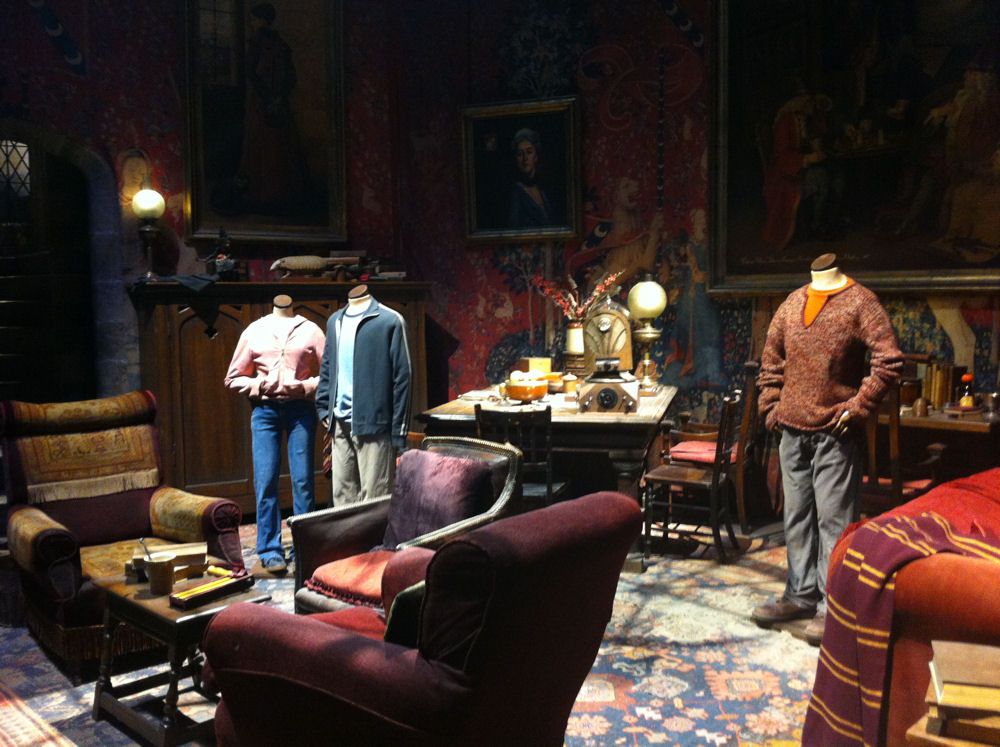 Gryffindor common room & entrance to dorms.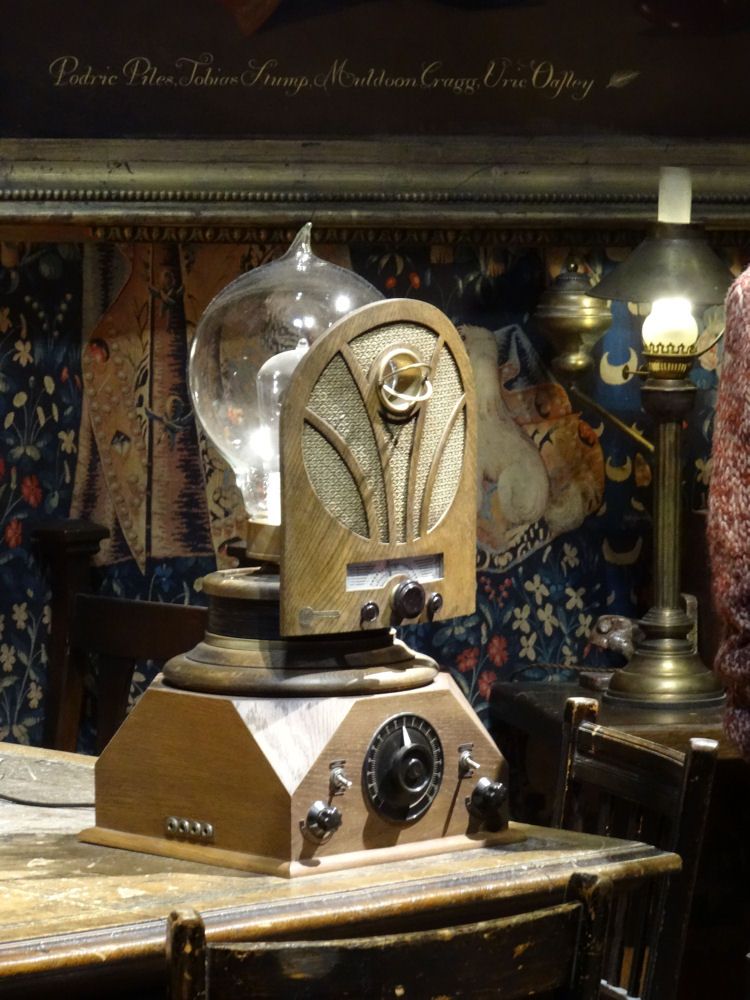 Radio.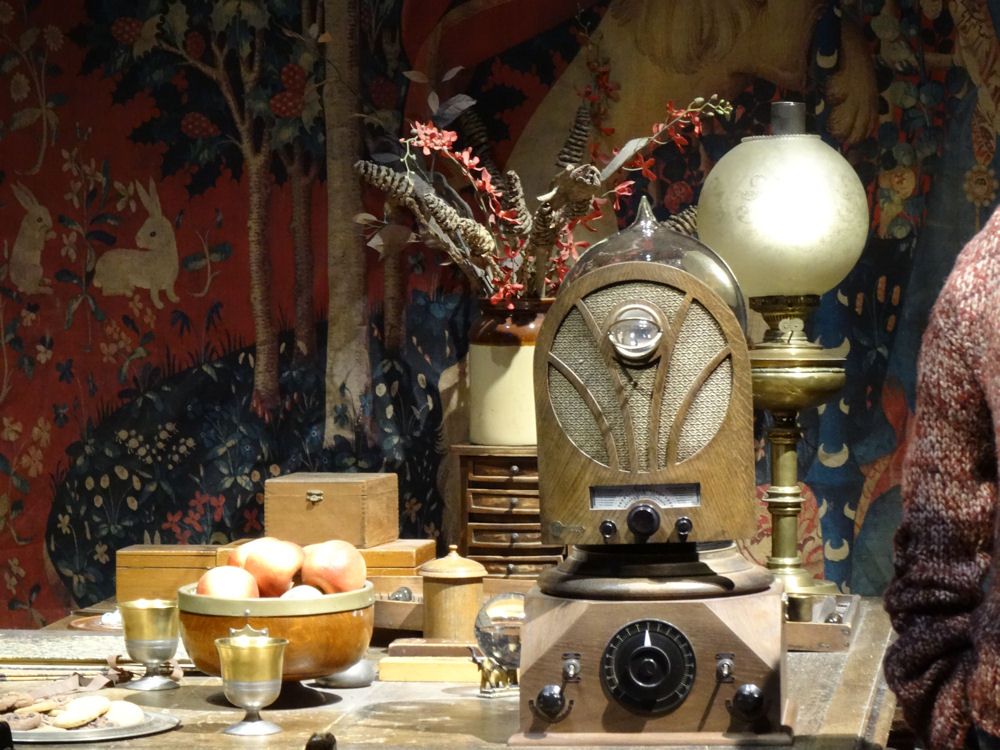 Common room table.
For the 'Back to School' exhibition, we were shown a comic strip designed by the graphics department that sits on the table in the common room ... just one of the many intricate details you would never have seen on screen!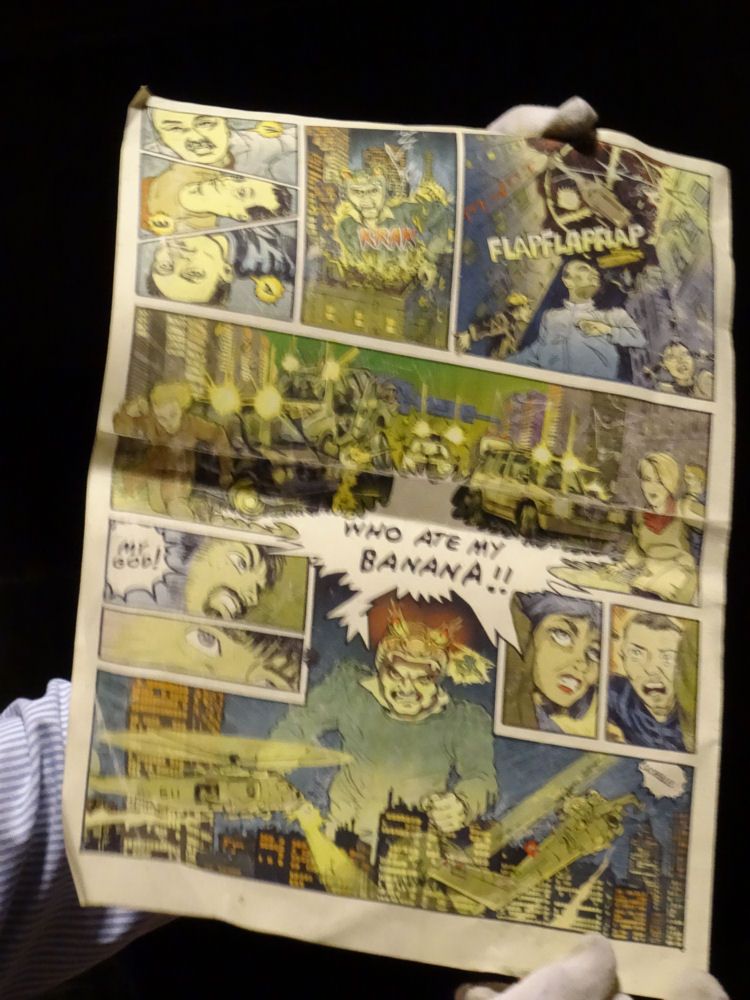 Inside comic strip.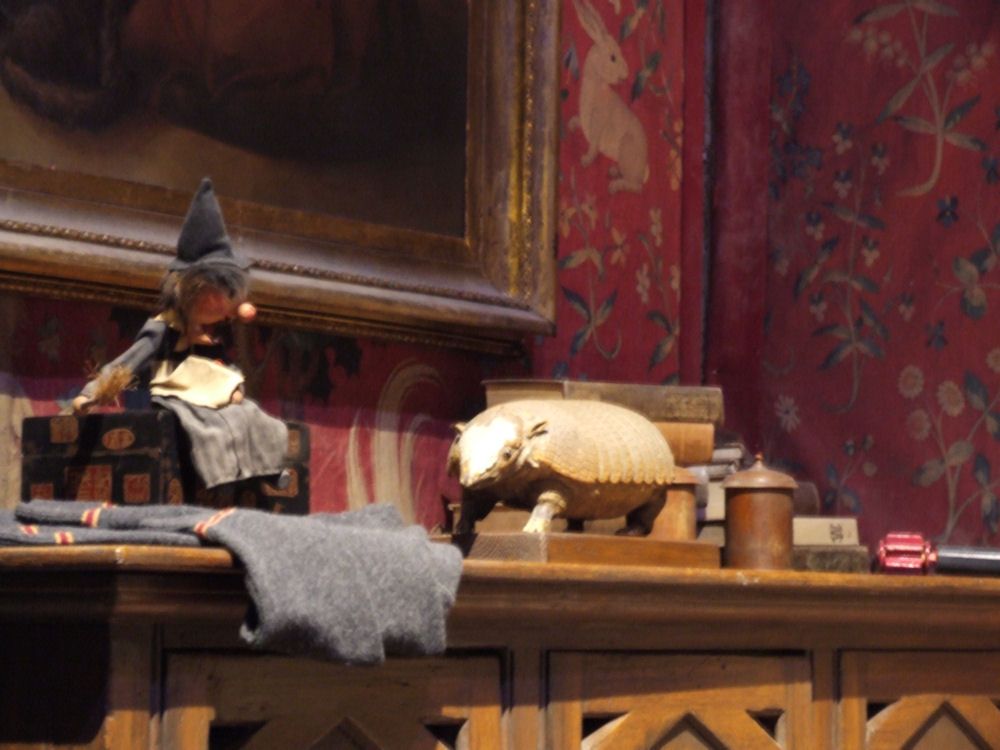 Common room trinkets.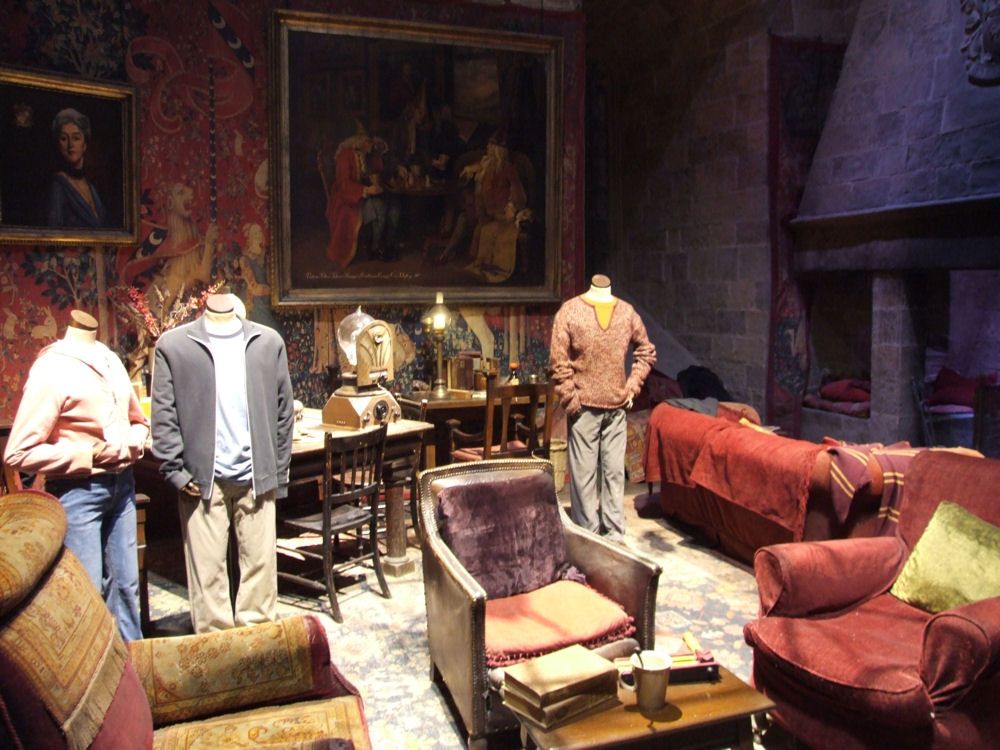 Common room sofas.
Harry Potter Studio Tour Dumbledore's Office
The entrance to Dumbledore's office is guarded by this stunning statue ... now, thankfully you don't need to stand there thinking up the names of all the old school sweets you can remember ... the actual entrance to Dumbledore's office is just next door!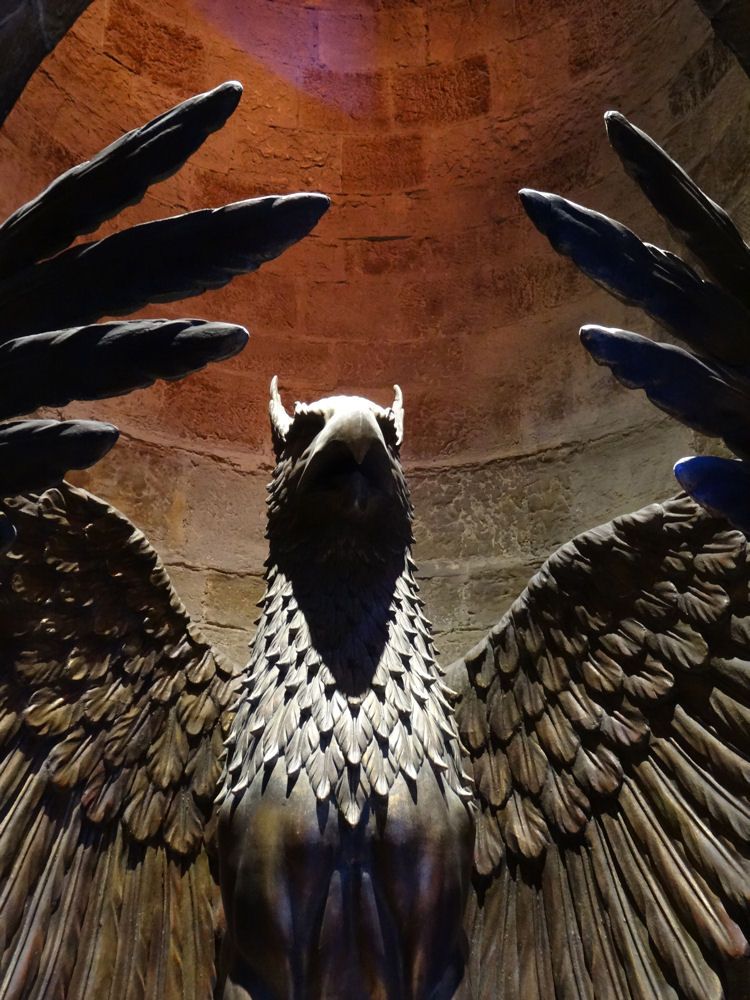 Entrance to Dumbledore's office.
Inside is wonderful, books, books, random magical objects, more books, a telescope, books, the Pensieve ...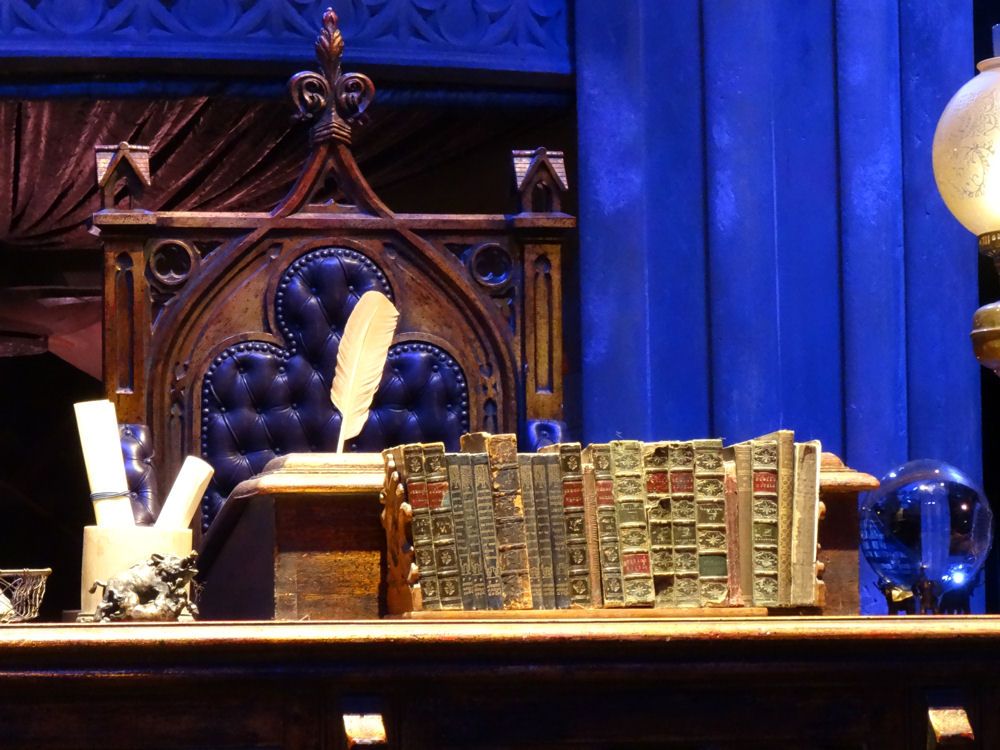 Dumbledore's desk.
Again, make sure you look up down and all around ...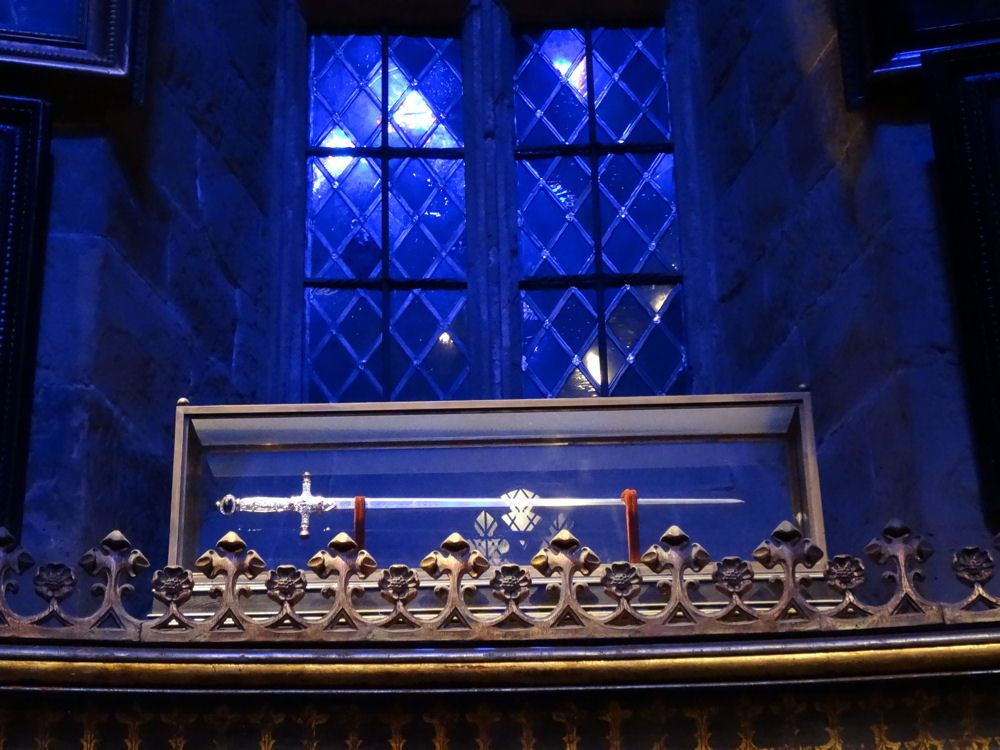 The Sword of Gryffindor.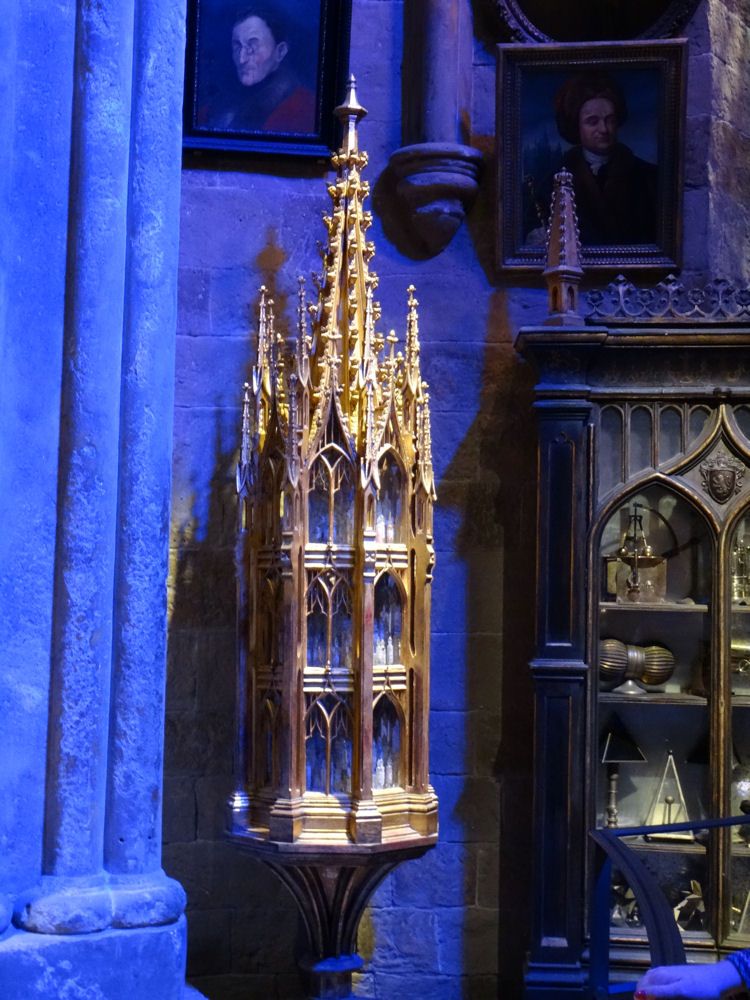 Cabinet of memory vials.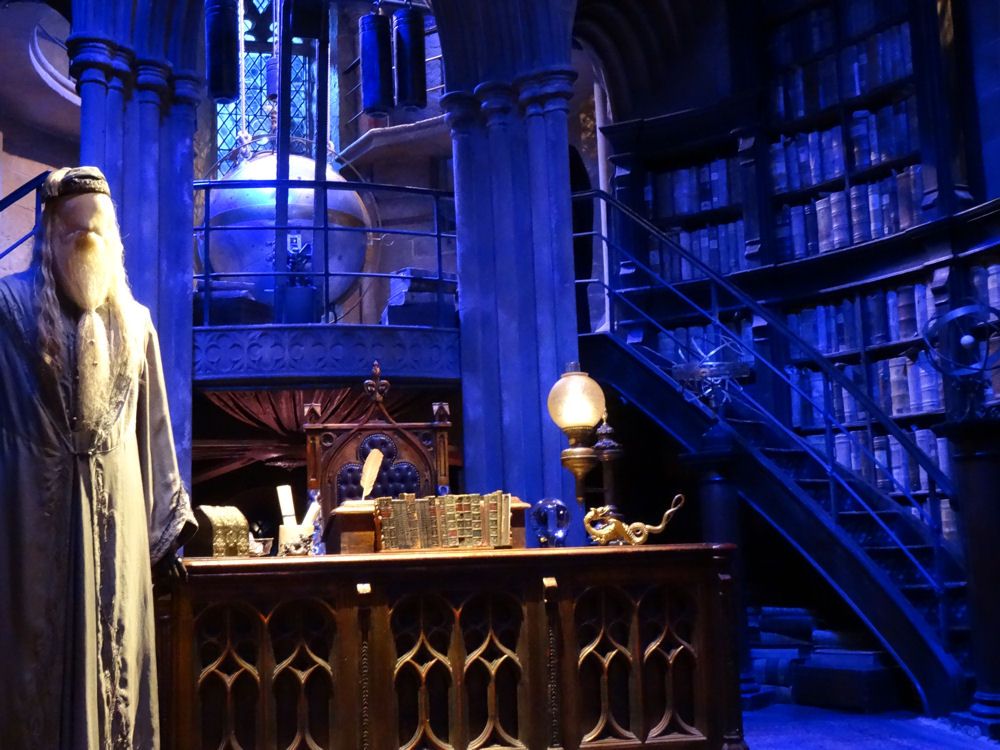 Dumbledore in his office.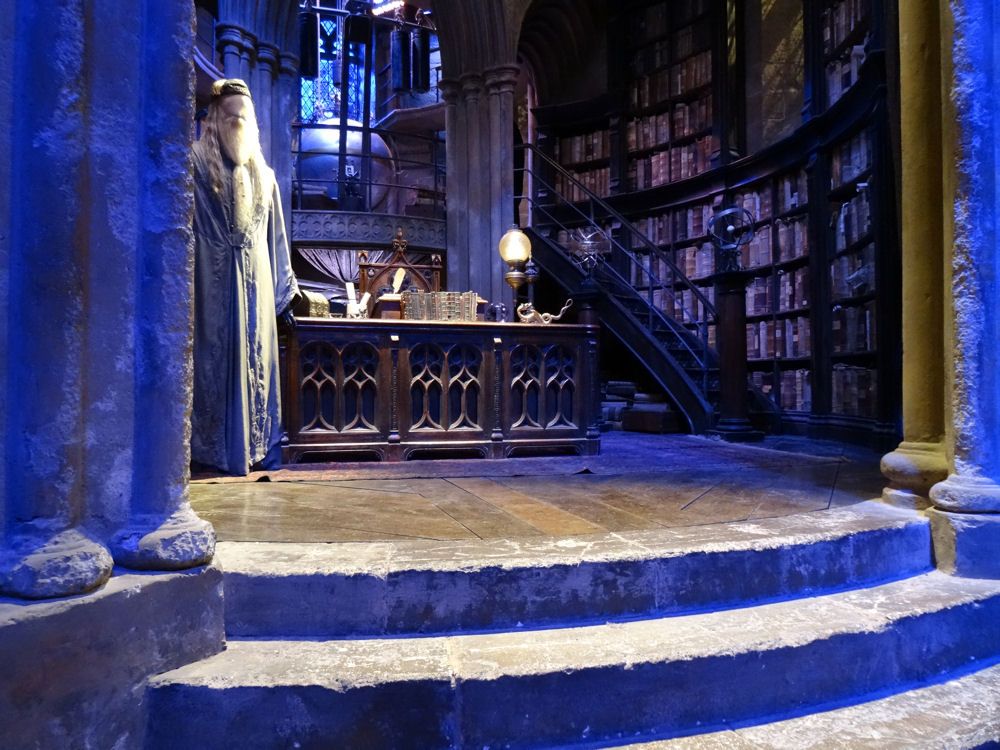 View from the steps.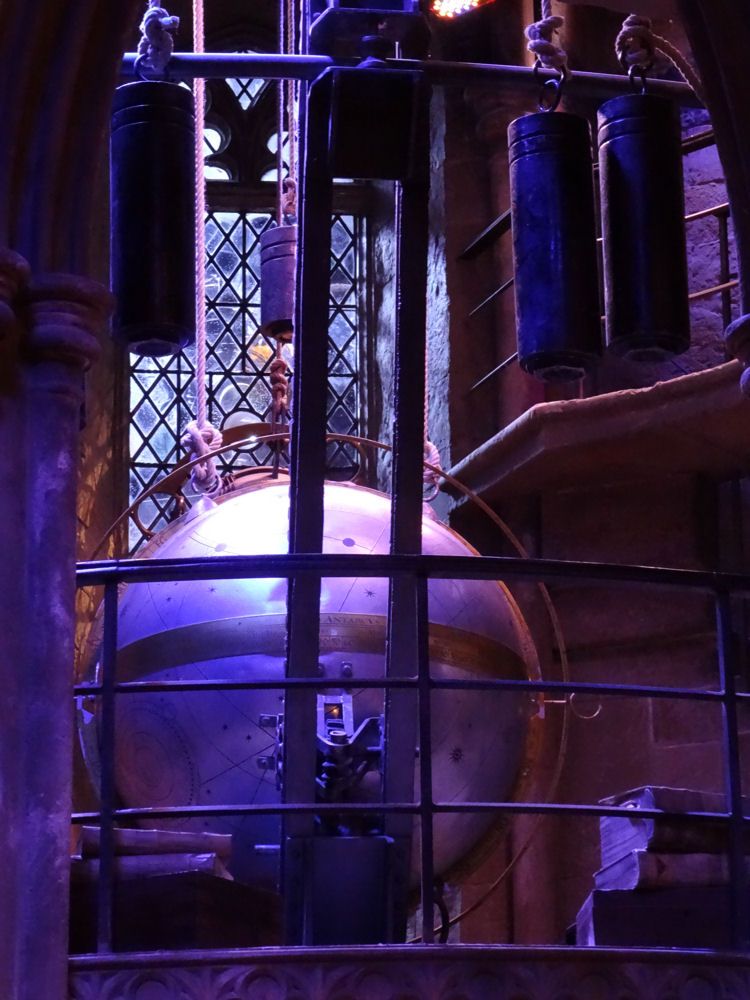 Back of the telescope.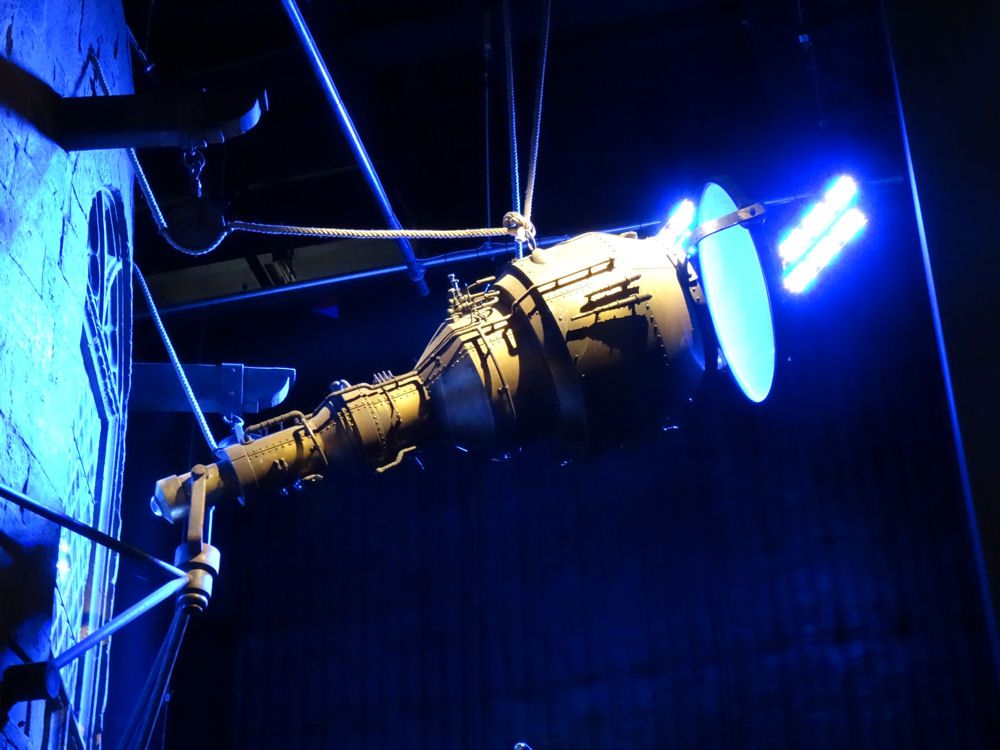 Telescope exterior.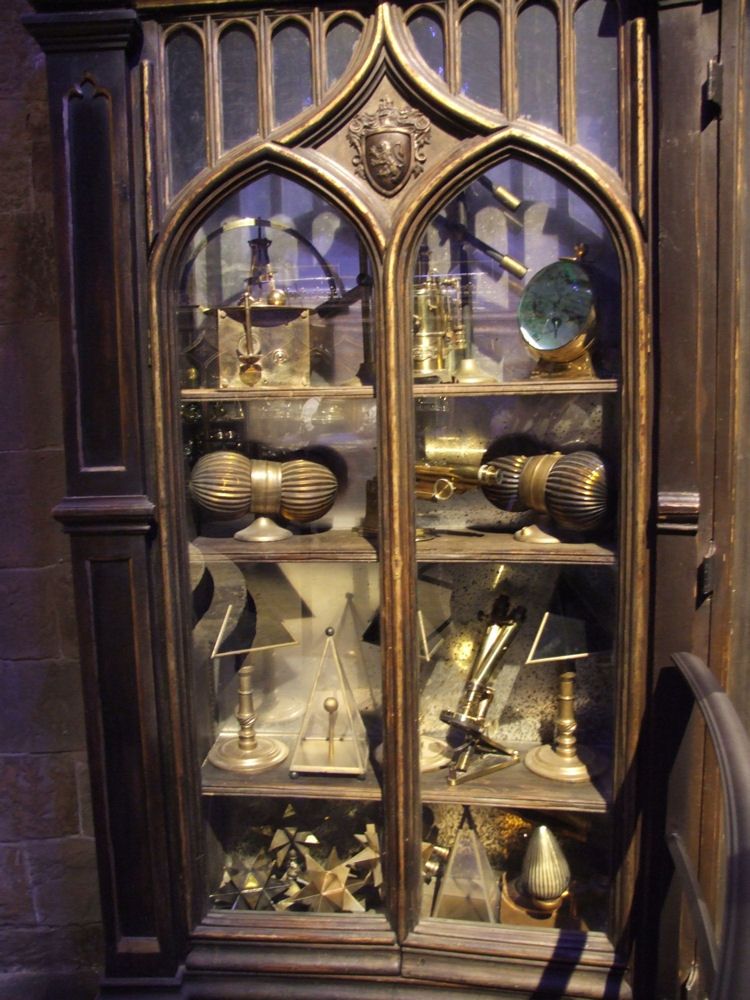 Cabinet of bizarre magical trinkets!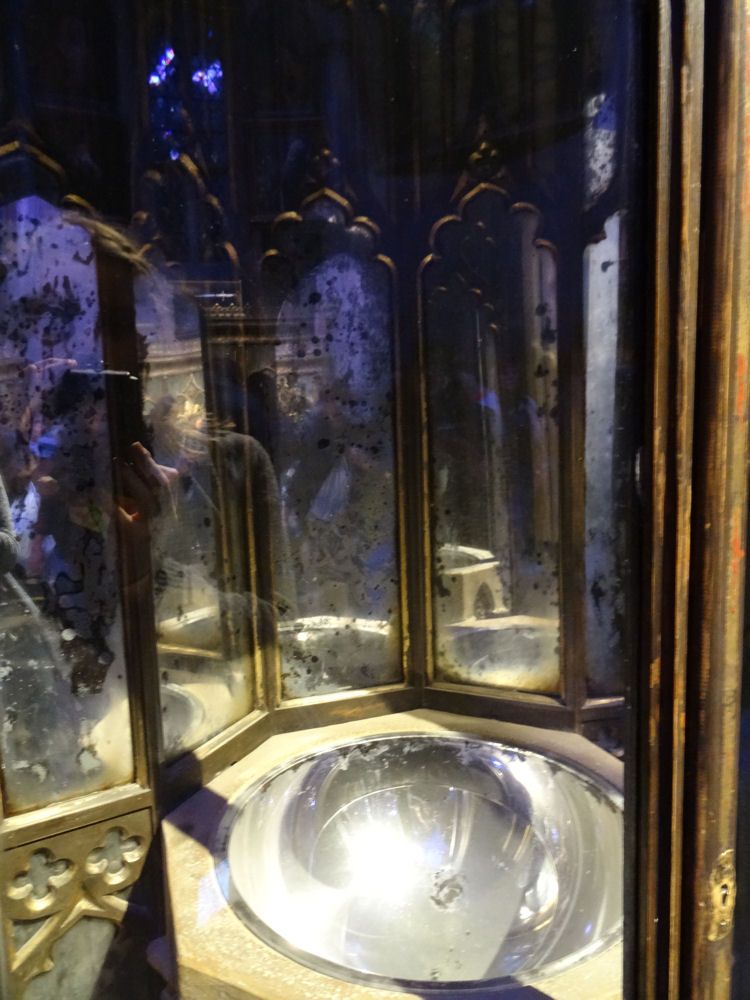 The Pensieve.
Harry Potter Studio Tour Potions Dungeon
This set was full of nice little details, it was almost tantalising ... you're gawping at all of the equipment, jars of ingredients, books, cauldrons and it all seems so real, things even are moving, then you take a step back and there is a horrible realisation that it's not ... maybe a bad thing, but at least for that moment, it IS somehow real.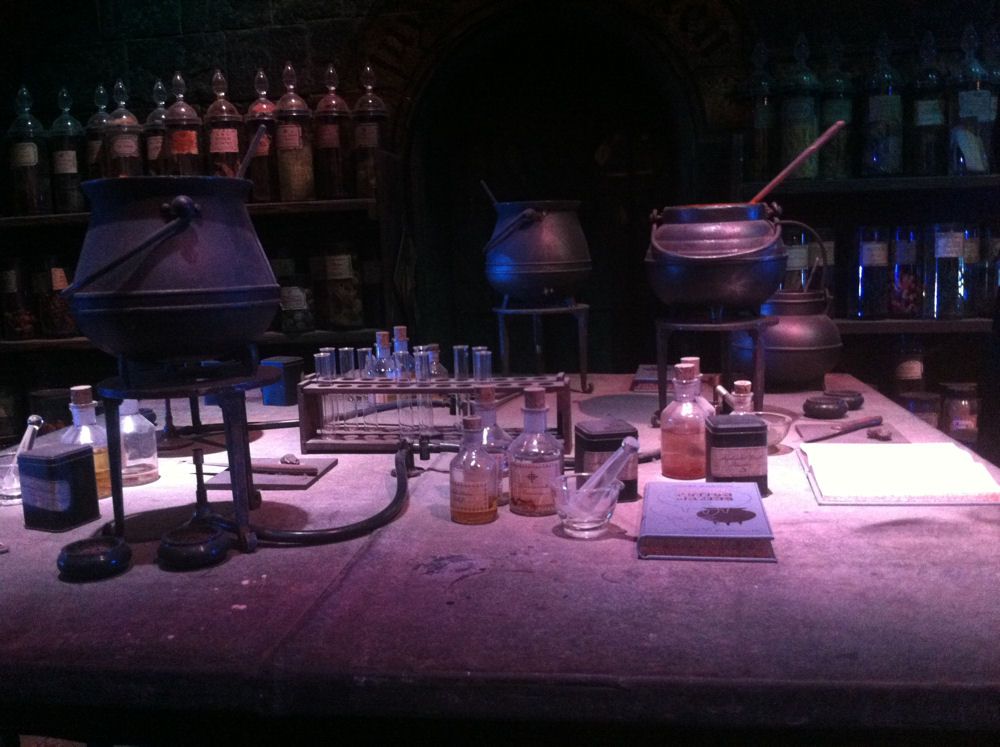 Potions desk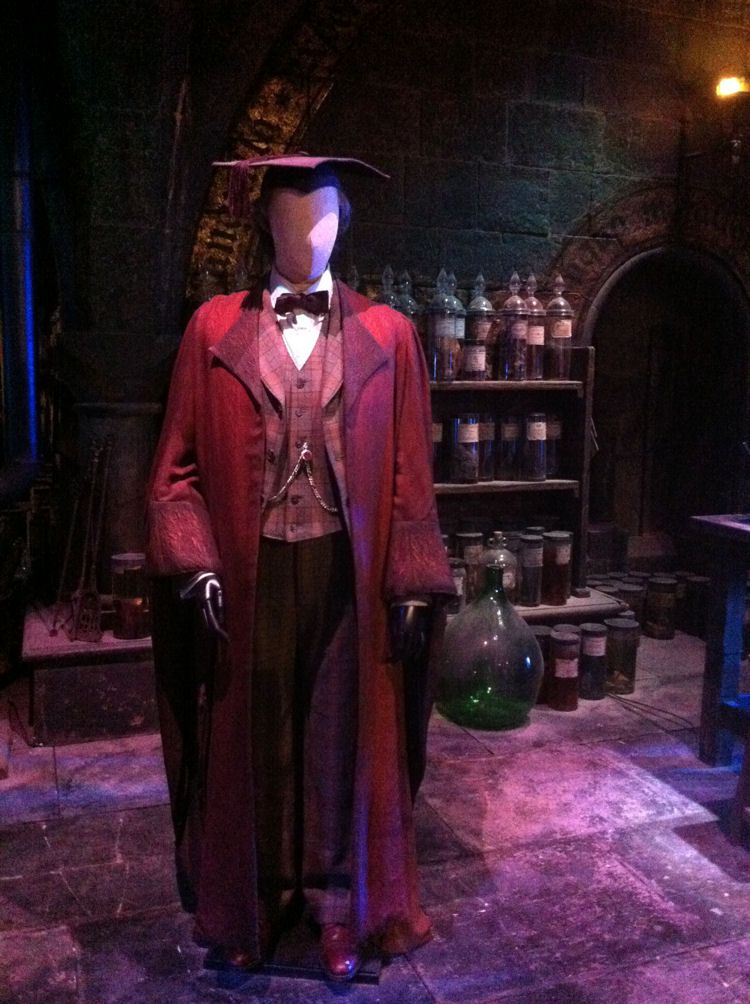 Professor Slughorn.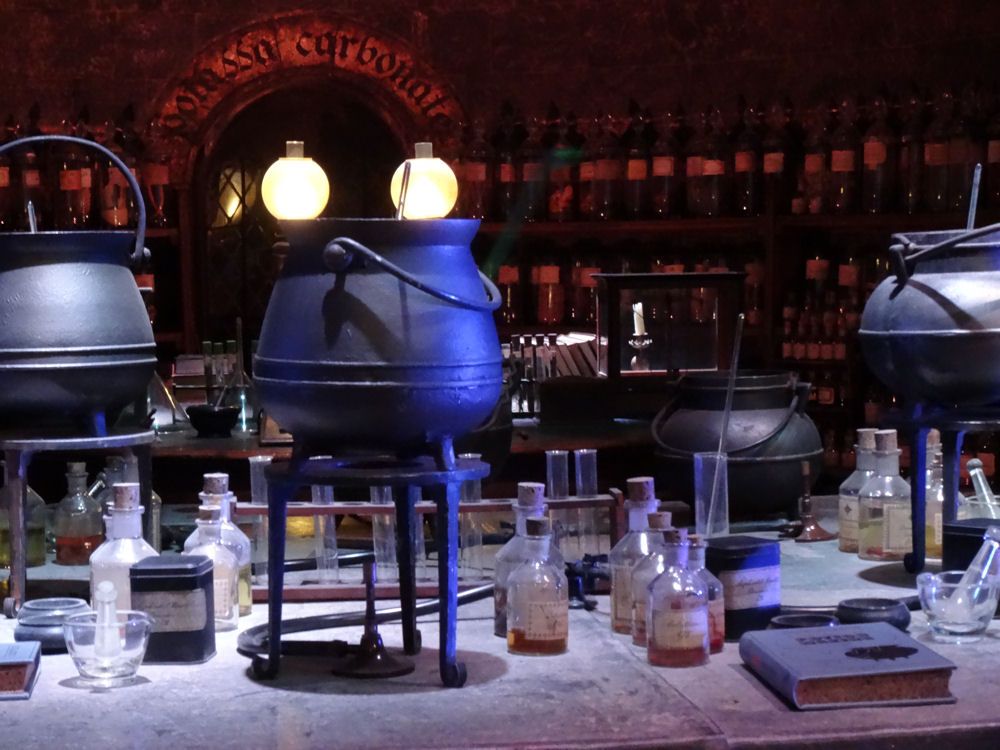 Potions Equipment.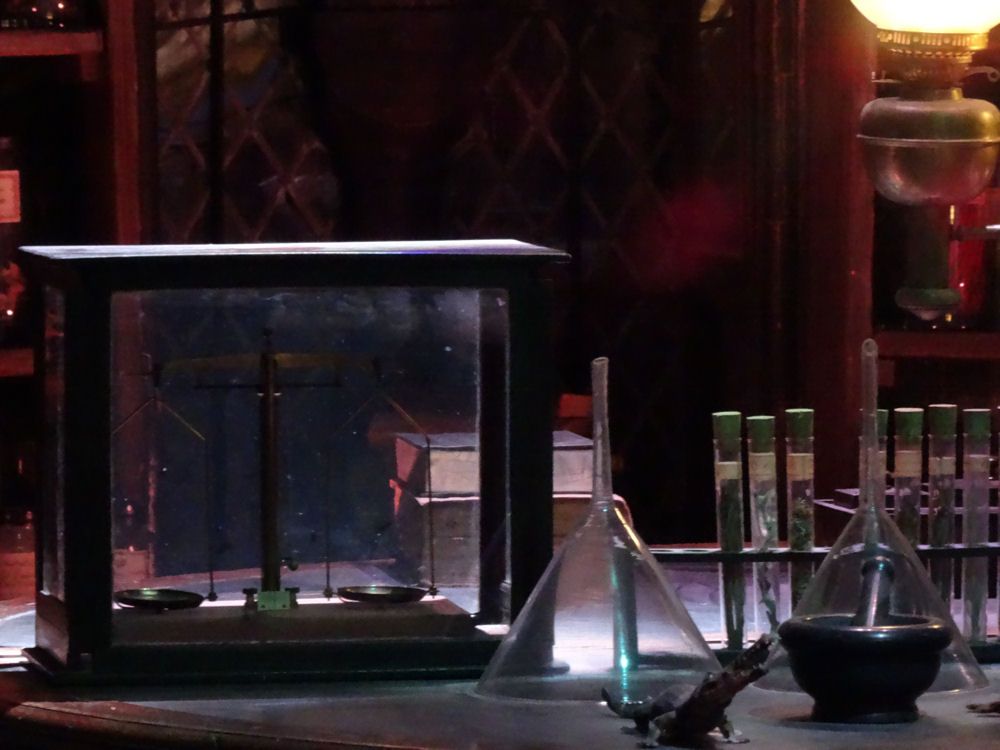 Scales, test tubes, funnels, pestle & mortar.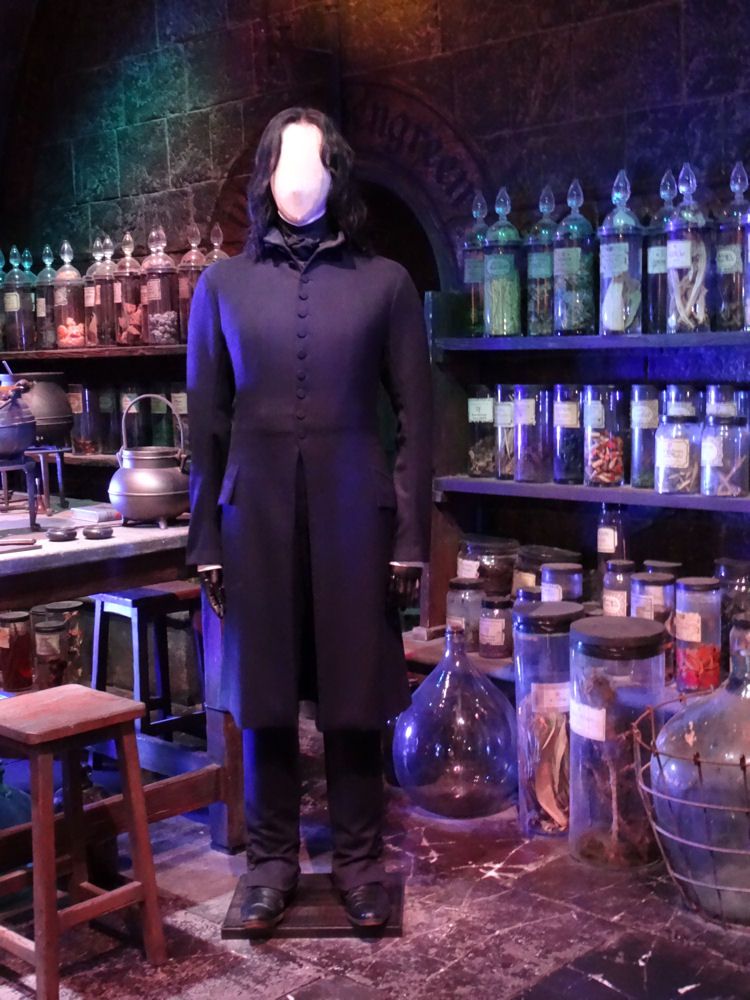 Professor Snape.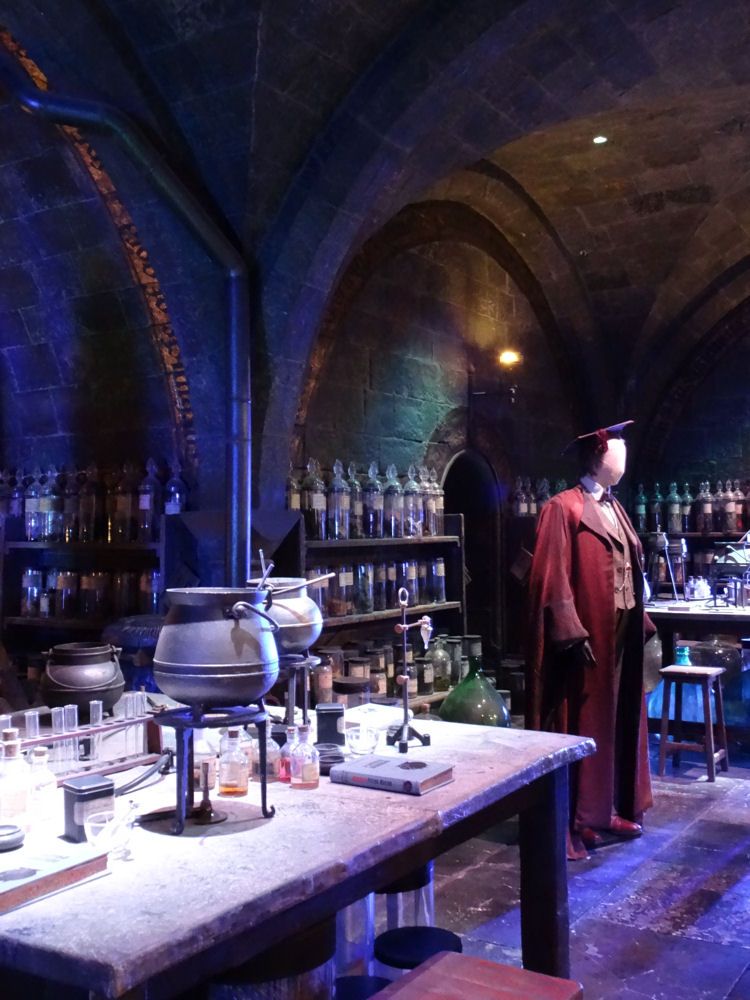 Potions Dungeon.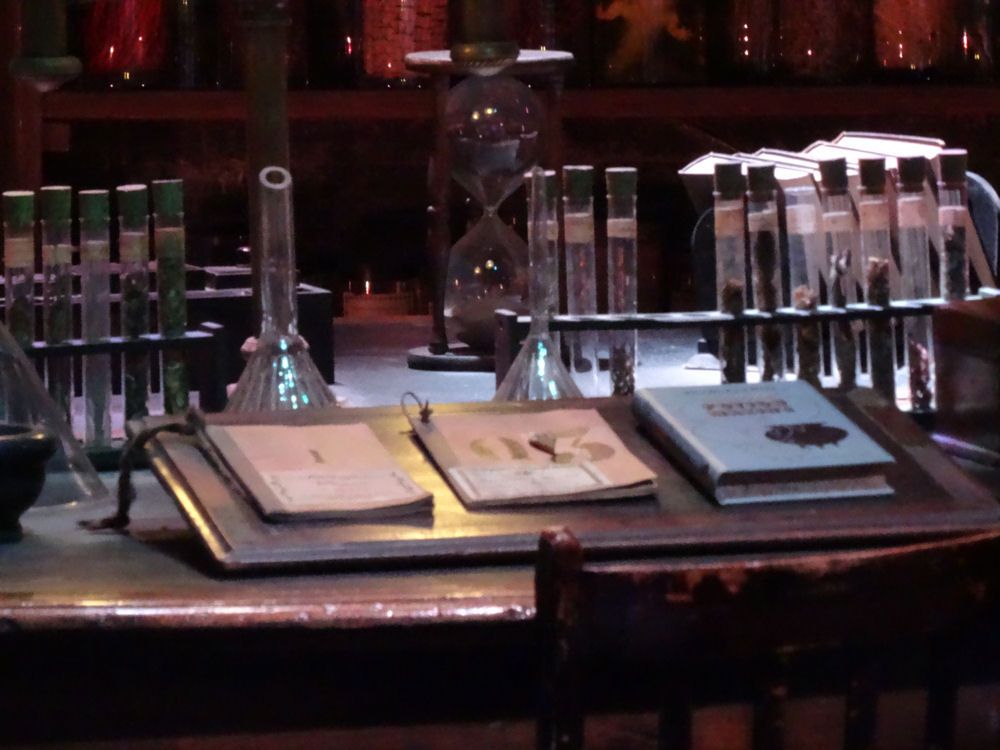 Potions books.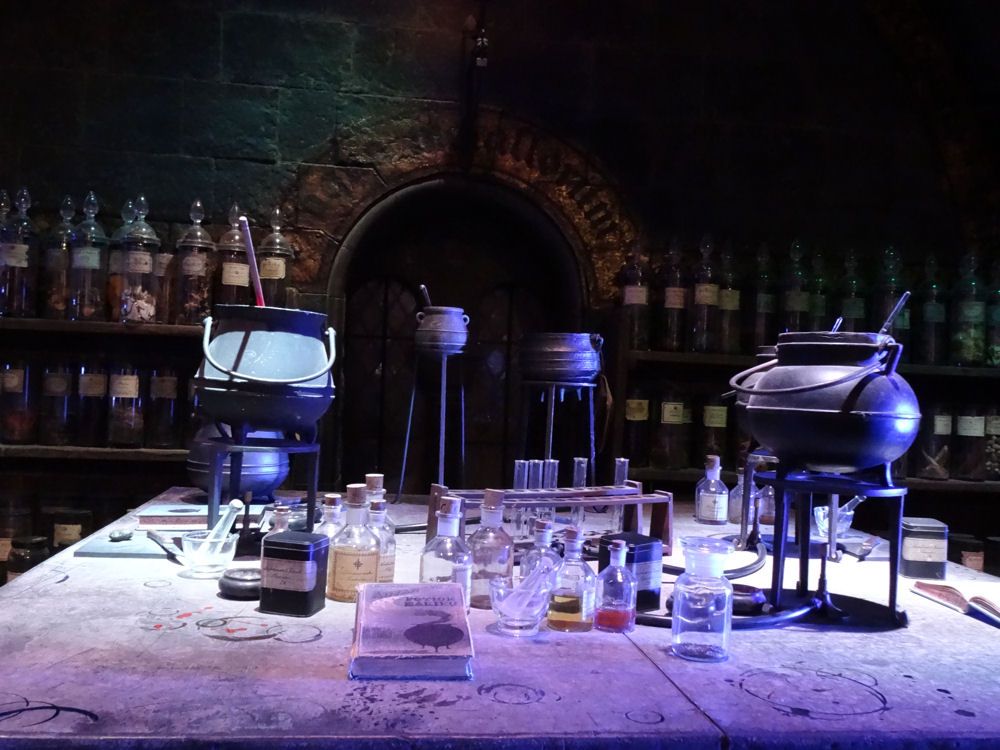 Potions desk with students equipment.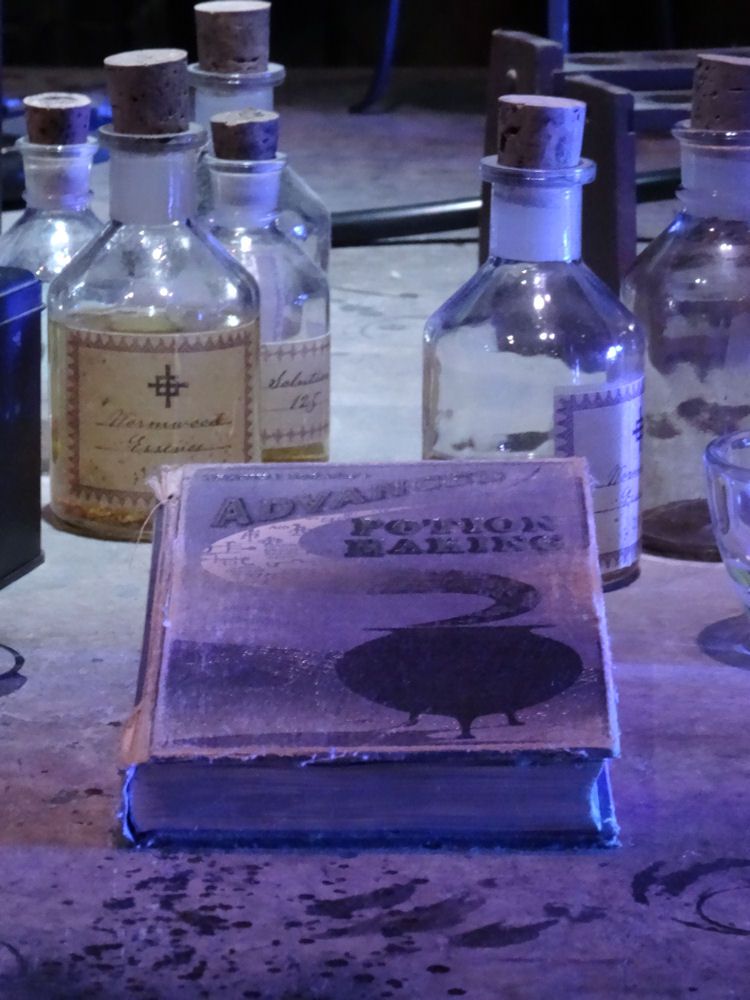 Advanced Potion Making.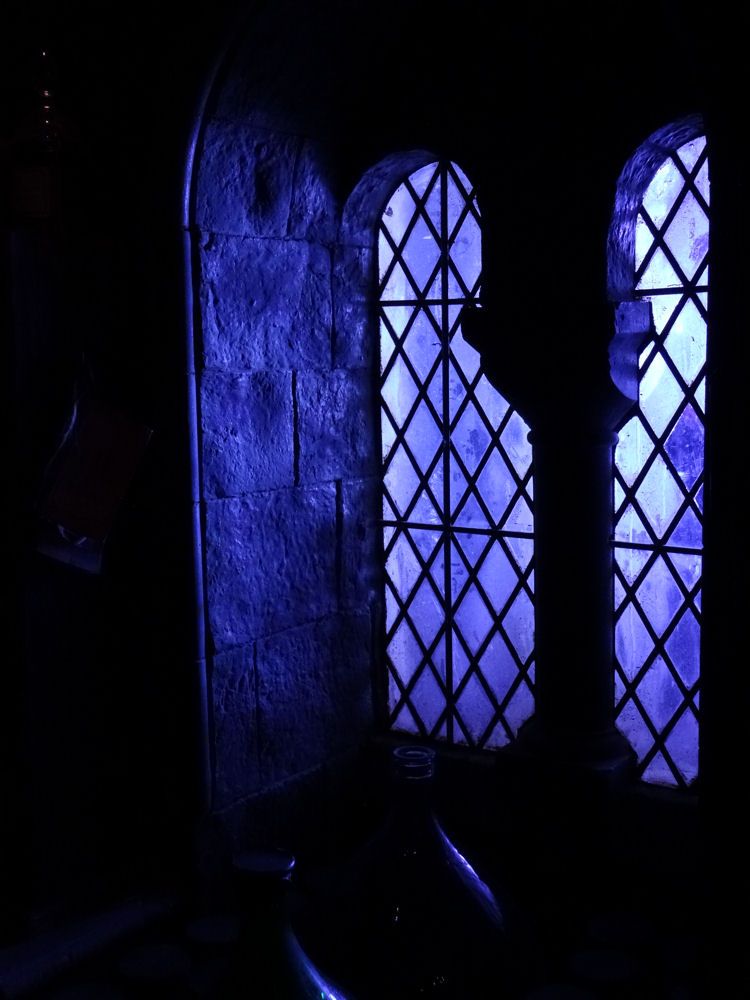 Back lit dungeon window.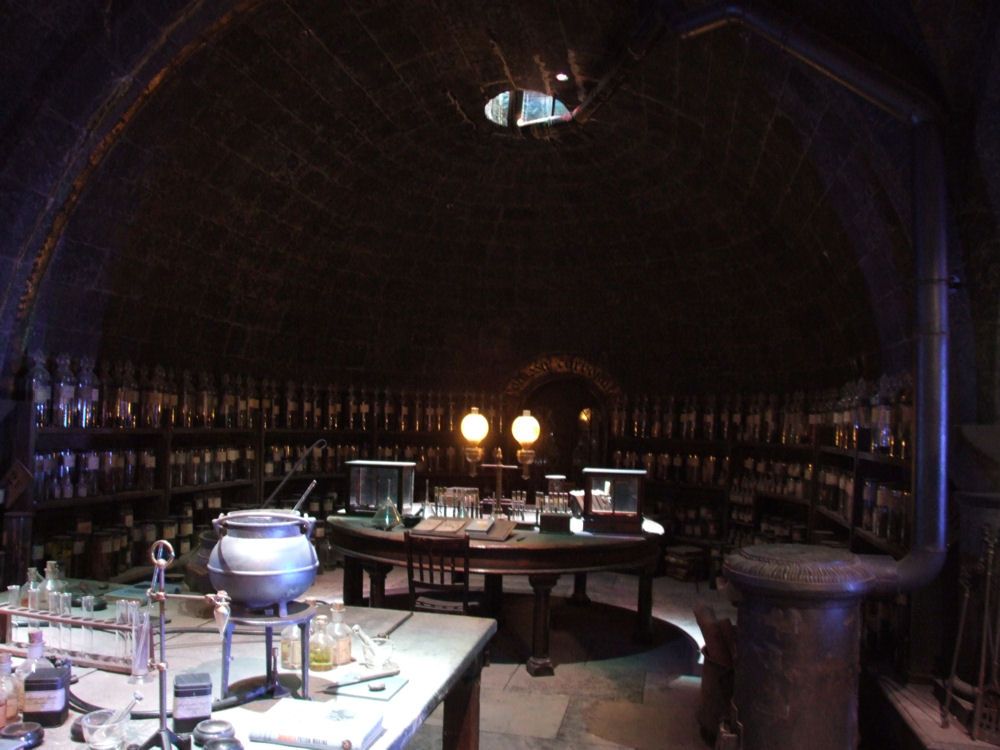 Potions Dungeon.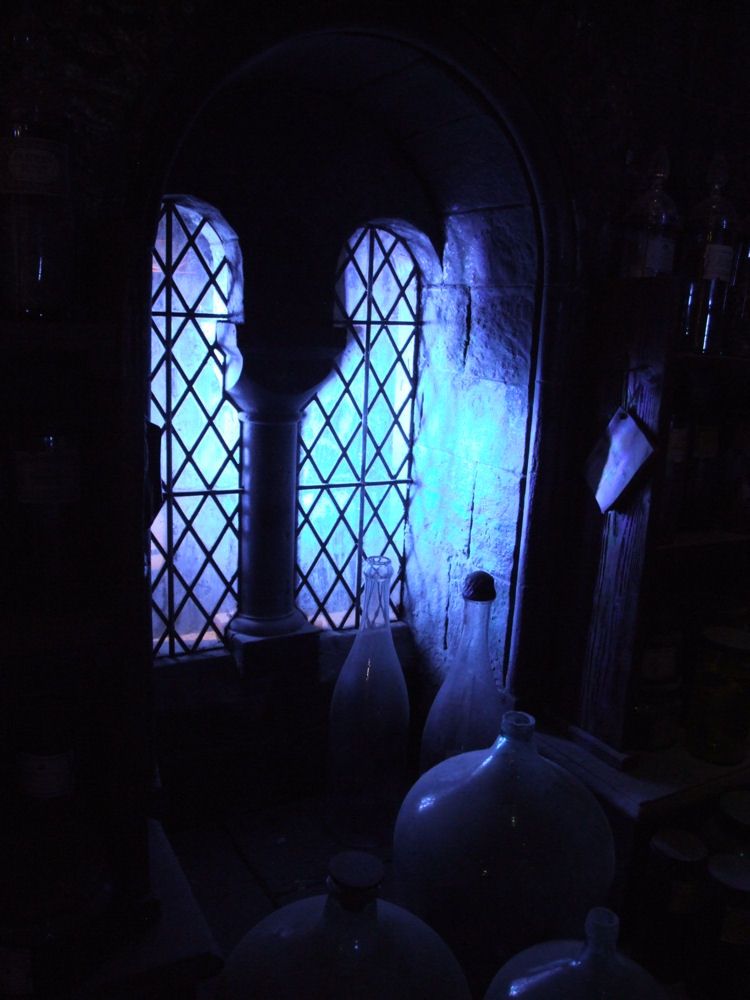 Second back lit window.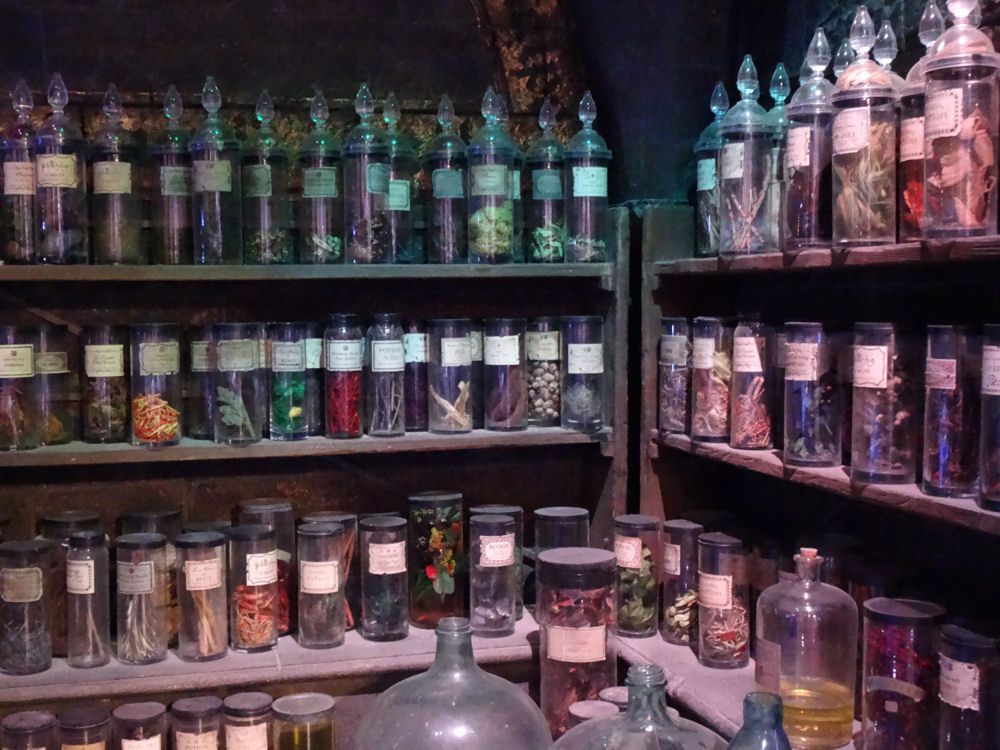 Ingredients Jars
Harry Potter Studio Tour Hagrid's Hut
I know that they made two versions of Hagrid's hut ... one with everything extra large to make the children look tiny and one normal/small to make Hagrid look huge! ... I'm guessing this was the latter, but I'd have loved to see the large on too! Anyway, Hagrid's hut is an eclectic mash up of exactly what you'd expect, all things creature ... cages, nets, ropes the lot ... and of course Fang himself!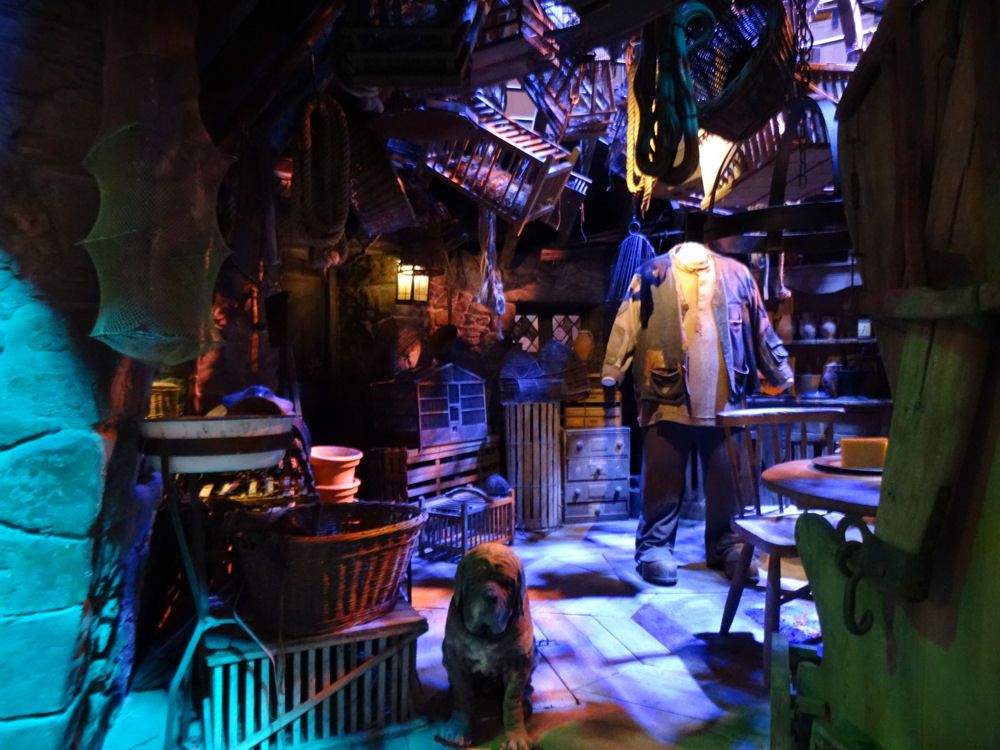 Hagrid & Fang/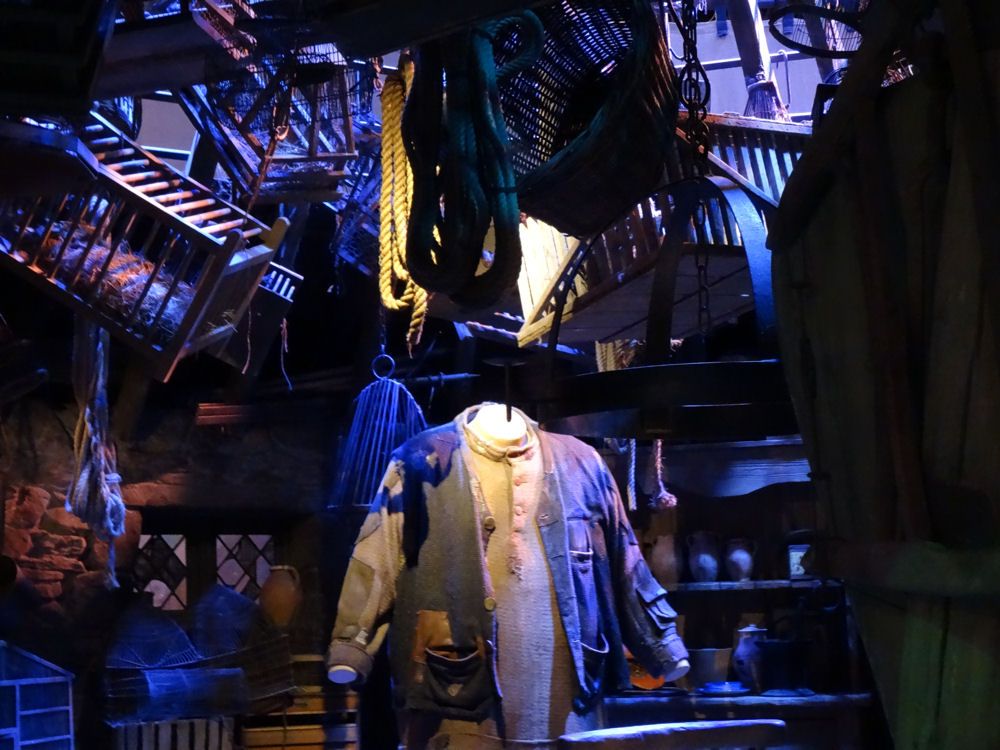 Headless Hagrid in his hut.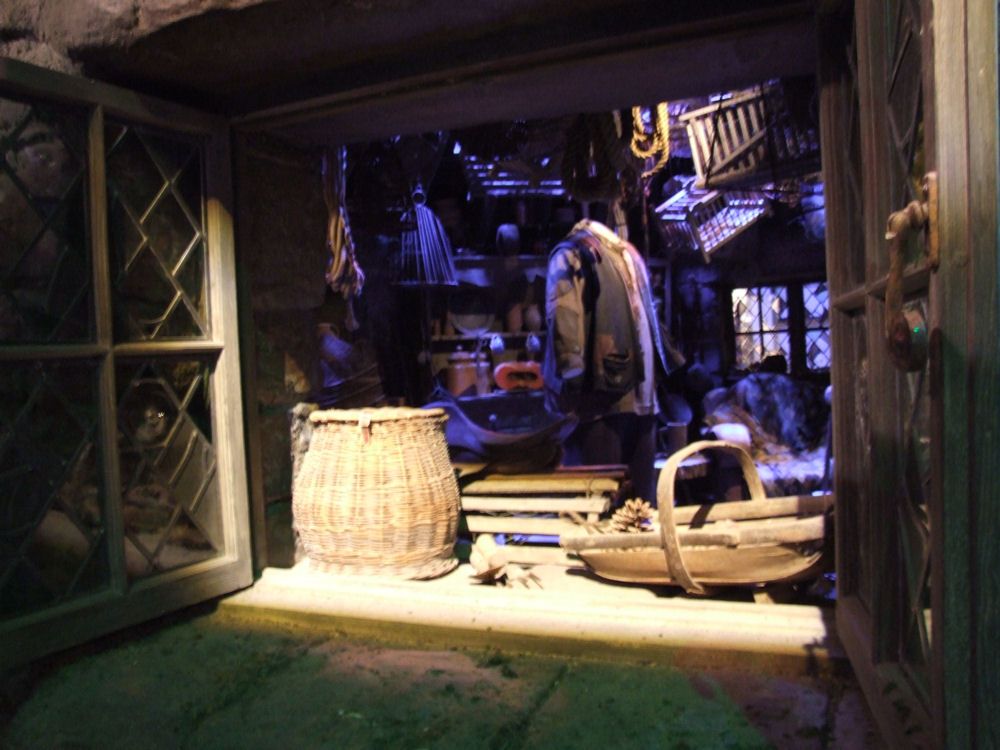 View through the hut's window.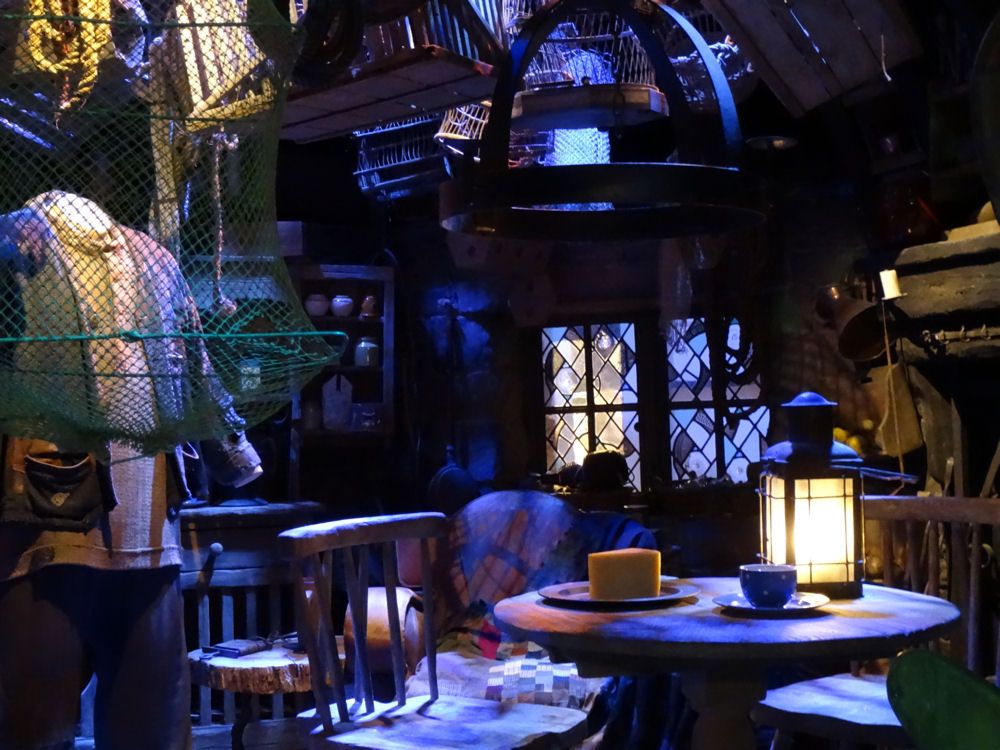 Hagrid's dining area.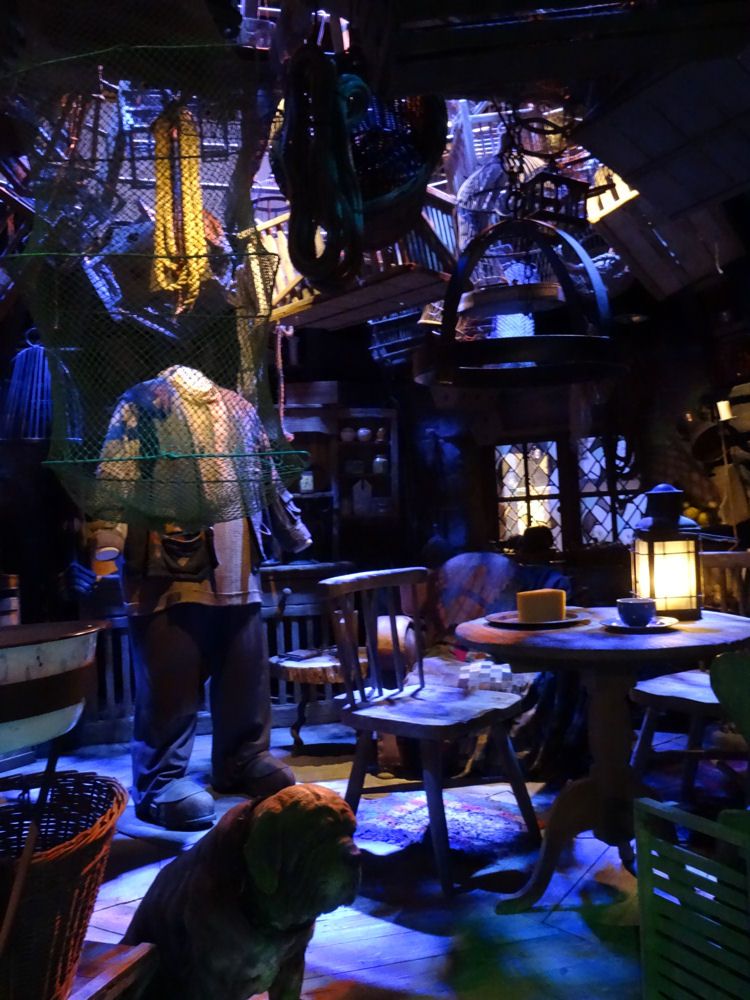 Hagrid's hut.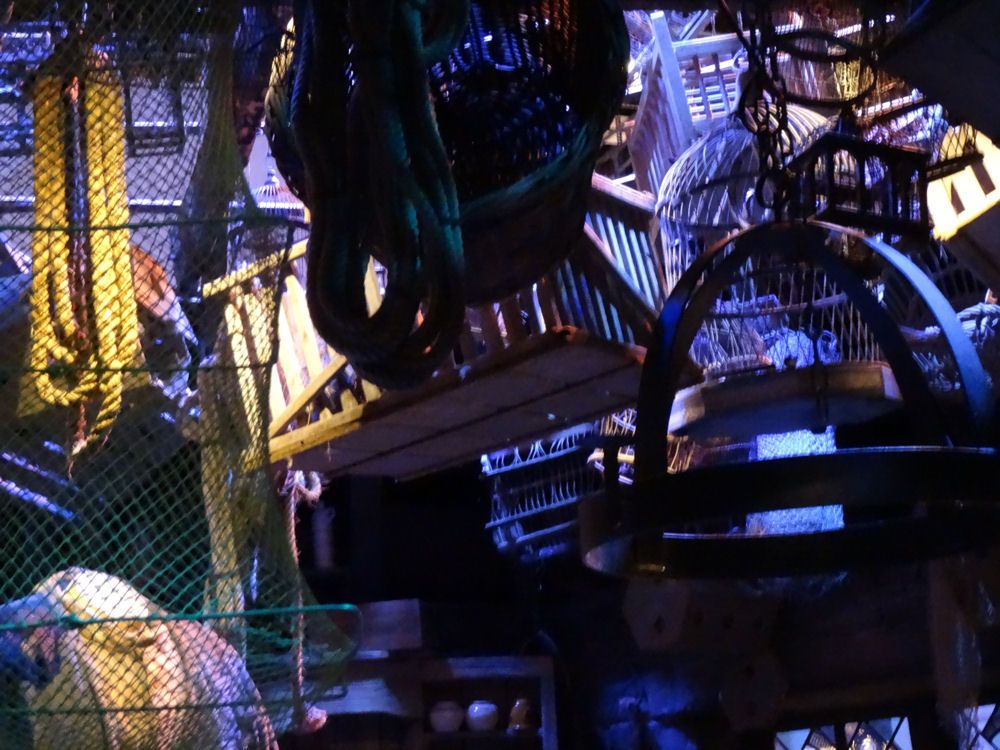 Equipment attached to the hut's roof!
Harry Potter Studio Tour The Burrow
The Burrow kitchen was also tiny and homely ... and interactive! You can make the dishes wash themselves and the knife chop the carrots ... too cool! I loved the way that it was so ordinary, it could have been anyone's kitchen, but the details made it that little bit extraordinary.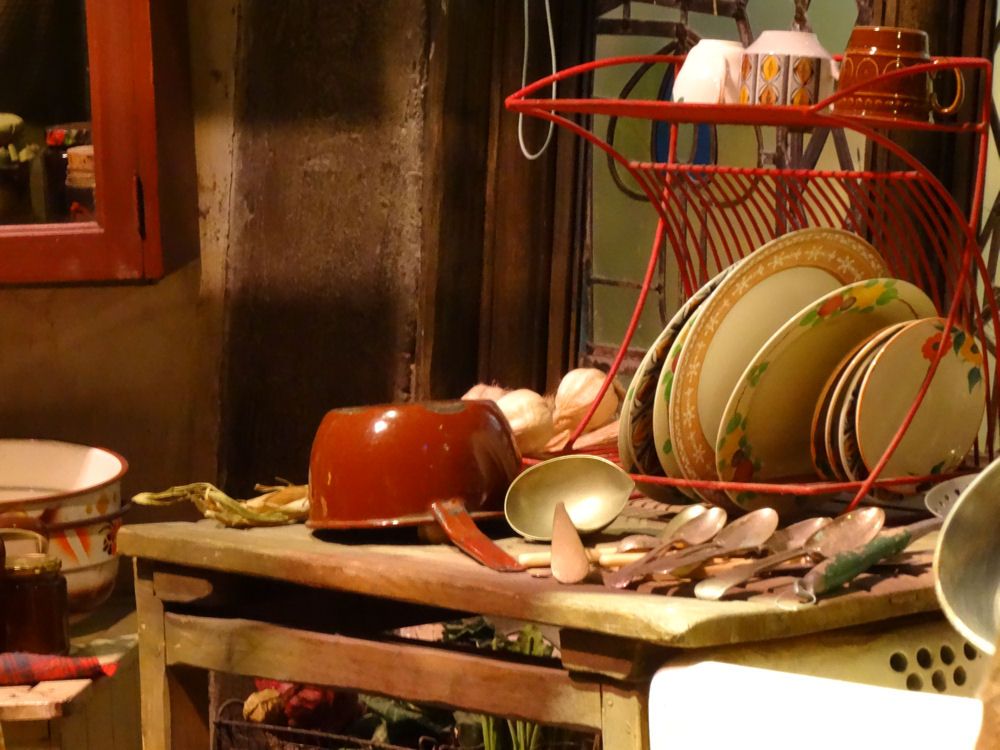 Pots, pans and dishes.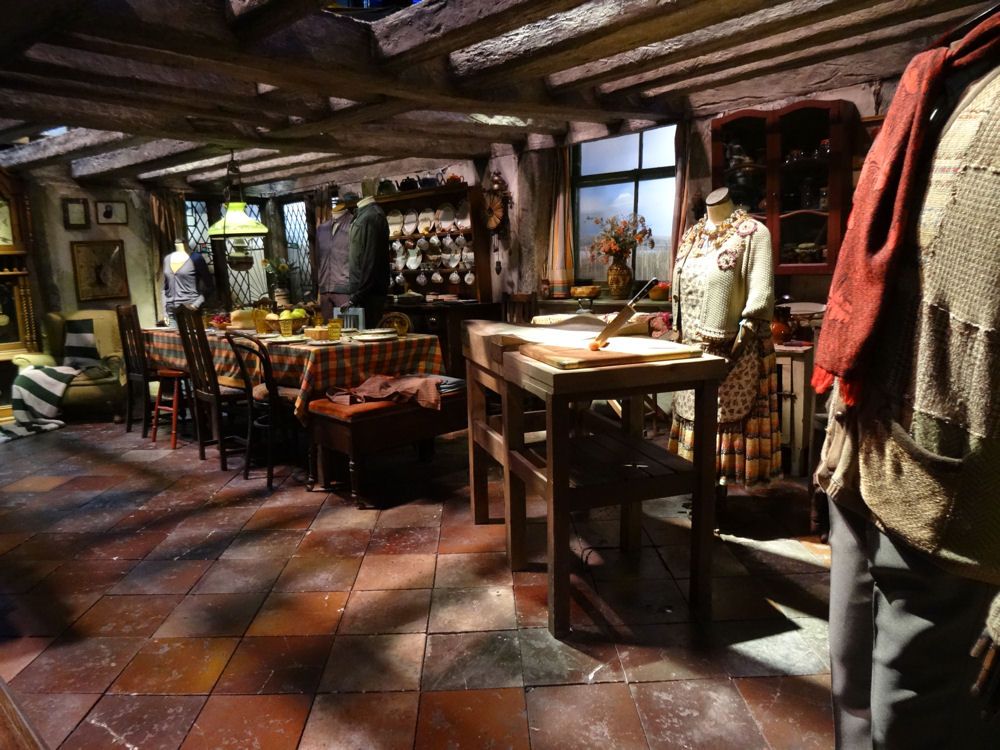 Ginny, Fred, George, Molly & Arthur in the kitchen.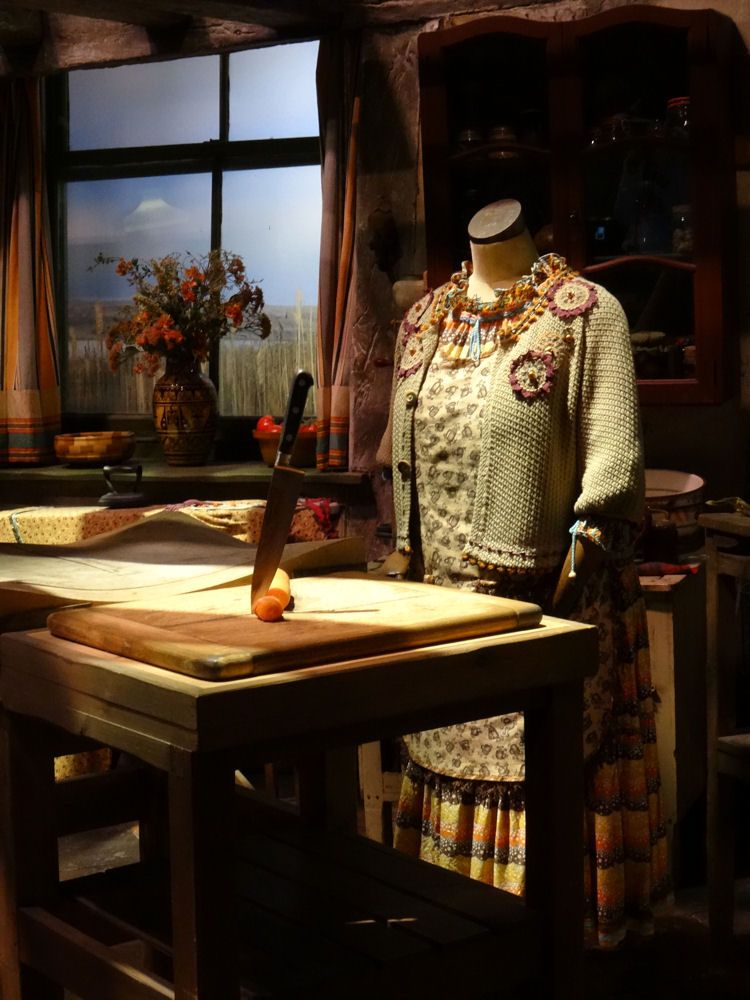 Mrs Weasley overseeing the chopping!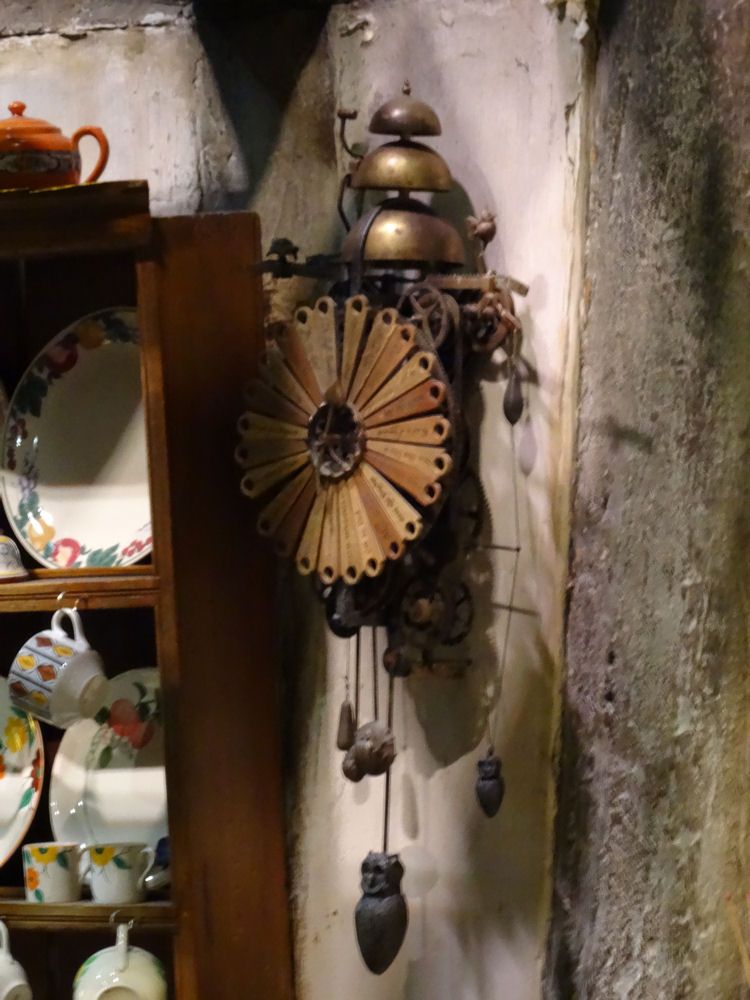 Intriguing 'clock'.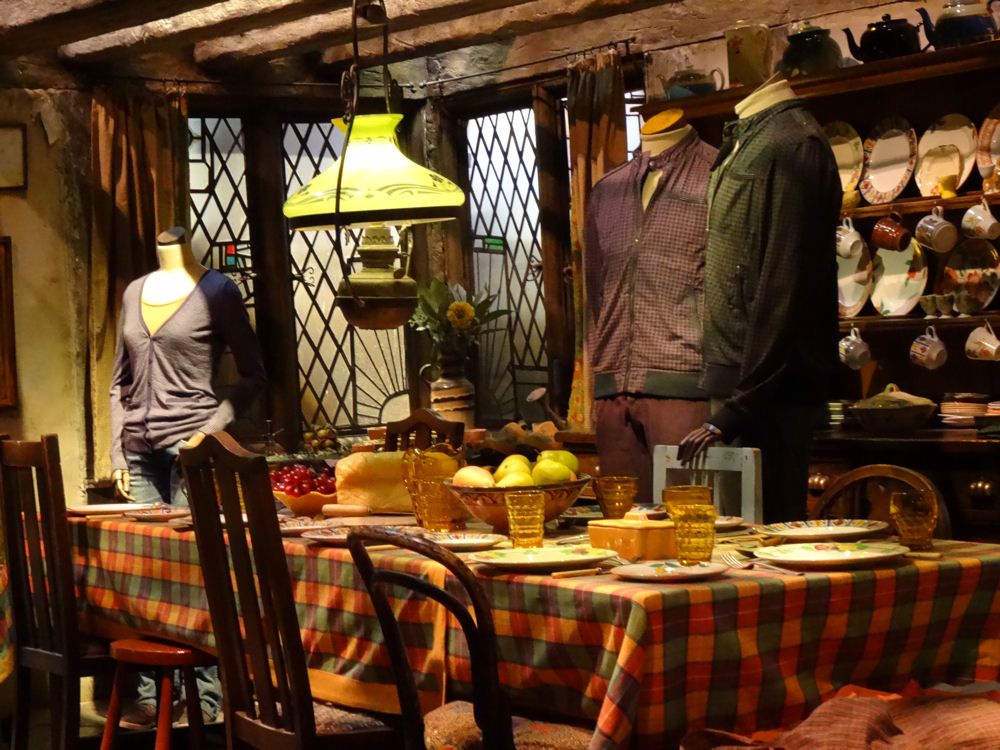 Weasley dining area.
This is the clock that tracks the location of all of the Weasleys ... I could really do with one of these sometimes ... for my own family of course ... though I'd love to know where the Weasleys are too!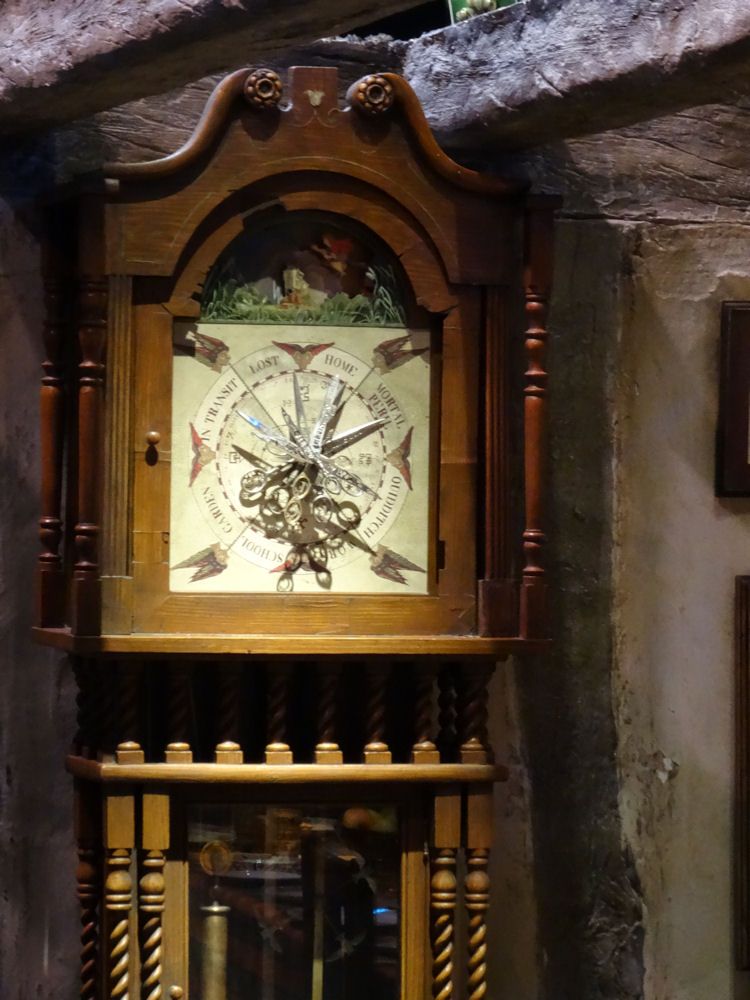 Weasley Grandfather clock.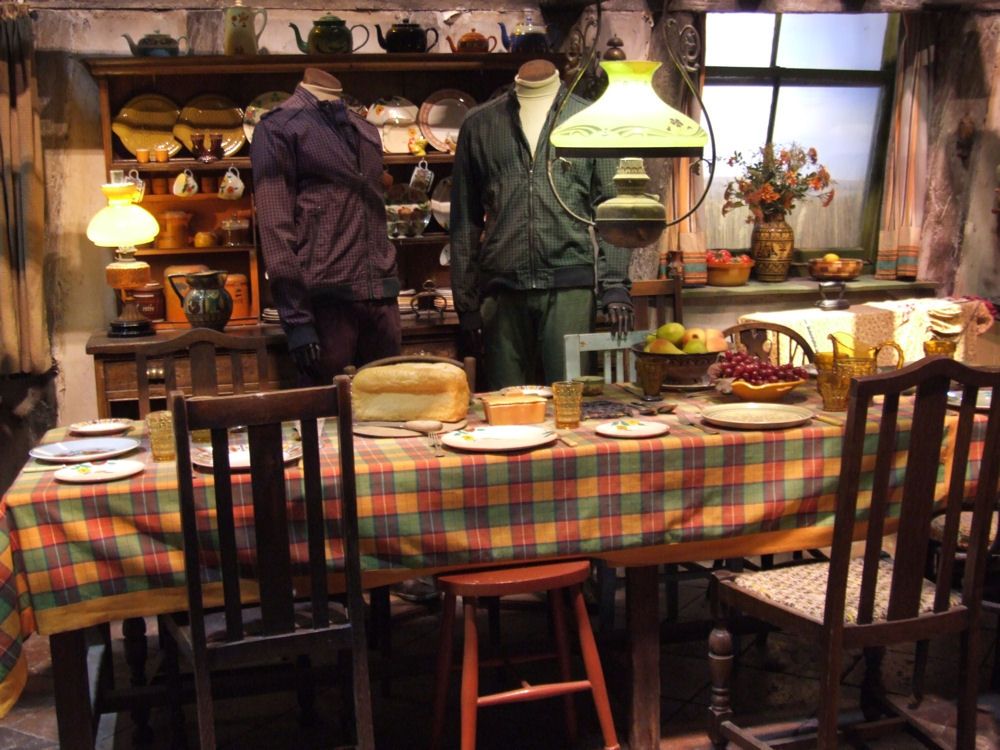 Weasley twins!
Harry Potter Studio Tour The Ministry & Umbridge's Office
We don't get to see the Ministry set in full construction, I think it was just too big! But we do get to see the central statue from the foyer, the exterior of some of the offices and the interior of Umbridge's Ministry office.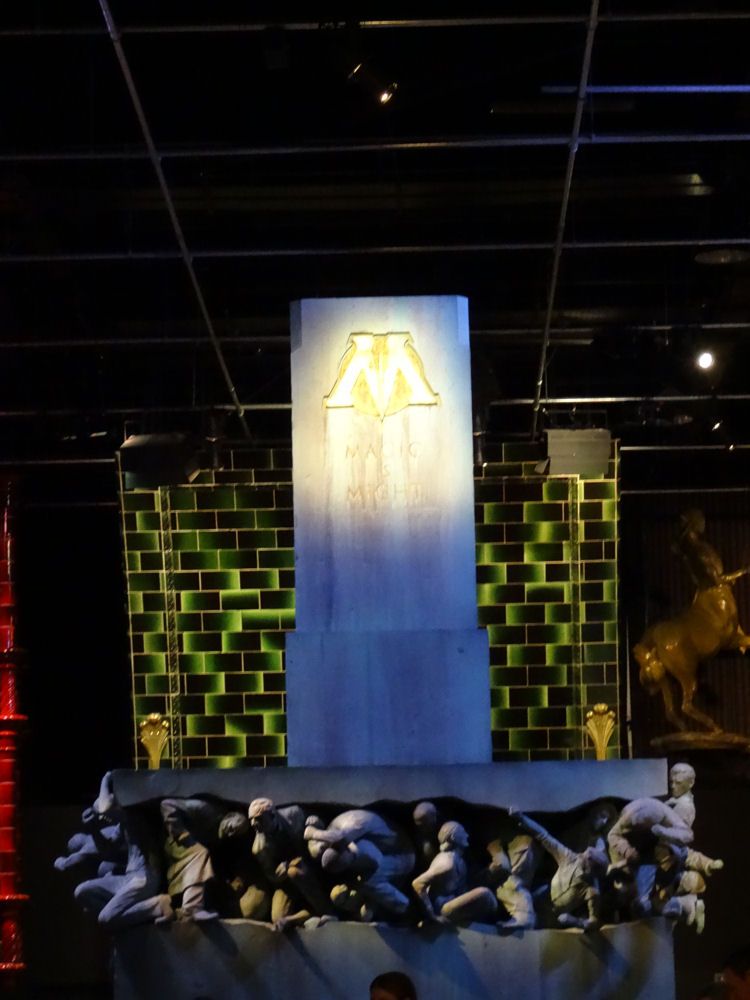 Ministry statue.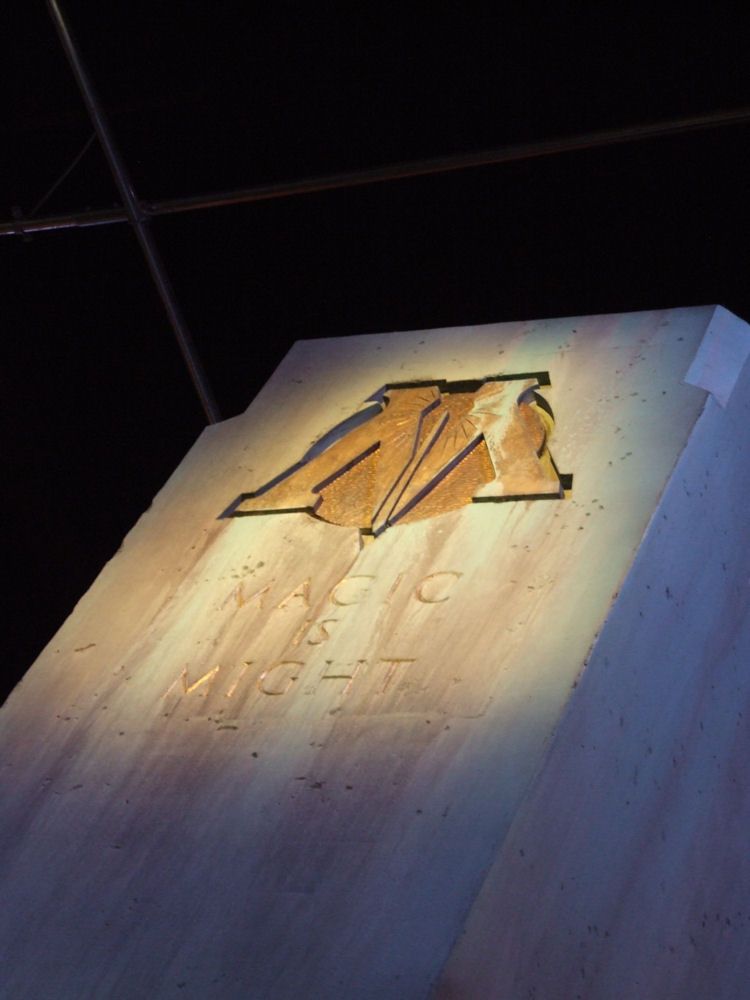 Magic is Might!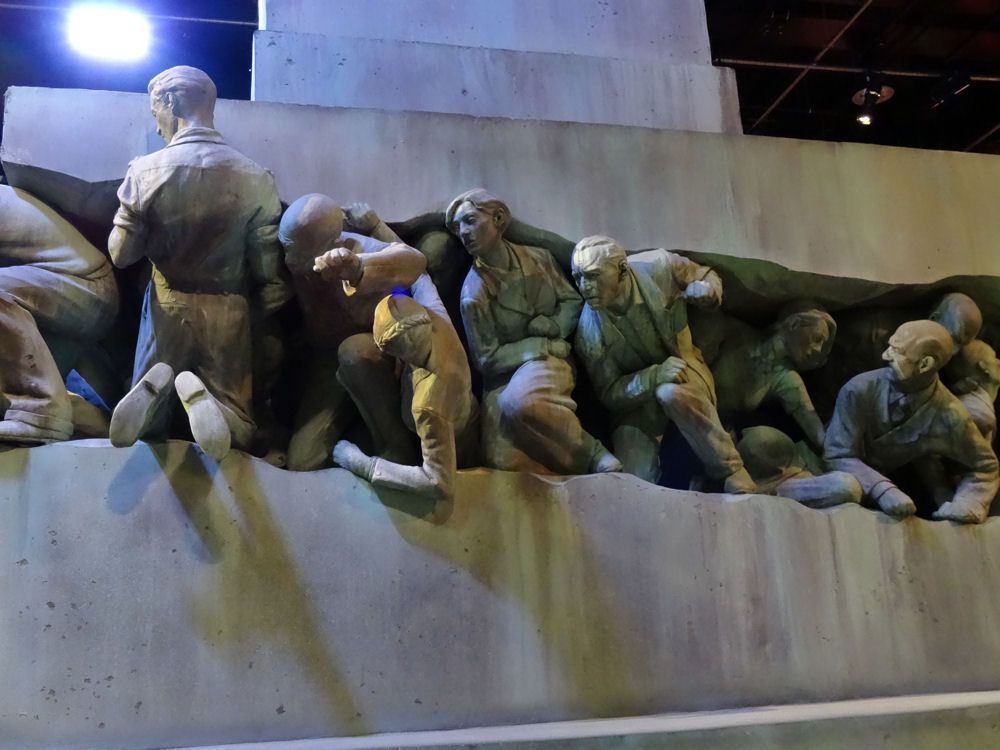 Squished muggles :(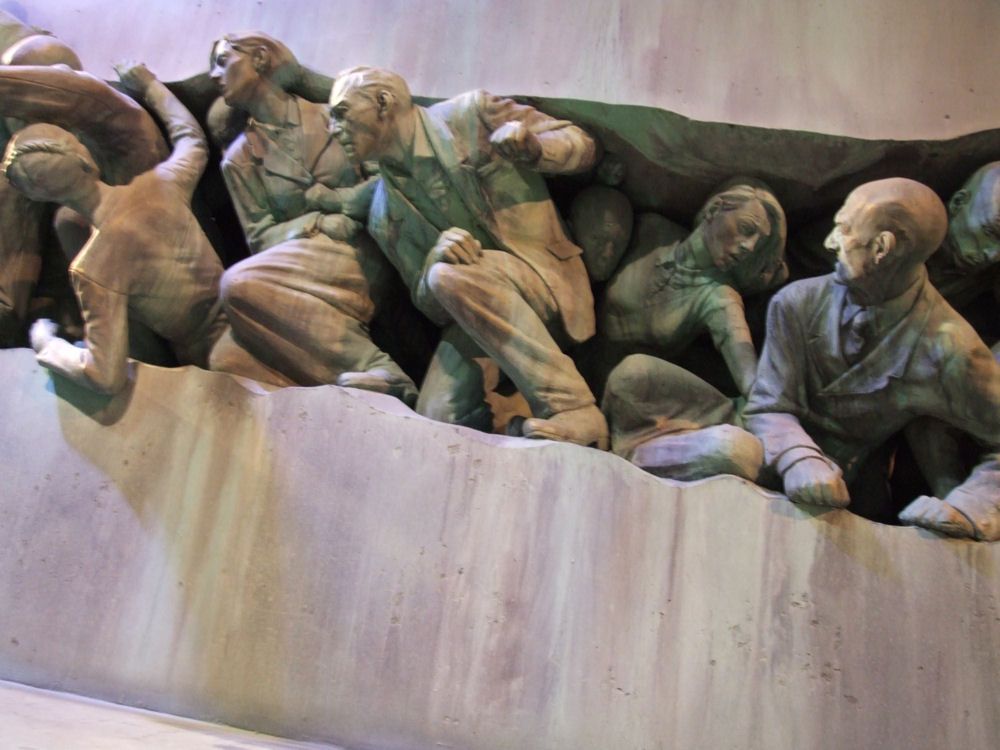 More squished muggles!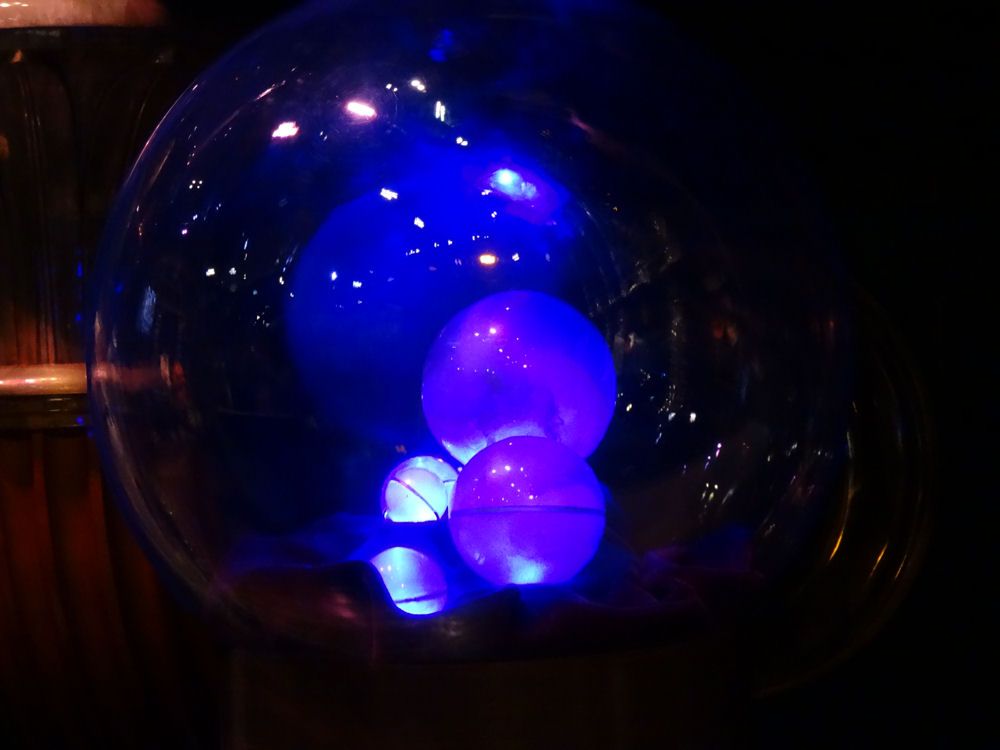 Prophecy orbs.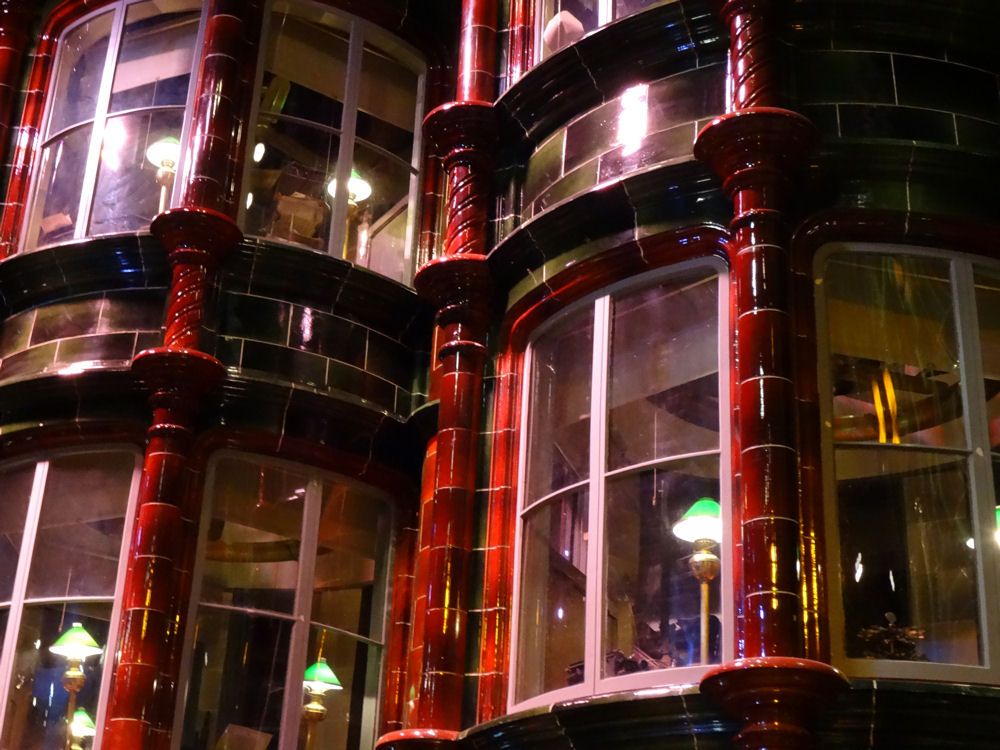 Ministry office exteriors.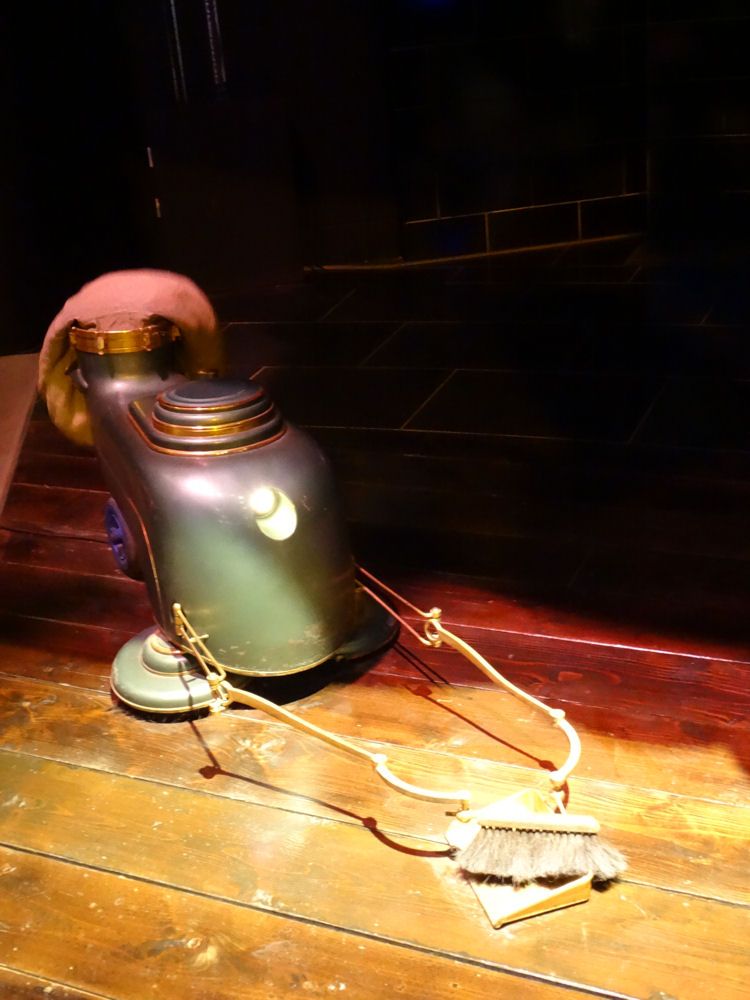 Magical dust buster ... if only!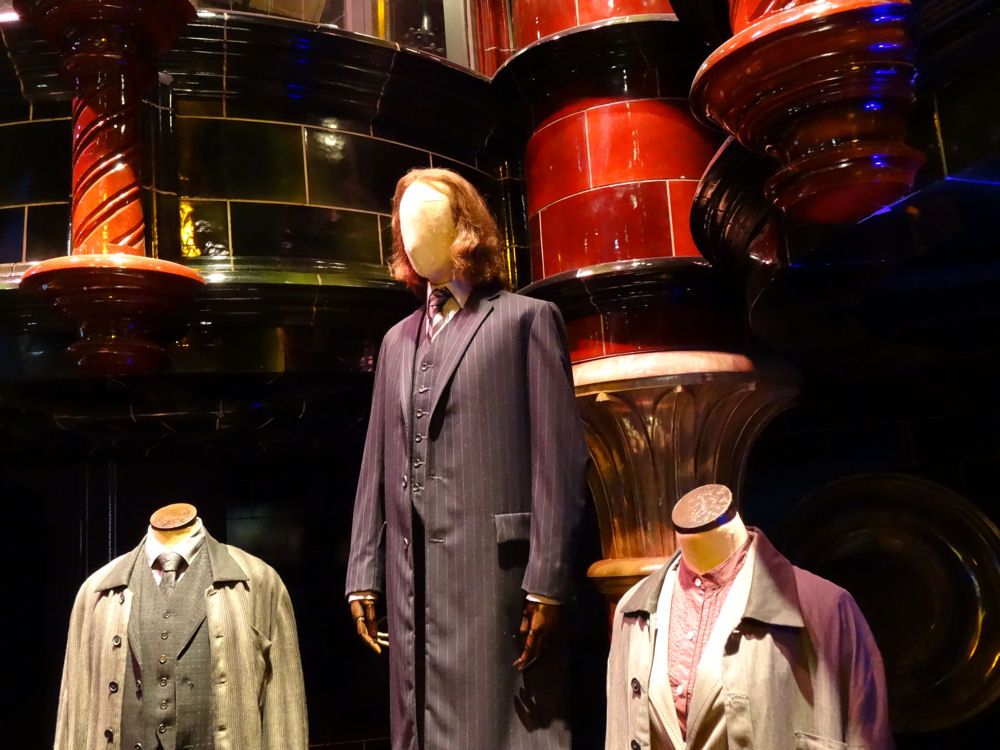 Scrimgeour & other Ministry employees.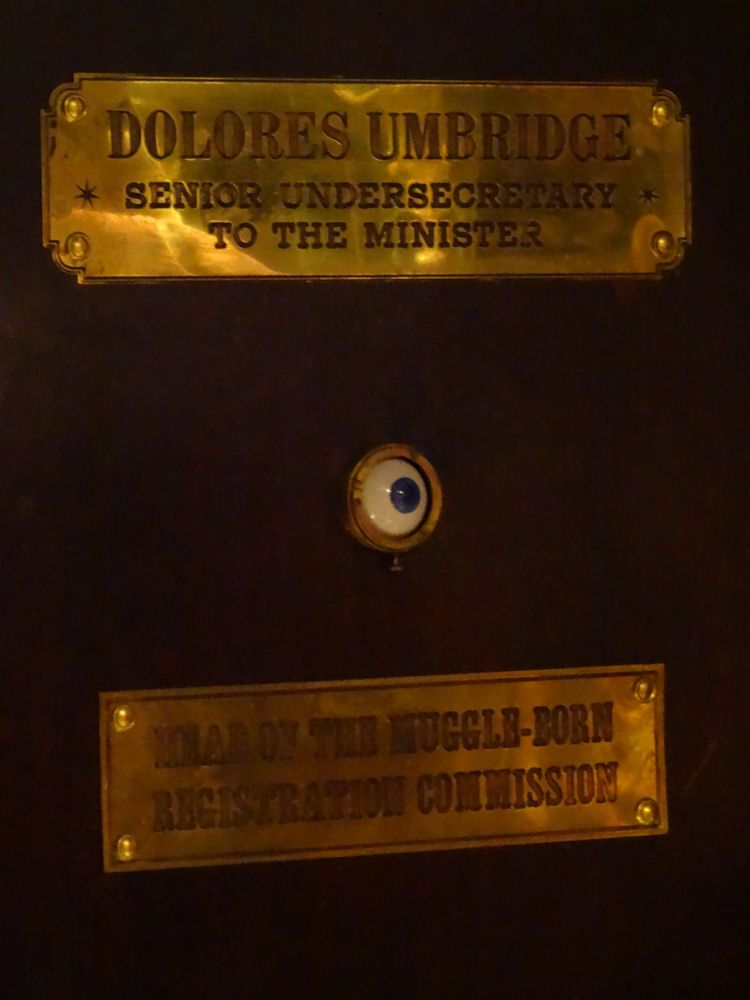 Umbridge's Office Door.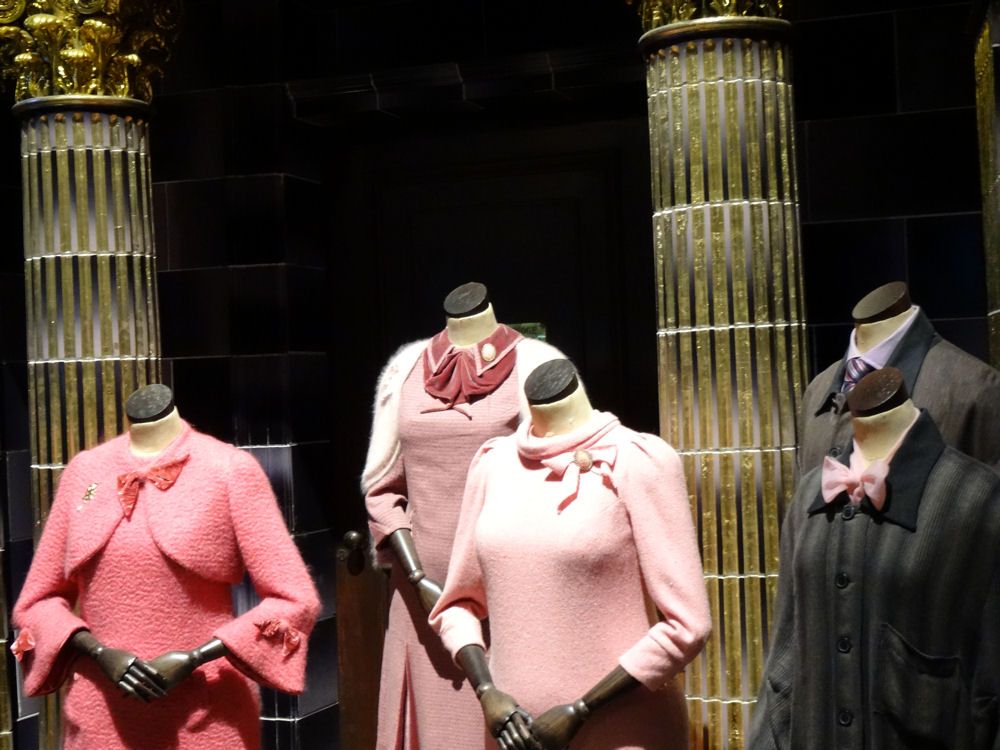 Umbridge's range of attire.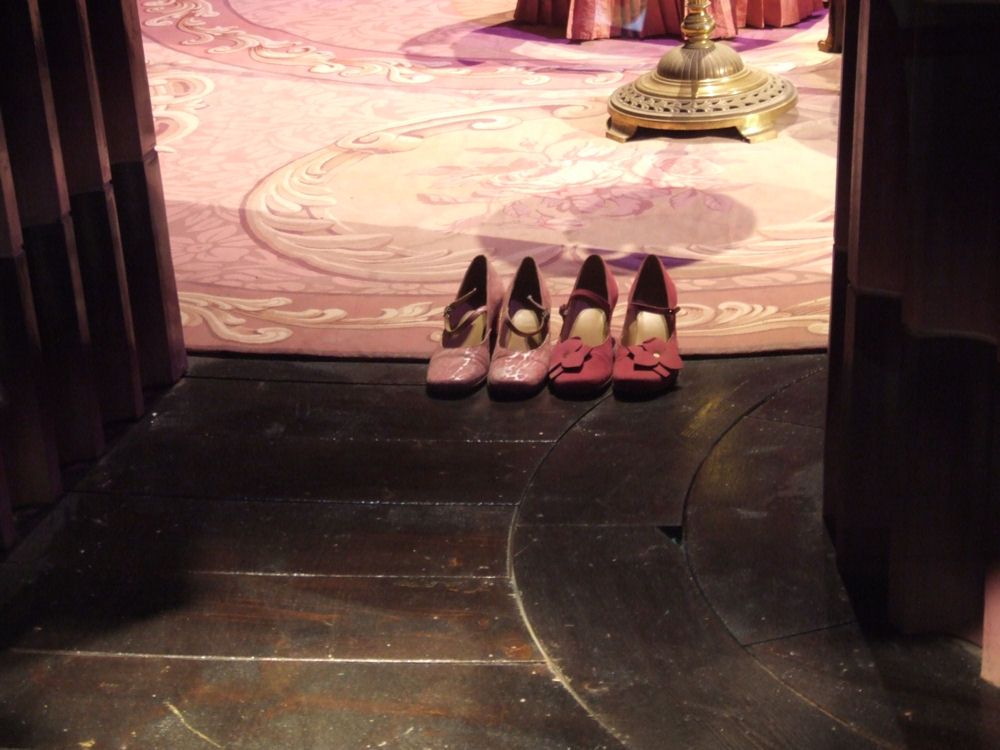 Umbridge's shoes.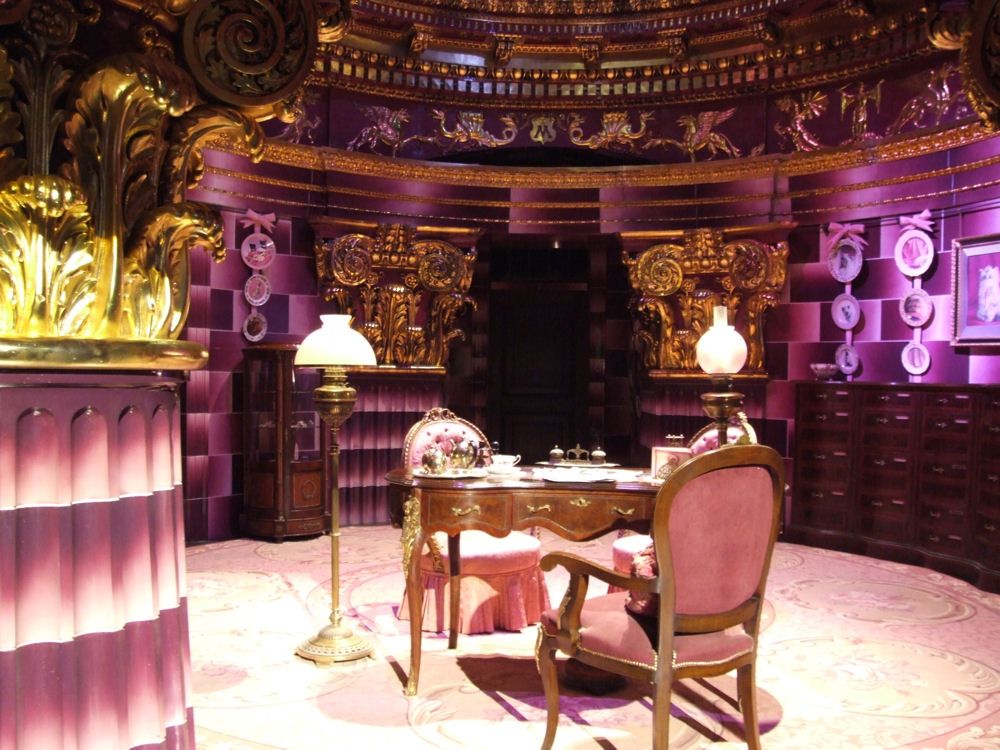 Umbridge's office interior, including kitten plates!