I've been intrigued by the idea of ice cream cake for a while; I was introduced to the concept by a university friend who was dismayed at the lack of their availability in UK supermarkets (apparently they're all the rage in Brunei). Of course, I've enjoyed the wonders of Arctic Roll, but I suppose that's not strictly a cake!
Having had no luck finding an actual ice cream cake anywhere in the UK, I decided it was time to have a go at making one for myself. Now, I didn't make this easy. I received an ice cream maker as a Christmas gift and in an endeavour to maximise its usage I opted to make my own ice cream. Obviously this added to the length of the process, but ultimately meant I could use orange ice cream (has anyone ever seen any in the shops?!); as somewhat of an orange fiend (as a child I would drink only orange squash and it had to be out of my orange cup) this was an obvious no-brainer. If you don't have an ice cream maker, you could easily just use shop bought ice cream of your choice!
What is an ice cream cake?
I used
this guide
from Julie's Sweet Shack as the basis for my plans; it's a great, in depth, blog post detailing the ins and outs of making such a construction. However, in terms of flavour, I decided to put my own little twist on things, meaning I hoped my cake would end up like this: (please excuse the terrible computerised illustration!)

On the whole, it went pretty well for a first attempt; I had a few minor/major mishaps. Both of my sponge layers broke whilst putting them into my freezer and I melted the ice cream covering way too much before covering the cake, but nothing that can't be rectified next time!
Chocolate Orange Ice Cream Cake Recipe
Orange Ice Cream Ingredients
One of the first recipes I tried with my new ice cream maker was this
Mint Aero Ice Cream
from Rachel Phipps' blog, I've made others since, but this one hasn't been beaten. It's light and creamy and was thus an obvious recipe to adapt for my cake. I essentially just swapped the mint flavours for orange and doubled up the recipe, meaning I used the following ingredients: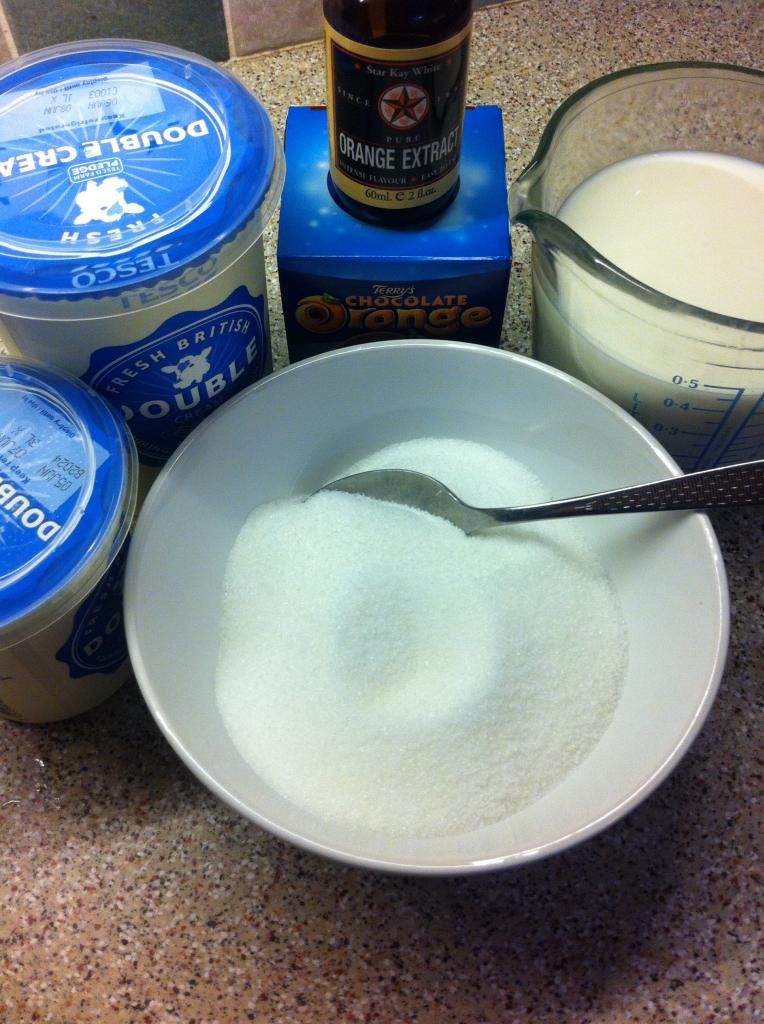 - 440 ml Whole Milk
- 300g Granulated Sugar
- 900ml Double Cream
- 2 tsp Orange Extract
- 1 Terry's Chocolate Orange (this quantity wasn't doubled as only half of the ice cream is chocolate chip!)
Chocolate Sponge Ingredients
My 'go to' chocolate sponge is from the 'Gü Chocolate Cookbook' - a must have for any lover of chocolate! I particularly like this recipe because it uses actual chocolate in the sponge - I tend to find cakes that simply use cocoa powder don't really taste of anything!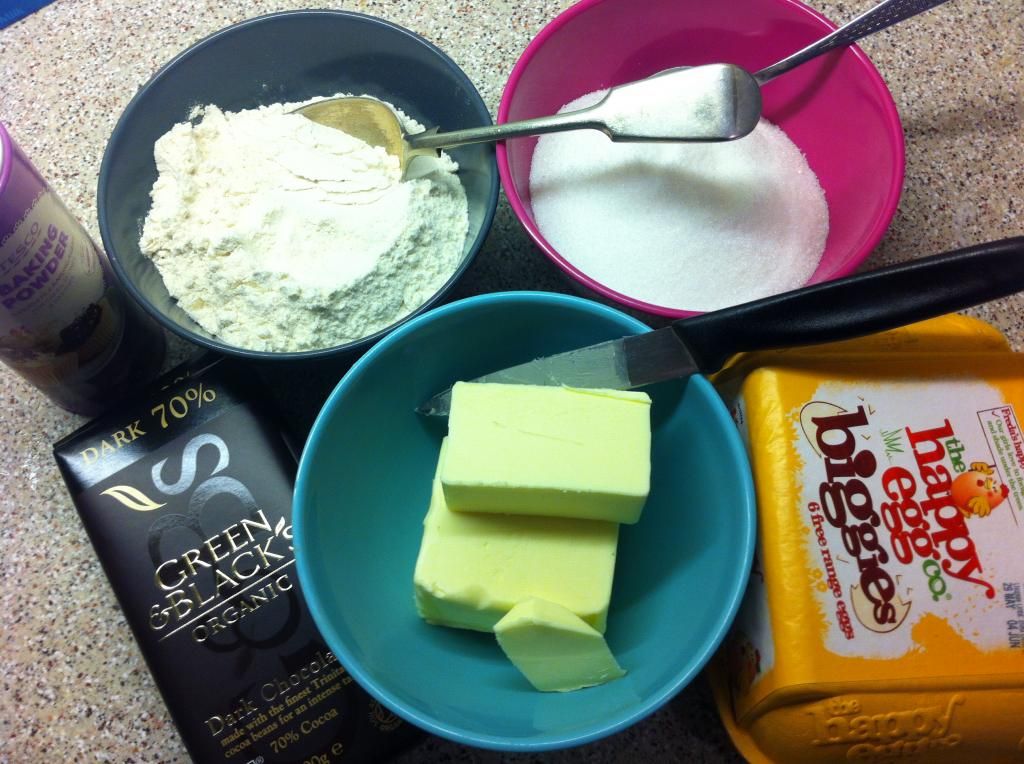 - 150g Plain Flour
- 4tsp Baking Powder
- 300g Dark Chocolate (70% cocoa solids)
- 200g Unsalted Butter
- 6 Eggs
- 300g Granulated Sugar
You'll also need some bottled chocolate sauce to spread on the top.
Chocolate Orange Ice Cream Cake Method
Before you begin, ensure you have cleared enough room in your freezer to complete the process and if making ice cream ensure your ice cream makers bowl has been frozen if necessary.
1. Get started on the ice cream, follow
Rachel's method
up to the point where all of the ingredients except the chocolate orange have been combined, and you have placed the covered bowl into a fridge.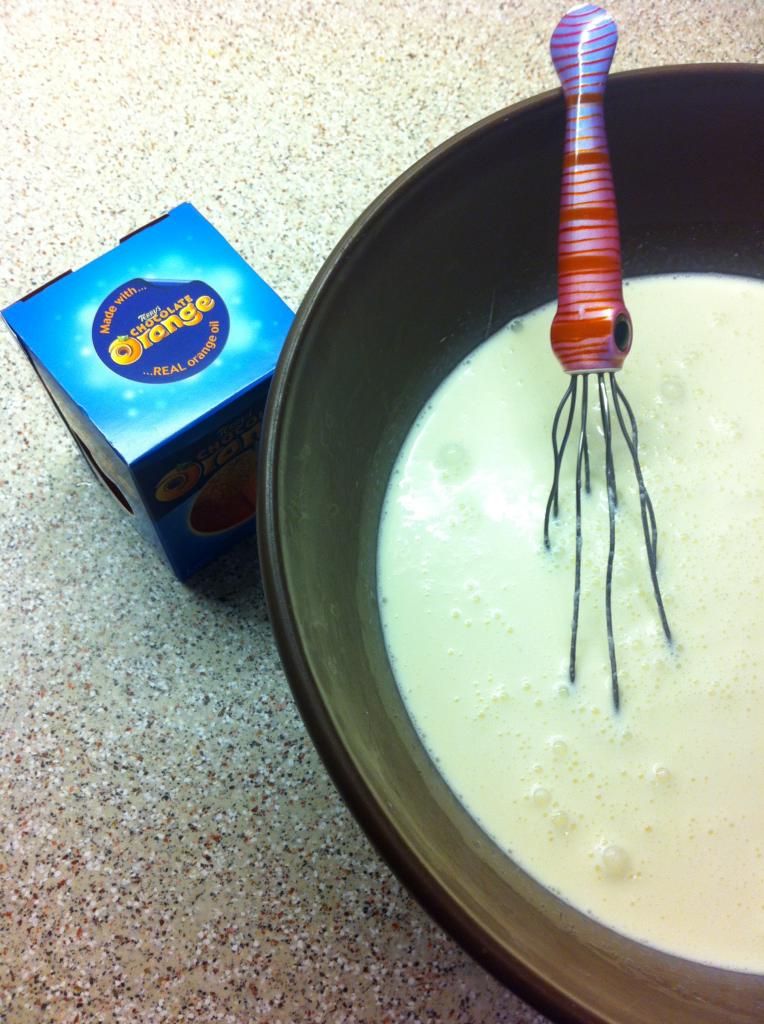 2. Make and cook your chocolate sponge layers as per the recipe you are following. For the Gü recipe, you essentially melt the chocolate and butter in a pan. Hand whisk together the eggs and sugar till combined. Add the melted chocolate & butter and stir. Fold in the flour and baking powder till combined. Pour into desired cake tins - I used a 20x20cm tin lined with foil backed baking parchment to ensure that my layers came out perfectly. Cook for 30-40 minutes at 170 degrees Celsius or until a skewer comes out clean.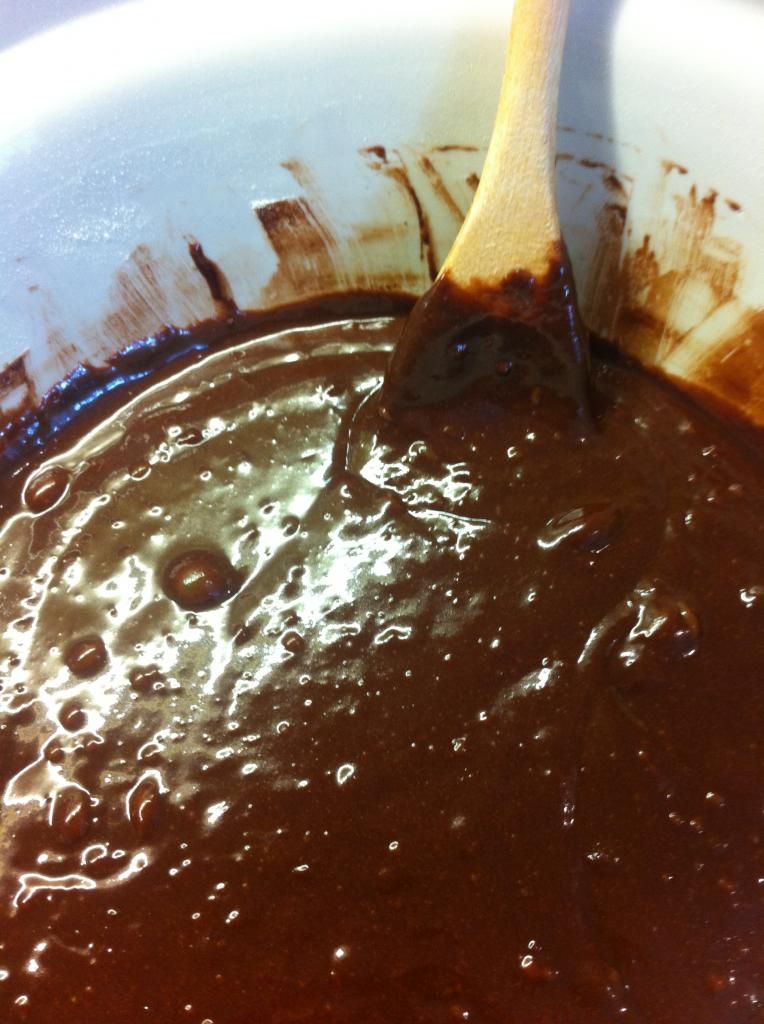 3. Remove your cooked sponge layers from the tin and place onto a wire rack. Leave to cool completely.
4. Once your mixture from step 1 has been in the fridge for at least 2 hours; remove from the fridge and split into two portions of equal volume. Churn one of the halves as per your ice cream maker's instructions, place in a tub and put into the freezer to firm up.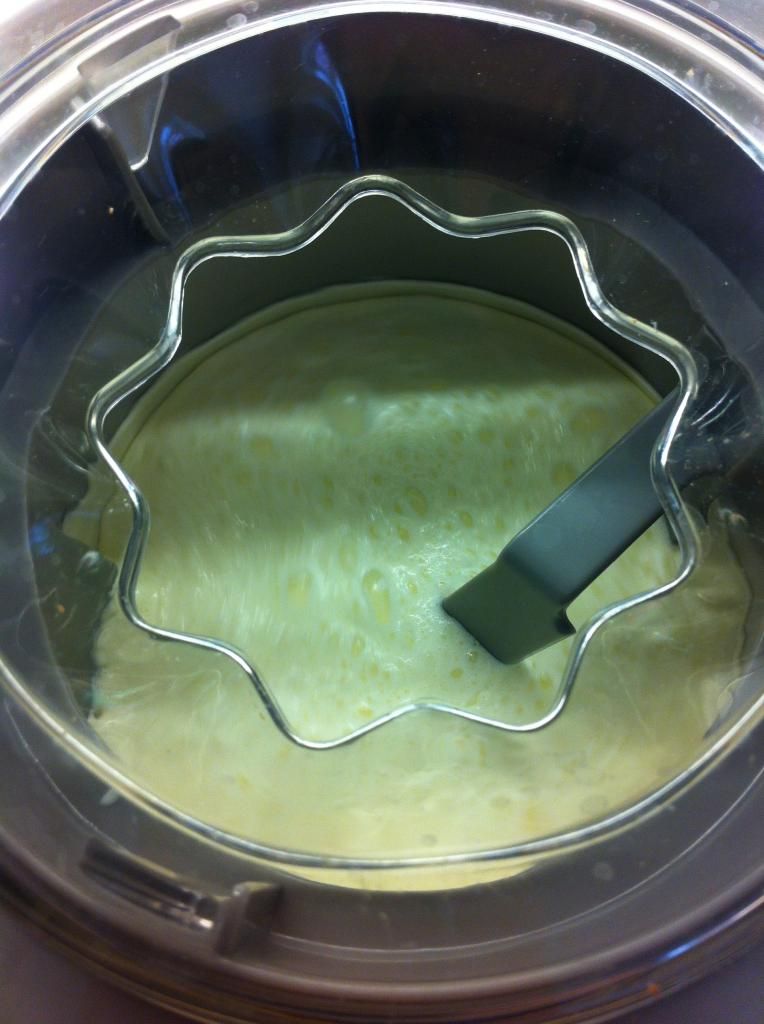 5. Churn the other half of the mixture as per your ice cream maker's instructions. Meanwhile, chop up your chocolate orange into small chunks and add these to the ice cream in the last 10 minutes of churning.
6. Line the tin you used for the chocolate sponge with cling film and fill with the orange choc chip ice cream as per
Julie's Method
. Cover and place in the freezer until firm.
7. Once your chocolate sponge layers are completely cold, cover with a bag and place these in the freezer too. Take care not to break them (like I did!) in the process, you may want to put them on plates, or if you have enough tins, return them to their cake tin!
8. Once all three of your layers are frozen solid, it's time to build the cake. (Take care removing any metal items your layers may be in, freezer burn is not what you want when about to finish your construction). Essentially stack the layers and cement together with the ice cream - again
Julie
describes this process a lot better than I can! All I will say is, make sure whatever you're building it on fits into your freezer and be very careful melting the outer layer ice cream. I found that once microwaved it continued to melt at an alarming pace, meaning it was literally being drizzled on by the end!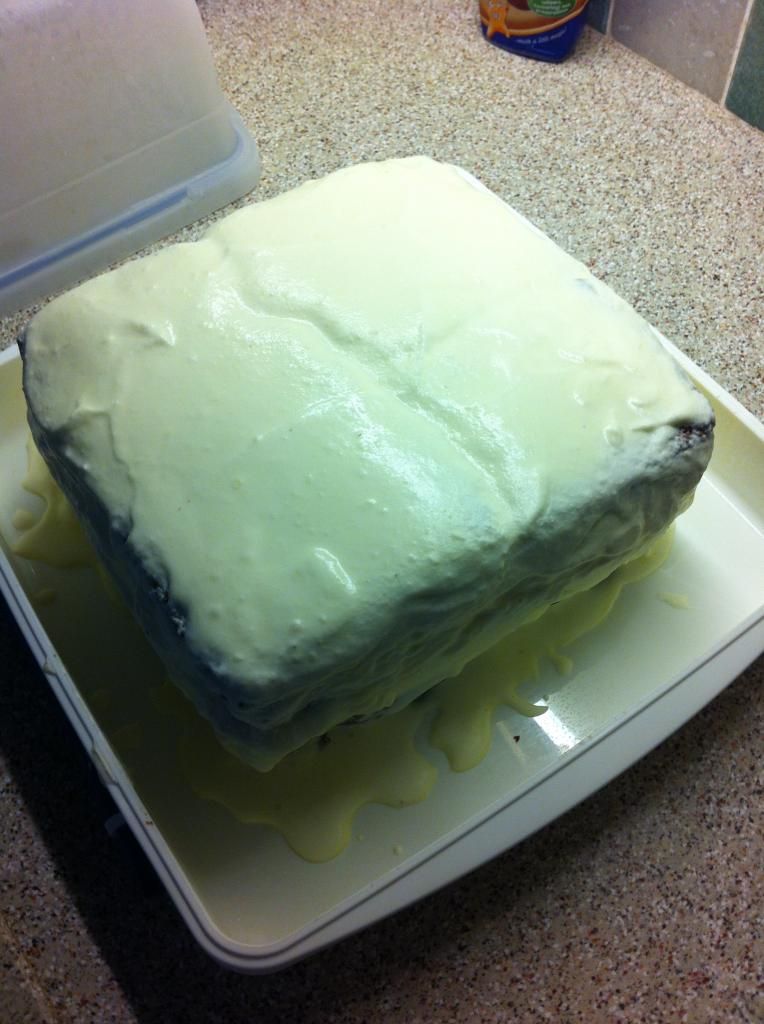 MY MELTING DISASTER!!!
9. Return your construction to the freezer. When ready to eat, remove from the freezer and sprinkle the chocolate sauce on the top in your desired pattern.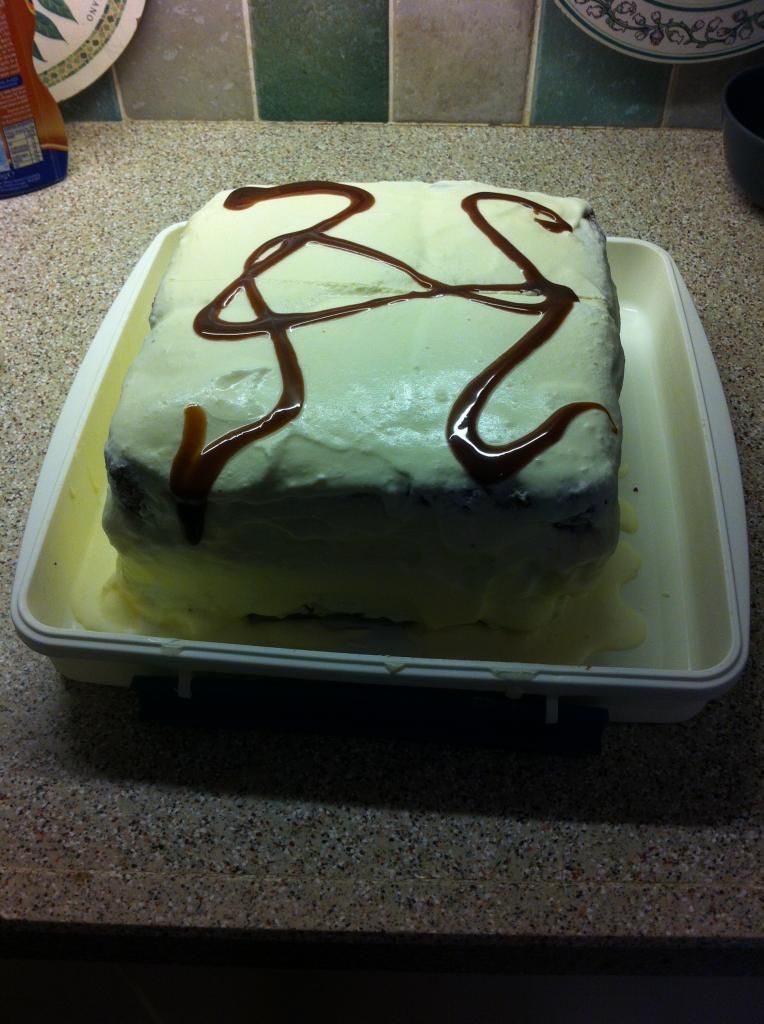 I'm pretty sure I could have rectified how messy this looked by re-spreading the ice cream at this point (before putting the sauce on), but to be honest all I really wanted to do was eat it!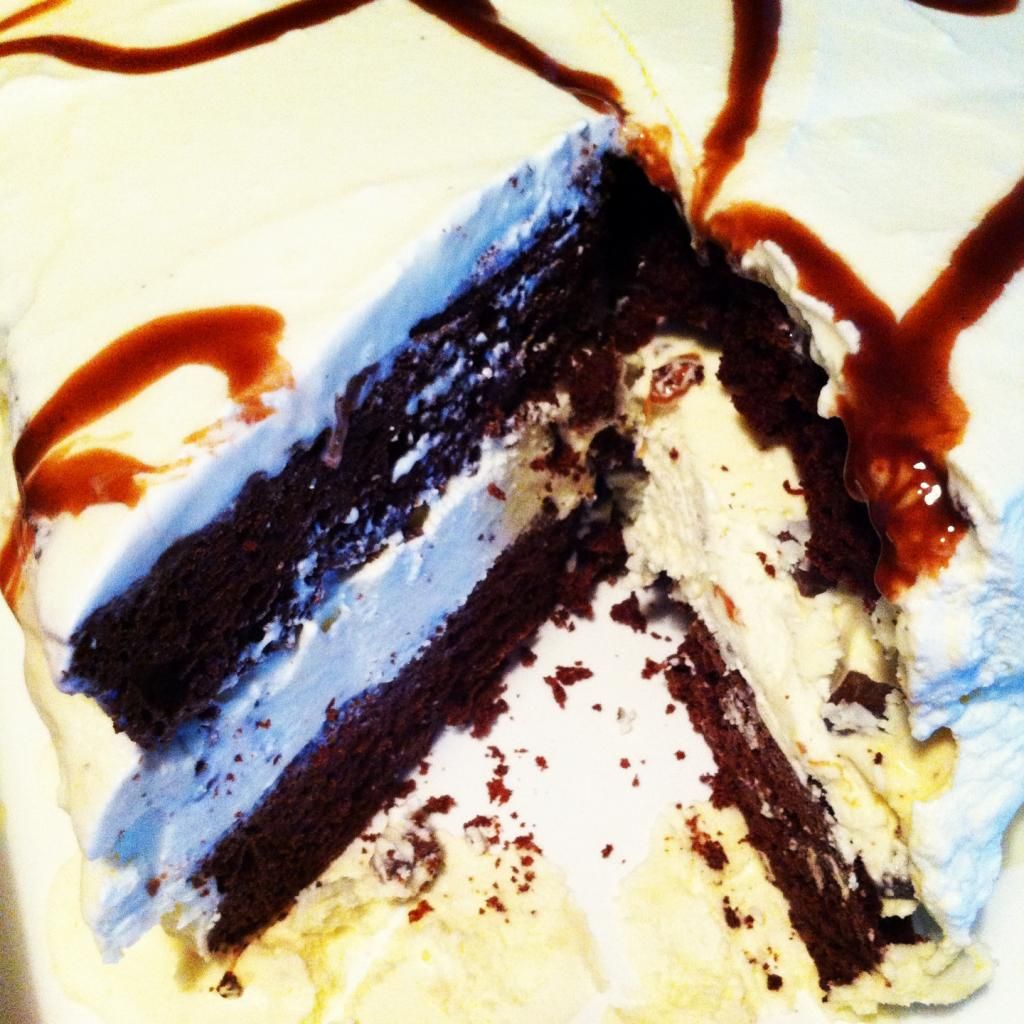 So there you go, I'm not sure that I've really made much sense, but if you're stuck follow
this method
.
After all of that, I'm not sure whether I actually like the concept of an ice cream cake, it seems like a much more straightforward idea to just bake a cake and then have it with ice cream! If I were to try it again I'd probably cover it with chocolate ganache instead of ice cream, or just make an abnormally flavoured arctic roll!