Back in May, I embarked on a day trip to 'Go Ape' at Trent Park, near London. I had a truly enjoyable time accomplishing something I wasn't convinced I would be able to do. My battle with anxiety isn't something I've shared on this blog, but I think my experience at Go Ape is worth writing about because it offered a great opportunity to confront some of that anxiety in a really fun, relaxed, environment.
What is Go Ape?
At Trent Park, Go Ape's Tree-Top adventure involves navigating yourself around a set of 5 tree-top courses. Think - childhood adventure playground/obstacle course beyond your wildest dreams. The first course is relatively close to the ground; it's supervised by instructors who demonstrate how everything works and they stick around to ensure you know how to use your safety equipment correctly - you alone are responsible for attaching your harness to the course and making sure that you always stay attached! The supervision tapers off as you progress around the course; they're still there, but watch from afar (you have a whistle in your harness if you really need help) meaning you can progress at your own pace, which was rather nice!
Each part of the course starts with a rope ladder to get you up to the crossings ...
Then you endeavour to get yourself between trees via a multitude of different crossings, from tunnels ...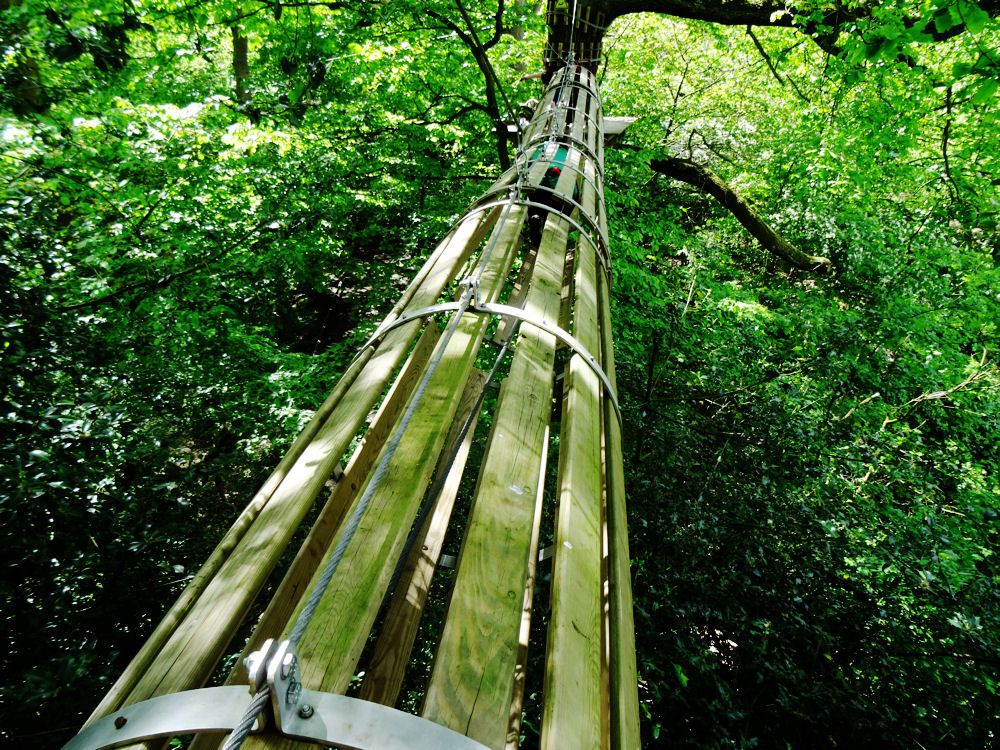 ... to simply pulling yourself along wires ...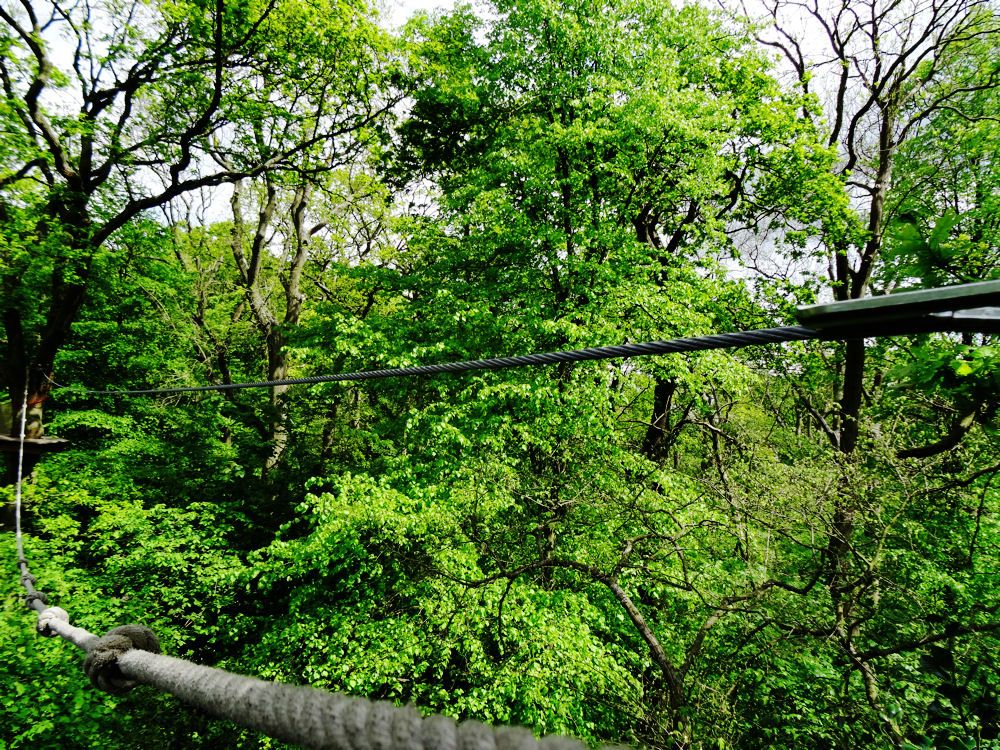 Then, each part of the course ends with a zip wire to take you back to the ground (most probably with a thud - it's quite difficult to land on your feet!) - one of them even has a skateboard to stand on!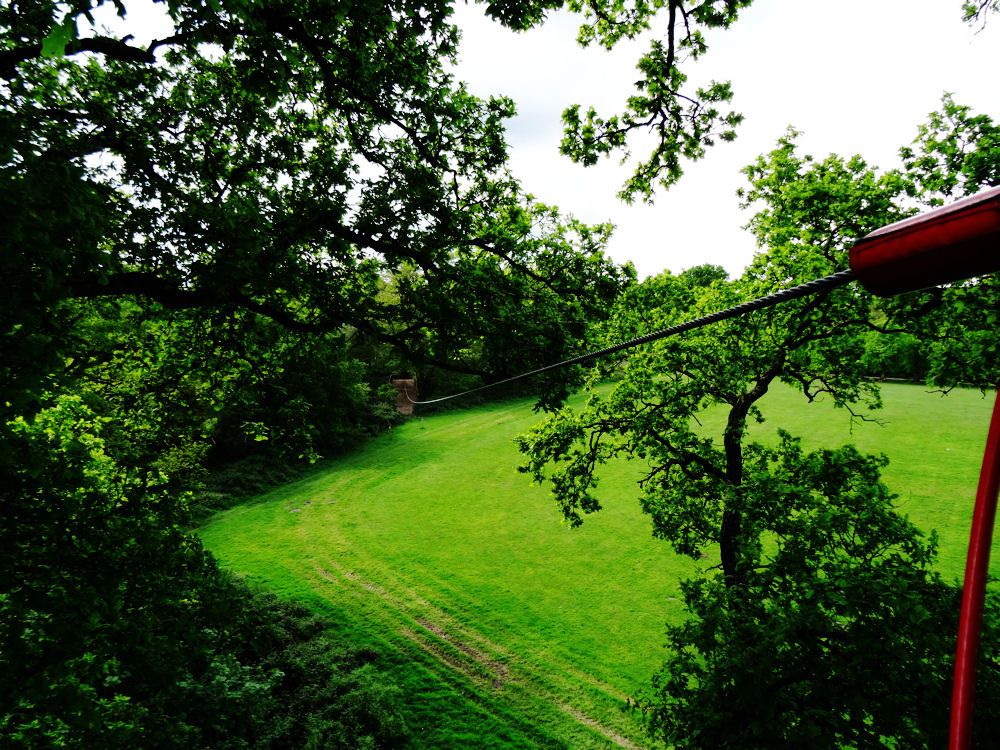 Two of the courses also contain 'Tarzan Swings' which involve jumping/swinging off of a platform towards a cargo net!
Why Did I Do Go Ape?
1) I've known about it for a while, it's always looked super fun and something I'd love to be able to do (but never thought I would ever have the nerve to).
2) I had a few weeks where I felt totally and utterly trapped by my anxiety; then I had a sudden (unexpected) urge to get out and do something that really scared me. I really wanted to be able to do something that made me very anxious.
3) It's a pretty safe environment to be exposed to some risk and learn how to deal with how I feel when presented with risk/'danger'.
4) I liked the idea of having/learning to trust myself to get round the course safely.
I was really quite surprised at how well I coped with it all. In the past, my anxiety has led to an endless cycle of avoidance.
How Did I Find The Go Ape Experience?
Before hand, my fear of social situations meant that I was anxious about arriving and signing in, being up in the trees with a group of people that I didn't know (bar one, I did take a friend!), holding people up and letting down my companion if ultimately I couldn't do any of it. I was anxious there would be nowhere to leave our bags (there is), I was anxious I'd have to leave my camera on the ground leading to it being stolen (it's fine to take them in the trees). I was anxious about plummeting to my death (my mindset often lingers around the idea that if something 'could' happen, it's definitely going to happen to me) and whether I was physically capable of doing some of the obstacles. A lot of my anxiety also stems around being put in situations where I think I'm going to feel scared - the cliche of being fearful of one's own fear - I was definitely freaking out about how much it was going to scare me.
I almost didn't go, staying at home seemed MUCH safer. But, I'm finally getting to the point where I know I will feel a lot worse (in terms of disappointment in myself and regret) if I don't do things; my desire to participate has started to overpower the anxiety. That's nice to know - if I want to do something, I can, even if I do feel anxious.
Although my heart was in my mouth every time I stepped off a platform, I genuinely enjoyed the experience. The zip wires were definitely the best part - I felt a lot more free zooming towards the ground than I have for a long time! It unleashed my inner child, possibly for the first time in my life - I was an anxious child, so would normally have been the one watching from the ground.
Having said that, I didn't do the larger of the two Tarzan swings, there is an alternative route which definitely looked a lot more appealing. I'd pushed myself far enough for the day - but looking back, it was my anxiety holding me back at that point.
Overall, I'm incredibly glad I went for it. It's helped me a lot of times since - if my anxiety is playing up I can have a firm talk with myself along the lines of... 'if you can step off a tree at 16 metres you can do this ...'. There was the added bonus of surprising a few doubters too!
You can find out more about Go Ape via their
website
. I really like the look of their new Zip Trekking Adventure at Grizedale Forest!