I don't really go on many holidays (the last being
Center Parcs back in 2013
!), but this year my Dad and I decided we deserved to get away for a bit. The Eden Project has been on his to do list for a long time and after much deliberation over where to base our Cornish holiday, we opted to stay in the idyllic fishing town of Looe.
Looe is well situated for many of Cornwall's main attractions and boasts some stunning scenery, restaurants and amusements of its own. We had a truly great week which involved a trip to The Eden Project as planned; but also a visit to The Lost Gardens of Heligan, a hike along the South West Coastal Path to the neighbouring fishing village of Polperro and of course lots of time spent taking in Looe's own sights. Here's my guide for anyone wanting to base their Cornish holiday in Looe.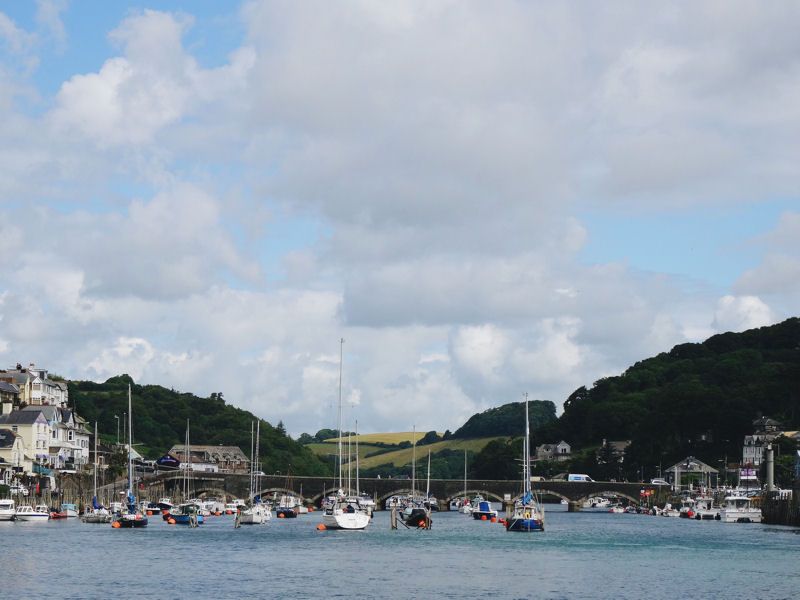 Where to stay in Looe, Cornwall.
Looe is a unique place; two branches of the River Looe converge into Looe Harbour which in turn runs into Looe Bay and a beautiful sandy beach. The harbour splits the town in half meaning you have to choose whether to stay in East or West Looe.
East Looe houses the multitude of shops and restaurants that form the town's centre; the west bank has better views out over the bay, but you have to walk further, or take a boat, to reach the main amenities. It's a bit of a practical v.s. beauty decision.
We opted for a happy medium in the form of Low Tide apartment (details
here
) which sits near the bridge that joins the two sides. It's a great little 2-bed apartment, a little bit away from the bustle of the town. It didn't have much of a view, but the reserved parking space and free WiFi made it a winner in our minds. Parking in Looe is difficult by anyone's standards so be sure to check there's somewhere nearby you're happy to leave your car before you book.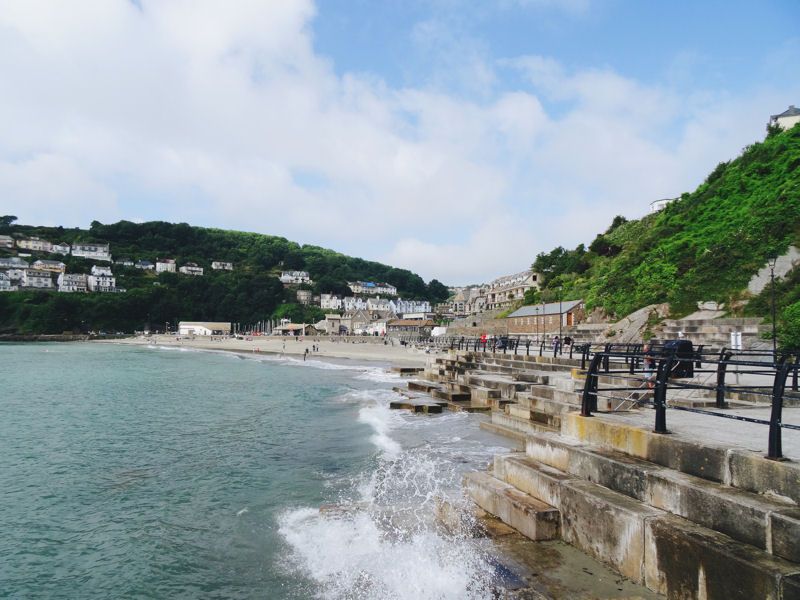 Things to do in Looe, Cornwall
If you're seeking a traditional English beach holiday, Looe is a wonderful location. It boasts a beautiful sandy beach that's served by multiple nearby cafes and has its own amusements during the summer months. During my trip in July, inflatable slides and a carousel type ride were erected each day and of course, you can swim, rock pool, sunbathe or simply watch the world go by.
Looe has its own sailing club, who were out on the water twice during my stay, we also saw some long Viking-esque rowing boats out practising. If you fancy getting on the water yourself there are many official boat trips that take tourists up the river, over to the neighbouring fishing village of Polperro and out to Looe Island where there is a nature reserve.
Attractions near Looe, Cornwall
Although it's perfectly feasible to stay in Looe for the duration of your break, there are many nearby attractions that you might like to visit. In particular, The Eden Project and The Lost Gardens of Heligan are only a 40-minute drive away, we went to both during our stay - they're well worth a visit.
We also spent a morning hiking from Looe to Polperro (a beautiful fishing village) along the South West Coastal Path - though not for the feint hearted, this was my favourite part of the holiday, the views from the path as you head down into Polperro are absolutely stunning.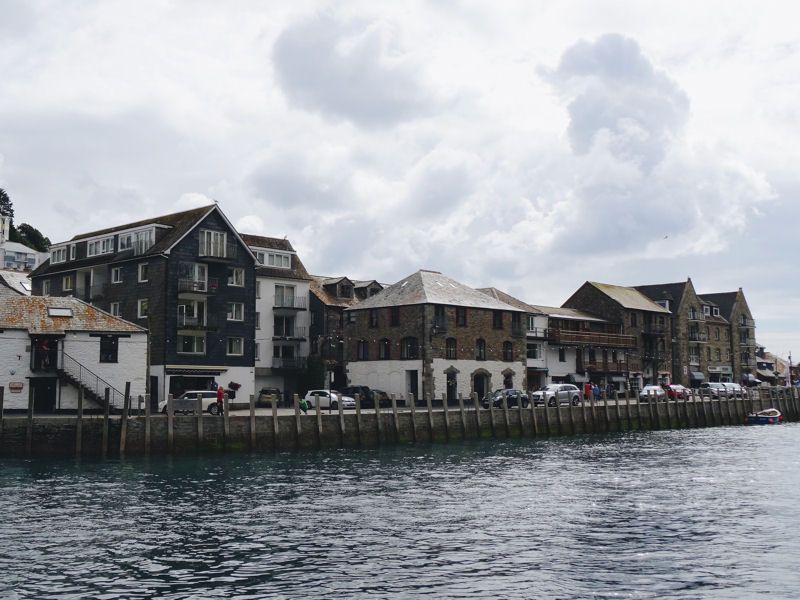 Where to eat in Looe, Cornwall
East Looe provides a multitude of dining options from pasty shops and bakeries to family run cafes, pub meals and more upmarket restaurants. There really is something for everyone. A lot of the pubs and restaurants get very busy in the evening but many let you book ahead. I can only vouch for the places we tried but here are some of my favourites...
Dinner options in Looe, Cornwall
During our stay we had three full evening meals out; the first was at
The Cornerstone Bar & Grill
which serves an American style menu of burgers, steaks and hot dogs. Its menu is surprisingly vast and the 'Rodeo Burger' I had was a serious rival to the offerings of some of the more trendy burger joints in London. Quick service and great food - I highly recommend it.
Zute Lounge, Bar & Kitchen
was often practically empty when we walked past. Indeed, we only ended up there because our original plan was full, but thank goodness we did, it was the best meal of our holiday. The food is Italian inspired but the menu more sophisticated than your average Italian Restaurant. I opted for the chicken and chorizo risotto which was the most delicate, melt in your mouth risotto I've ever had. It was more than reasonably priced and if I were to visit Looe again I'd be back there like a shot.
We also had some great homemade pizzas at
Mama J's Italian Kitchen
, but Mama J herself was a little too forceful in her 'are you enjoying the food?' probing for our liking - we're introverts, we like to be left alone!
Fish and Chips in Looe, Cornwall
We had Fish and Chips twice during our stay; it's practically obligatory, right? Initially, we opted for
The Catch
which is located right beside the harbour and has an inviting shabby-chic seaside vibe going. The food was good, but nothing to shout about.
Later in our trip, we tried a takeaway from 'Kelly's of Looe' which, from the outside, looks a little run down but the food was utterly sublime. Tip: opt for a large cod (as opposed to regular) and they'll cook it fresh for you. My Papa has had more than his fair share of fish and chip suppers but this was the best he's ever had.
Pasties in Looe, Cornwall
We only sampled pasties from one establishment, but they were so good that we didn't need to try anywhere else - and that's coming from someone who hated pasties. 'The Cornish Bakehouse' really won me over; they have many, many different varieties of pasty and they display them all, conveniently labelled, in their shop window. Super helpful if you're someone like me who gets all anxious about making a decision when you're under pressure in the queue. I had their ham and cheese offering multiple times, I can still taste it now almost three months later! So good.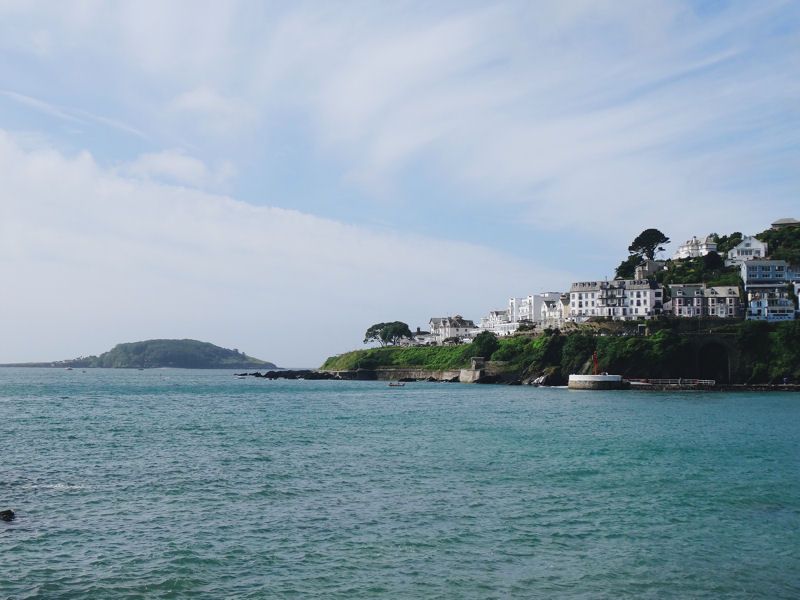 So there we have it, my guide for a super Cornish holiday in Looe. I really do think Looe is a great base for your Cornish holiday; whether you're seeking a relaxing beach getaway or a convenient base to explore what Cornwall has to offer, it has something for everyone.
If you've been to Looe I'd love to hear about your experience!