Affiliate links are marked with an asterisk. Learn more.
Twelve hours in London: 2 musicals, Borough Market and a LOT of walking!
My theatre plans often turn into, well, more than theatre plans. I had tickets for the matinee of 'Urinetown the Musical' on Saturday, so decided to maximize the benefit of my train ticket expenditure by heading over to the South Bank. I'd never been to Borough Market before, how did I not know how great it is? We wandered around the whole market, given it was Saturday lunchtime it was incredibly busy, so it was kind of difficult to see in detail what was on offer and we couldn't really buy anything to take home (because it would be going 12 hours without a fridge!) – we'll definitely be going back, the pies in particular caught out eye.
However, we did settle for lunch from Bostons Sausage, who had an incredibly well-organised stall. We both had a sausage and onion sandwich (delicious and great value for money!) which we ate under the gaze of the Shard. While we were there a bride arrived for her wedding at Southwark Cathedral; I'm not sure how I'd feel about getting married with hundreds tourists/locals looking on while eating their lunch!
Pudding was next on the agenda and proved to be a difficult choice …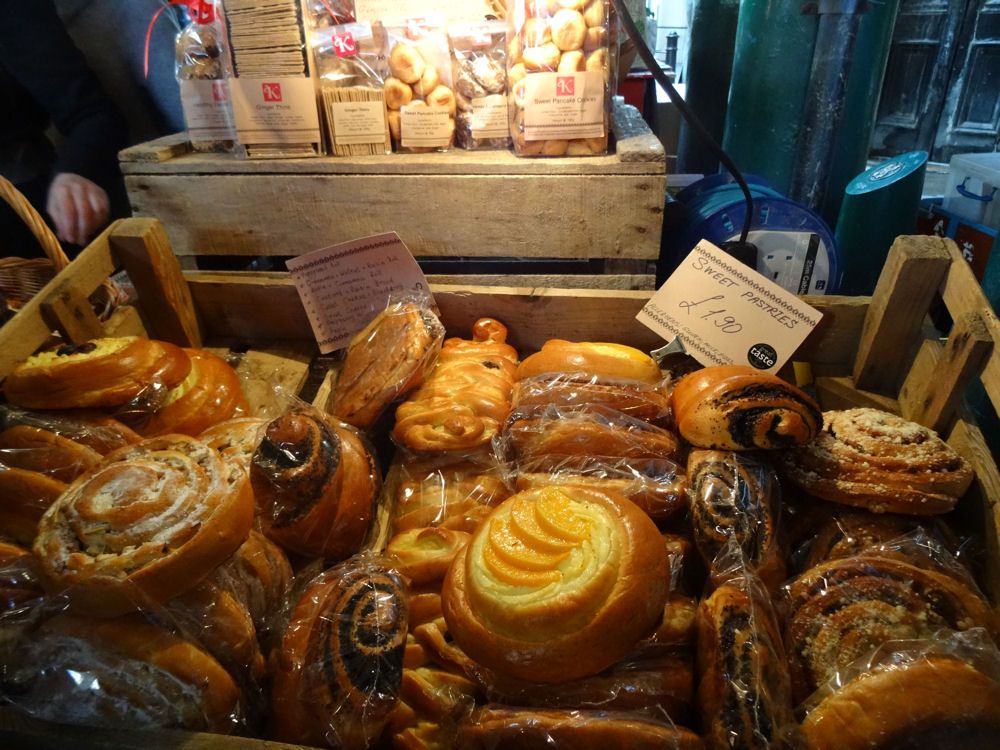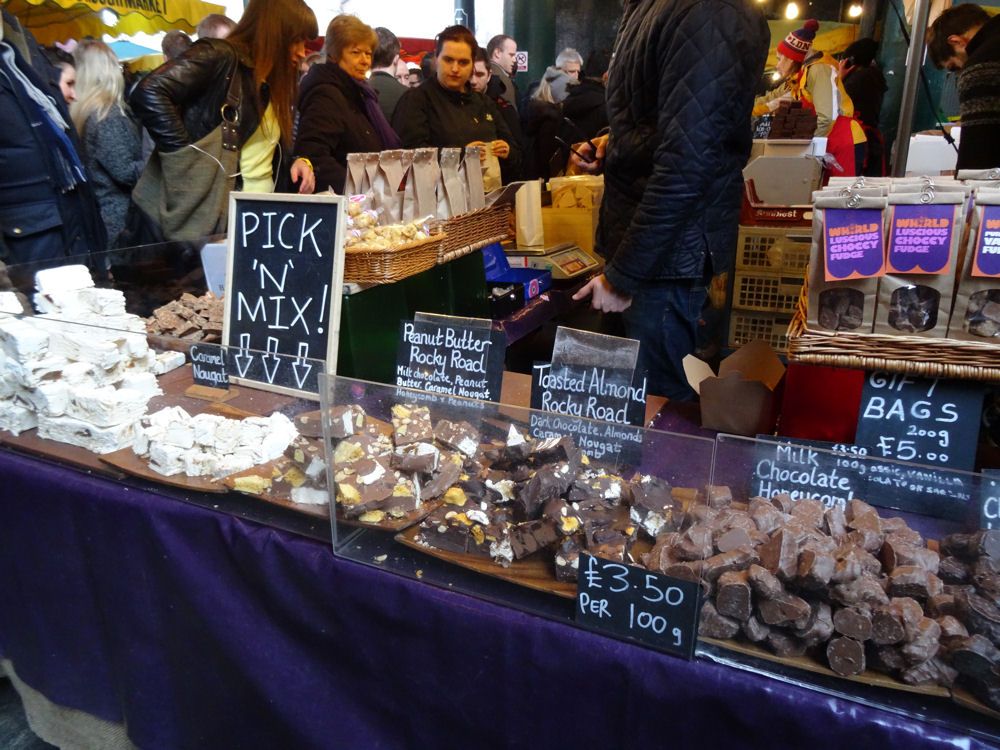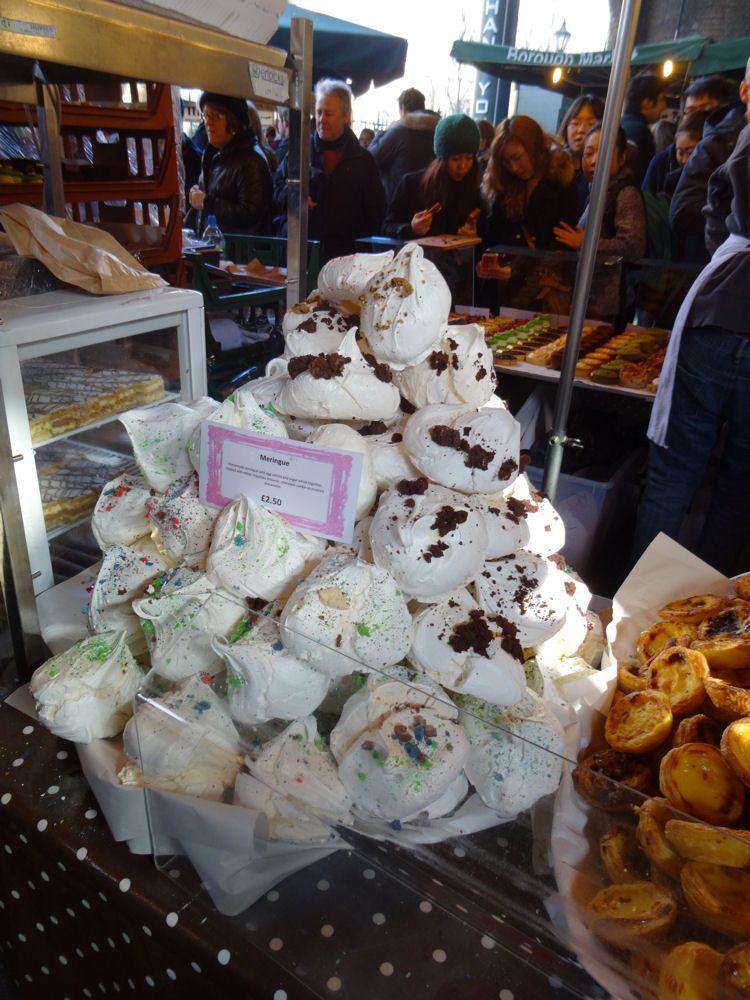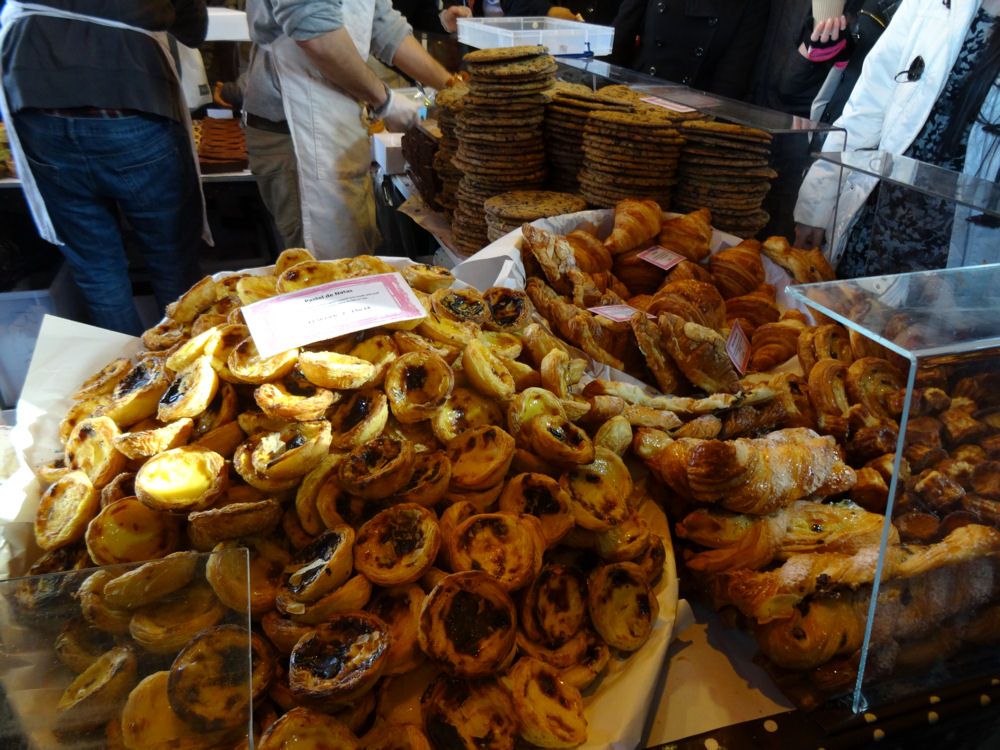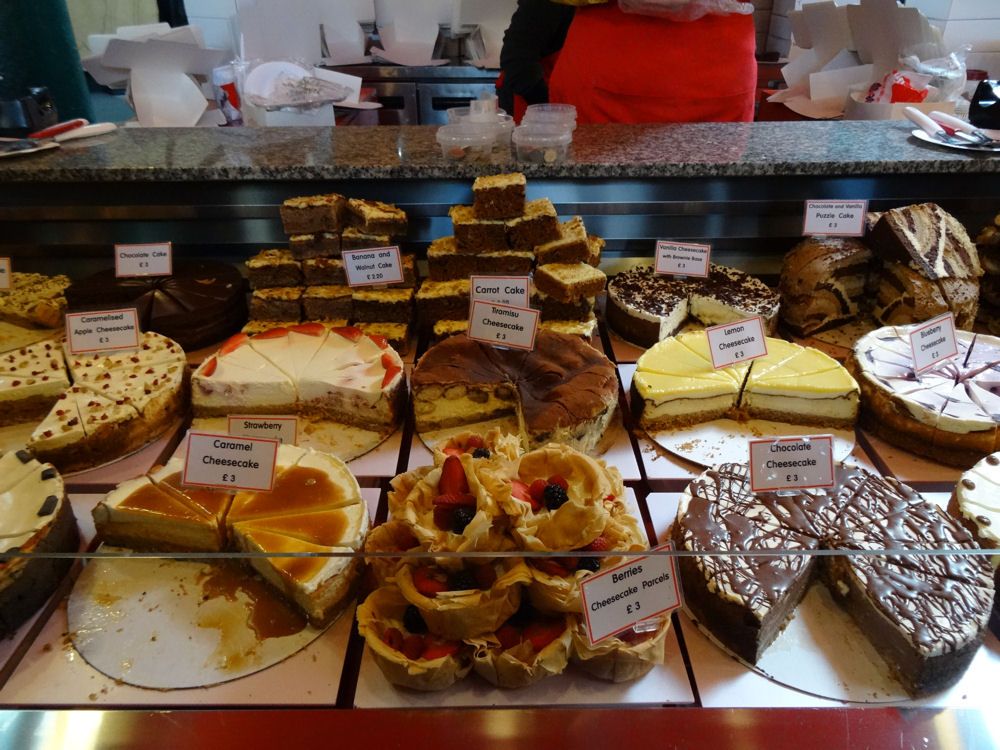 We opted for some cheesecake, I always have a huge soft spot for anything caramel, so caramel cheesecake it was! … not a bad choice at all.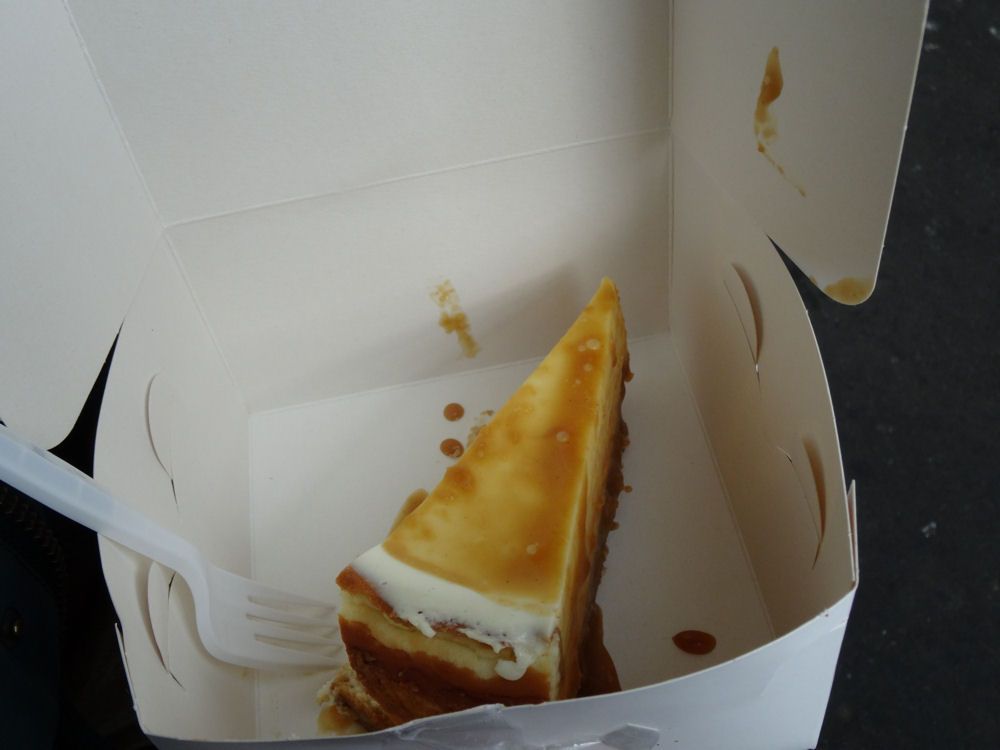 With time still to kill before the Urinetown matinee, we decided to make our way towards the St James' Theatre via the river. We ended up walking the whole way from London Bridge to Victoria, obviously, I couldn't resist taking some photos (very touristy photos) along our route!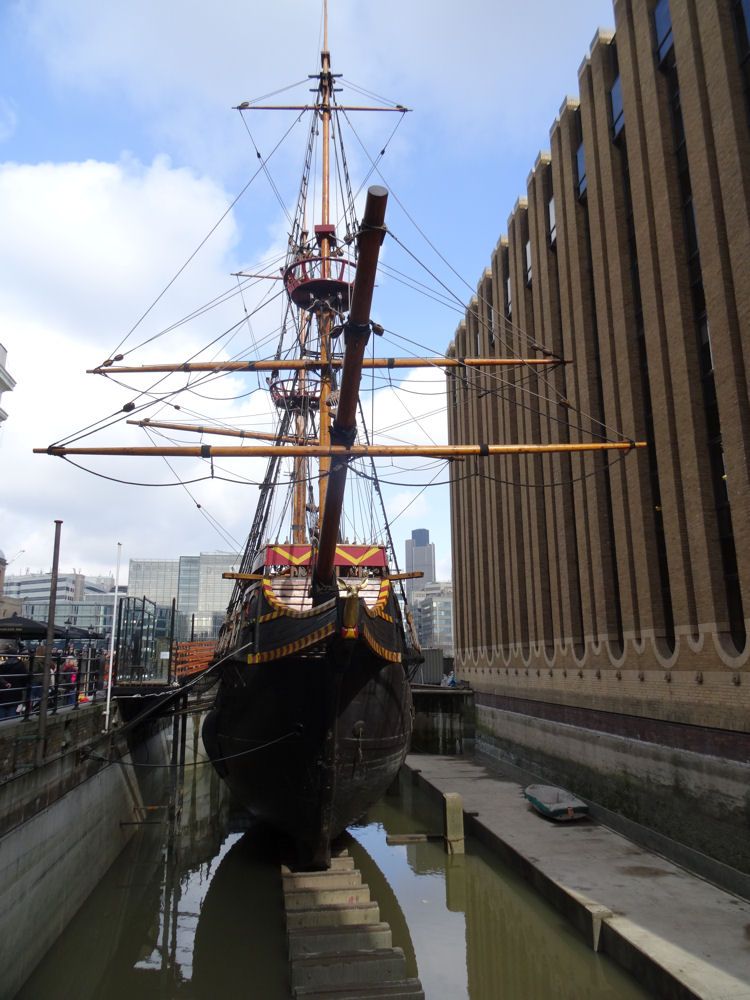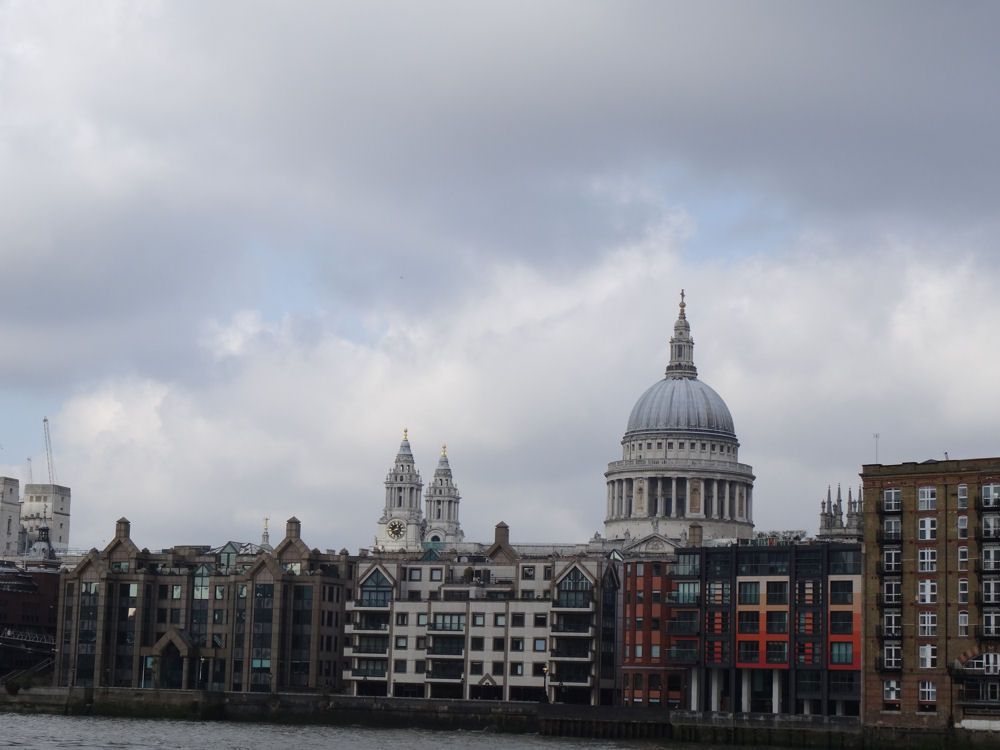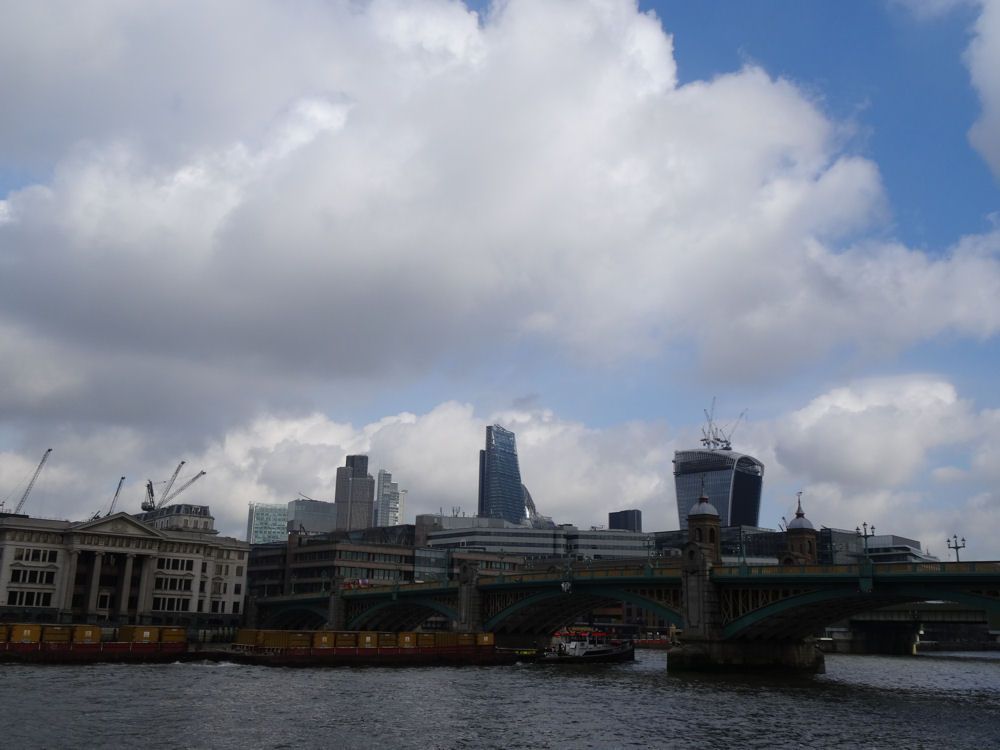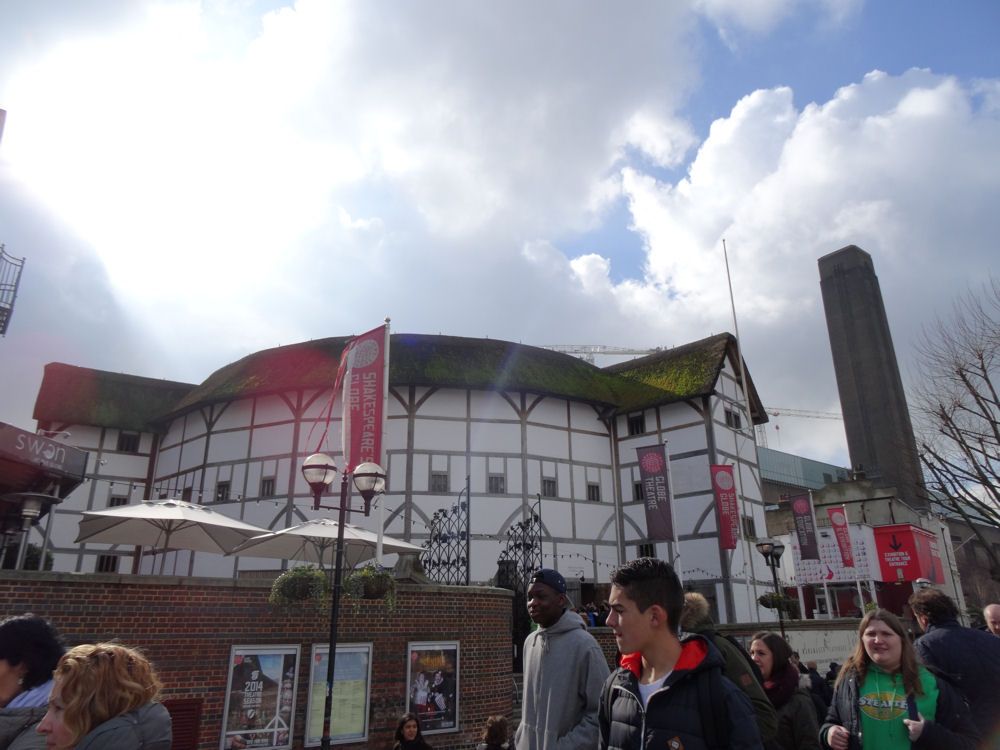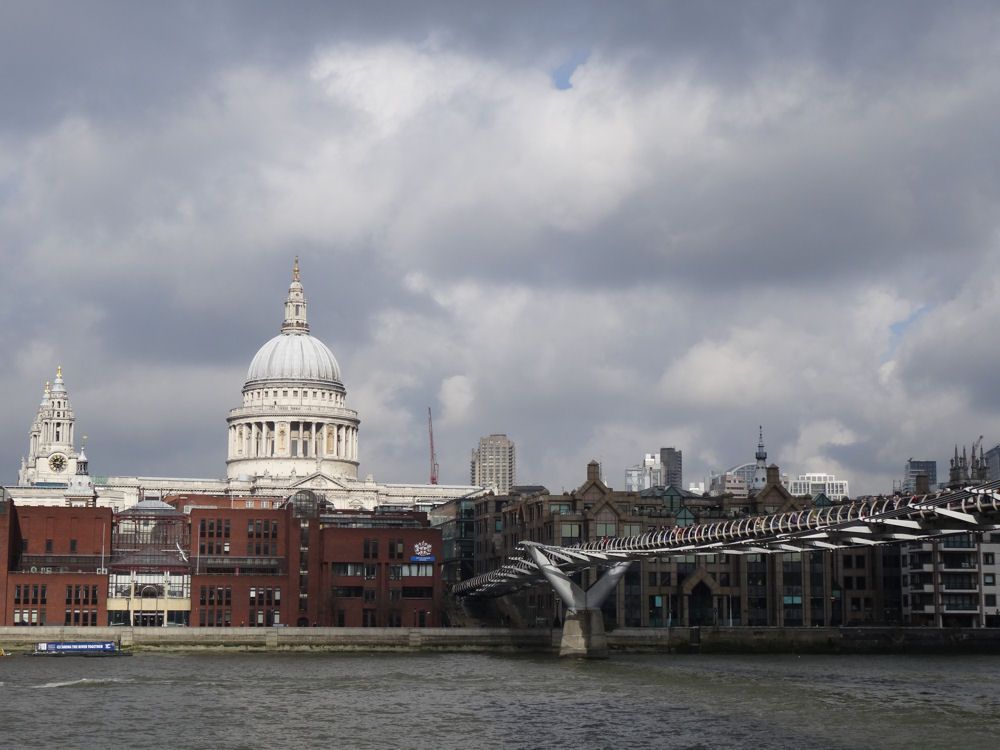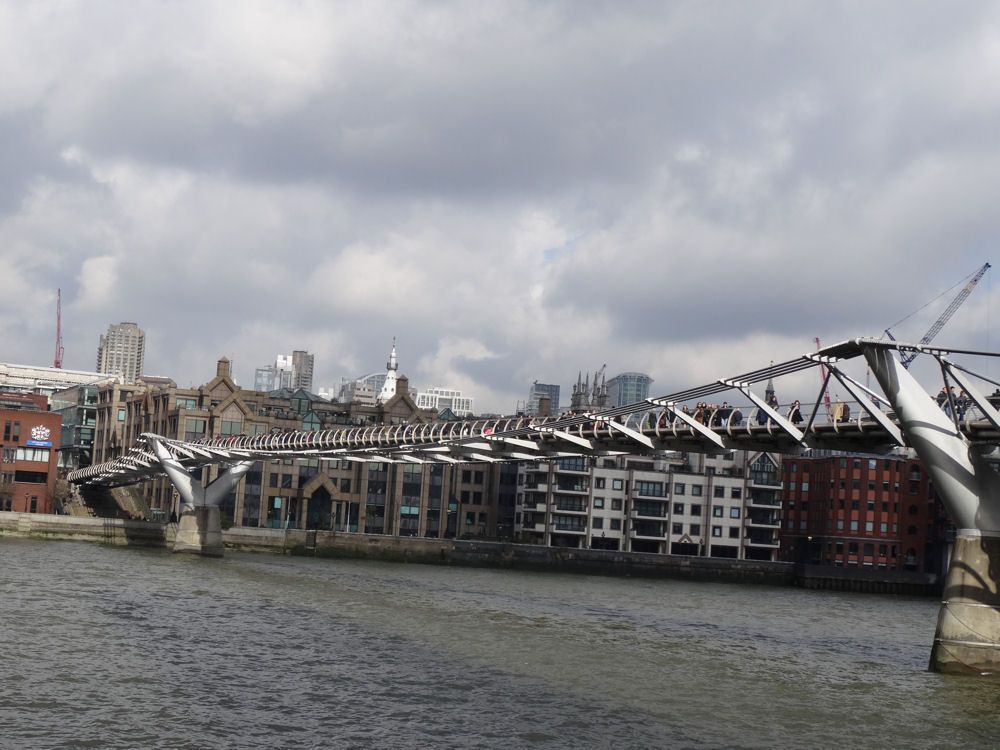 I adore the Millennium Bridge, to me it looks like a spine, and of course reminds me of Harry Potter!
We made the mistake of walking all the way to Westminster Bridge before crossing the river. Saturday = CROWDED to the extreme. Thankfully before long, we had reached the sanctuary of St James' Park … it looked a lot prettier than the photos suggest, with a few flowers out it felt almost spring like, though still very very cold when the sun was behind the clouds.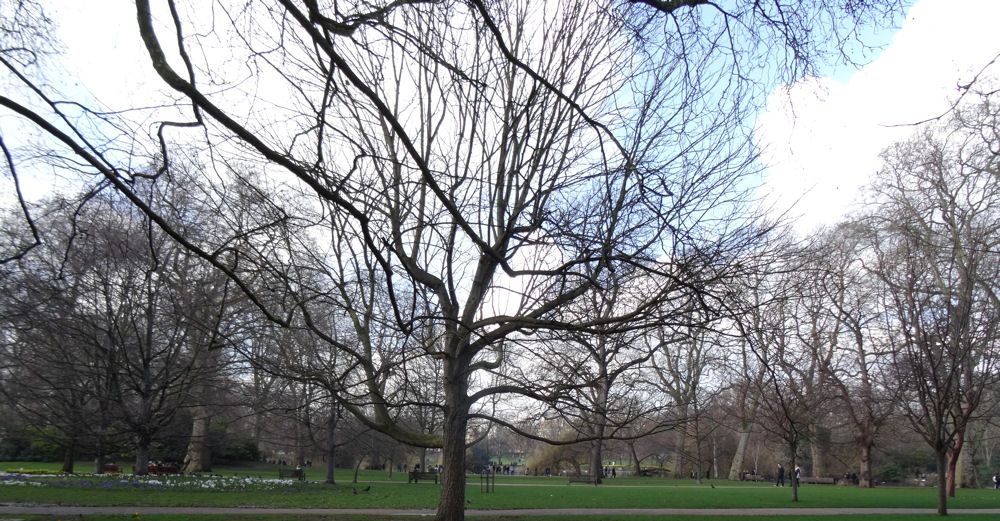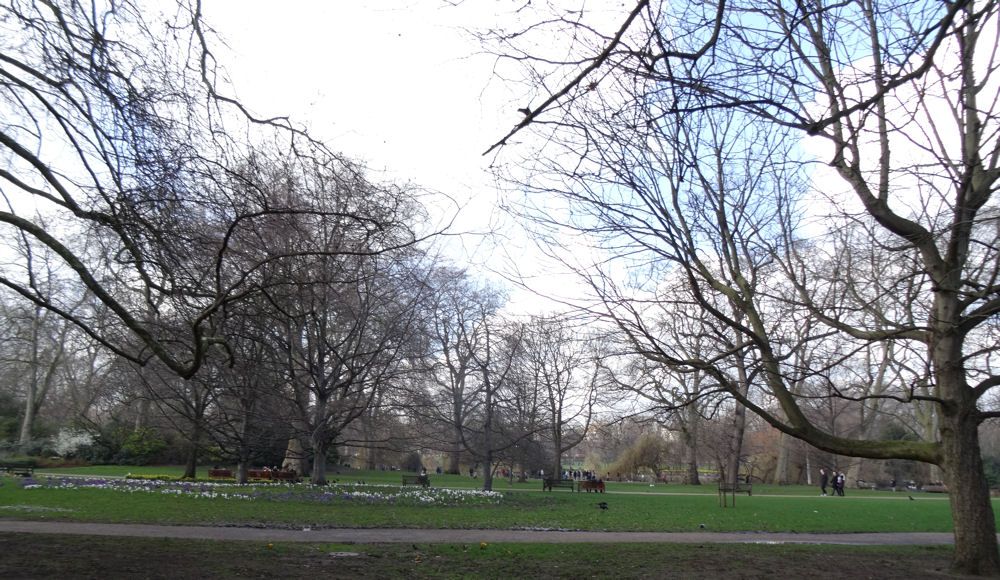 Anyway, we made it to our destination in good time (though we did get a little lost trying to find the theatre!).
Urinetown was an absolute gem of a musical, funny yet remarkably profound, great cast, enthusiastic audience, Saturday afternoons don't come better than that! I will post a full review in due course.
Now, we weren't 100% sure whether we were going to go for our second musical of the day. Having heard earlier in the week that Stephen Ward is to close on March 29th we agreed that we definitely wanted to see it again before it's gone. I guess it just made sense to add it onto our original plans. After Urinetown, we took the district line from Victoria to Embankment, then walked the remainder of the distance to TKTS in Leicester Square (ouch, my legs were beginning to hurt by this point); ran into a few rowdy Sunderland supporters (more on them later), but managed to get two great stalls seats for the evening performance. I must put in a great word for TKTS, never once have I been disappointed with what they have to offer, and I've always been allocated great seats, even at pretty short notice!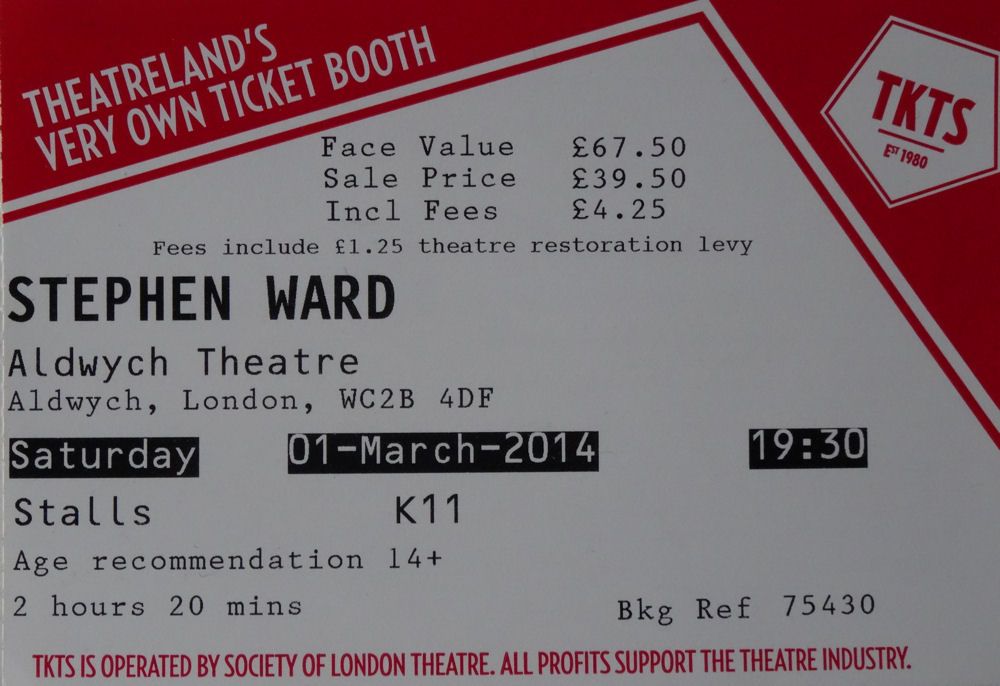 We opted to have a quick dinner at Pizza Express (the one near Leicester Square tube), mistake, it was crazily busy, we had to wait 40 minutes (after a 25 minute wait for a table) for our simple order of two pizzas to arrive, and even then my pizza had some foreign toppings on it …. who scatters a few anchovies on a simple pepperoni pizza? … and breathe, enough about that.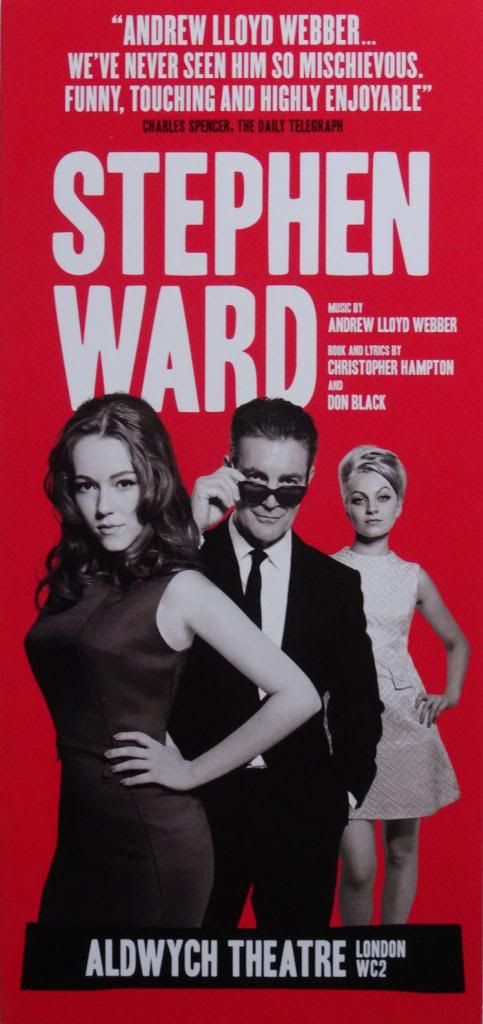 I'm so glad we revisited Stephen Ward, it was nice to cement the production into my brain, the projections were better viewed from the stalls. Again Alexander Hanson and Charlotte Spencer were flawless. We had understudies for Mandy and Johnny Edgecombe, both of whom didn't disappoint. I won't do a full review because my thoughts haven't changed a great deal since my first visit, which I reviewed here; but I would wholeheartedly urge anyone who's not seen it go before it's too late.
Sadly, the person sat next to me wouldn't say the same. At the interval, they made it perfectly clear they were bored rigid by the whole thing (I have an inkling they arrived at the theatre with this pre-judgement in mind). But to be honest, would you trust the judgement of someone who thinks it's perfectly acceptable to slowly rip the paper off of their drink bottle for the entirety of the show? … no, neither would I …
We had a slightly trickier time getting back to a tube station after the performance. There were inebriated Sunderland fans EVERYWHERE, completely blocking the roads in places, smashed bottles, litter all over and around Covent Garden, chanting like you would not believe, riot police vans, the lot. Scary and in my opinion totally unnecessary!
But we did get home, and nothing could have spoilt the wonderful day I'd already had … I love London. The End.