Affiliate links are marked with an asterisk. Learn more.
I made it clear in my reviews from summer 2013 (To Kill A Mockingbird & The Sound of Music) that a trip to Regent's Park Open Air Theatre is a firm staple of my theatre-going calendar. I can't say that Porgy & Bess appealed to me from the outset, in fact, I was considering giving it a miss until I found out that I was still eligible for the theatre's 'Breeze' scheme; whereby individuals aged 18-25 can get reduced price tickets for all preview performances. The scheme is almost too good to be true and reluctant to miss out on my annual trip to this beautiful theatre I took a punt on a Breeze ticket.
I feel it only fair to make it clear that I did see a preview performance, I believe the production's official opening night is Monday (28th July) – so make of that what you will!
Porgy and Bess
Porgy & Bess depicts an African American community in Charleston, South Carolina; the plot focuses on Porgy (played by Rufus Bonds Jr), a disabled man who is the sole inhabitant with the courage to attempt to rescue Bess (played by Nicola Hughes) from her troubled past.
There is no doubting the fact that this musical is dated. It falls into the category of what I like to call a 'washing line' musical – the plot and dialogue are strung on a thinly wired line, the songs hanging off of it, the lyrics not carrying us forward but reiterating and repeating the dialogue. These sorts of musicals are my pet hate!
Further, I really didn't warm to the music. It was an odd mix, having an almost gospel type feel (at times it felt like a seance), then somehow becoming quite operatic. Not my cup of tea at all.
This Production of Porgy and Bess
I'm normally a big fan of the Open Air Theatre's work, this was my eighth visit in five years, but I have to say – on this occasion I left really quite disappointed, baffled even. The set looked like this …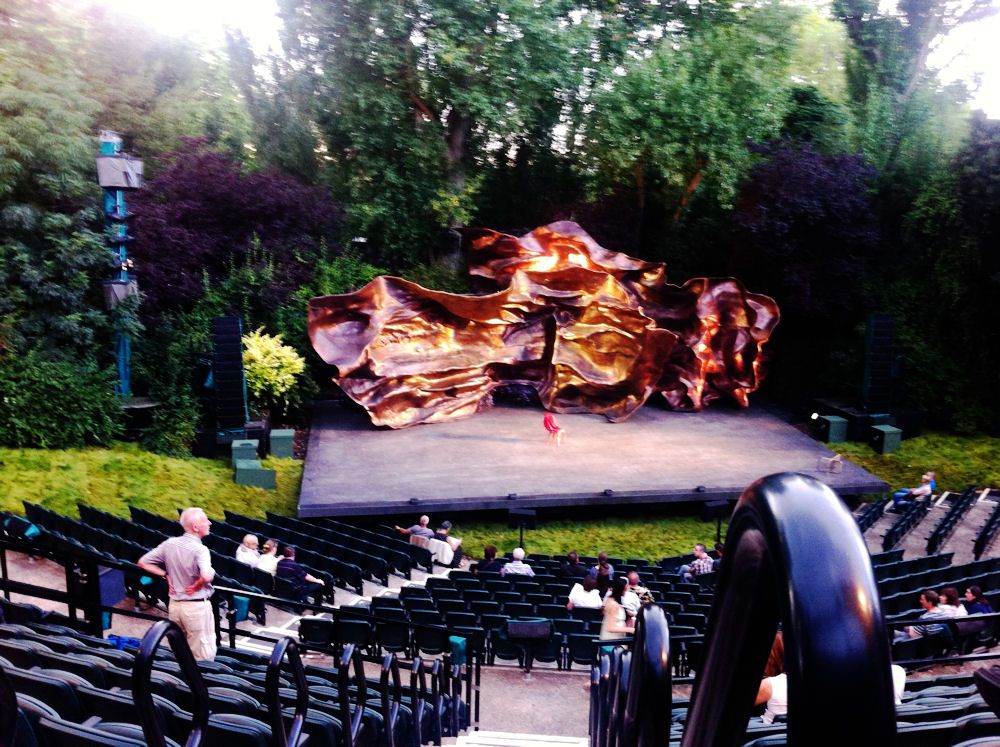 Ok, so visually it does look quite nice, and it led to some nice lighting set ups as the night drew in; but it's only relevant for about one scene in the entire musical. For what I found to be quite a complex plot, and by that I mean I got the impression that scenes were happening in a lot of different places, it really didn't suffice. They moved key props – chairs and tables – to 'change the scene'; which in itself is quite a tedious thing to look at – watching the same people continuously move chairs for 2.5 hours is quite dull.
More importantly, it was greatly confusing. When a character moved their chair to the other side of the stage: were they still in the same room? were they somewhere else entirely? Throughout the entire production, nothing set the scene for where these characters actually were. You only have to read some of my previous reviews to see that I'm not against having to use my imagination, but this was a whole different ball game – it was too minimal for a musical that the majority of the audience has no prior knowledge of.
I guess the cast was good vocally/technically, but I didn't feel the slightest connection to any of their performances. I had no idea why Porgy and Bess's relationship was developing, they felt like two strangers. There were even times when I had no idea who some characters were (and I was paying avid attention).
My Verdict on Porgy and Bess
It really wasn't my sort of show, I should have gone with my gut instinct and given it a miss. I still highly recommend a trip to the Open Air Theatre and who knows, maybe Porgy and Bess is exactly your cup of tea. There is no harm in taking a punt on a cheap ticket, but given that I was confused verging on bored for the majority of the performance: I'm struggling to give Porgy and Bess a rating higher than 2/5.