Affiliate links are marked with an asterisk. Learn more.
These Raspberry Cream Cheese Brownies jumped out at me as I flicked through Joy the Baker's 'Homemade Decadence'* after opening my gifts on Christmas Day. They just had to be my first bake of the year! They turned out extremely well, the chocolate and raspberry blend into the most delicious flavour which is made all the more moreish by the fluffy cream cheese layer!
Joy's book is written with American measurements (cups, sticks etc!) and ingredients, so I'm going to provide a UK translation of the recipe. But please consider buying the book* for a more detailed method and much, much, more – it's full of inventive, yet homely, recipes that I can't wait to get started on.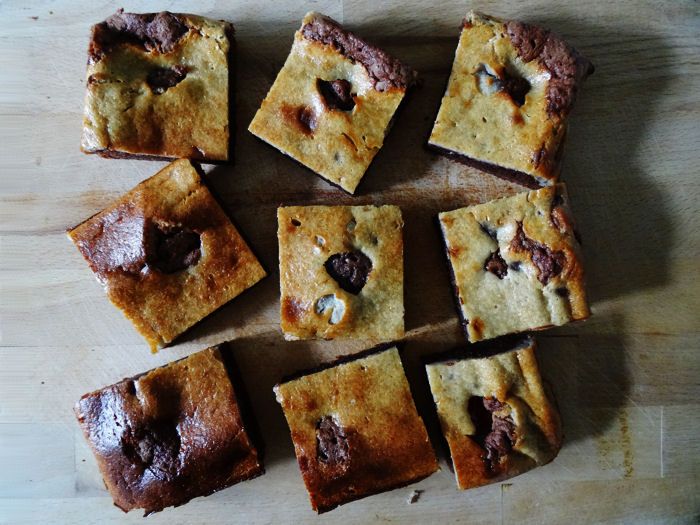 Raspberry Cream Cheese Brownie Ingredients
Brownie Layer
– 113g Dark Chocolate
– 56g Unsalted Butter
– 2 Large Eggs
– 170g Caster Sugar
– 75g Plain Flour
– 1/2 Tsp Baking Powder
– 1/2 Tsp Salt
– 1 tsp Vanilla Extract
Cream Cheese Layer
– 113g Cream Cheese
– 30g Unsalted Butter
– 30g Caster Sugar
– 30g Raspberry Jam
– 1 Large Egg
– 15g Plain Flour
– 1/2 Tsp Vanilla Extract
– 9 Fresh Raspberries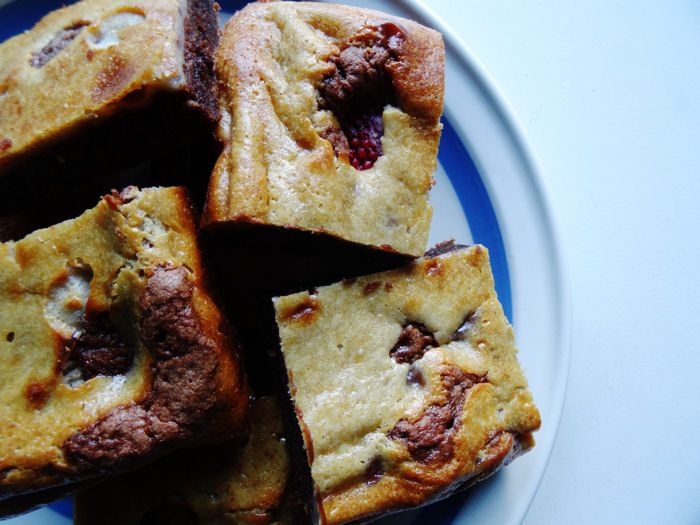 Raspberry Cream Cheese Brownie Method
1. Preheat the oven to 180 degrees Celsius (160 for a fan oven); then line an eight inch, square, baking tin with foil backed baking parchment.
2. To begin the brownie layer: melt the butter and chocolate together in a heat proof bowl over a saucepan of boiling water (don't let the water touch the bowl). Transfer the melted mixture to a medium/large mixing bowl and leave to cool a little.
3. In a separate bowl, beat together the two eggs. Then add the eggs to the chocolate mixture and whisk until uniform.
4. Add the sugar and mix until combined. Sift in the flour, baking powder and salt; again stirring until combined and finally add the vanilla extract and stir again!
5. Pour the brownie mixture into the pre-lined tray and spread it out to form a level layer, then leave to one side.
6. To make the cream cheese layer: in a medium/small mixing bowl, beat together the cream cheese and butter (it helps if it's at room temperature) until combined.
7. Add the jam, sugar and egg and stir till combined; then sift in the flour, add the vanilla and stir again!
8. Pour the cream cheese mixture on top of the brownie layer in the tin. Tilt the pan to create an even layer, then press the nine raspberries, evenly spaced,  into the top of the mixture … one raspberry per brownie!
9. Bake in the preheated oven for 30-40 minutes until a skewer inserted into the middle comes out relatively clean (a few sticky crumbs is ok!).
7. Leave the brownies to completely cool, then cut into nine slices to serve … (I may have already eaten some before the next picture was taken … they smelt too good to resist!) …