Affiliate links are marked with an asterisk. Learn more.
I'm a bit of a tennis junkie. I follow the ATP & WTA tours all year round but generally prefer watching women's tennis, particularly during slams – mainly because I lack the patience (and nerves) for five sets! I distinctly remember being captivated by the 2002 Wimbledon final between Venus and Serena (I think it was the first match I ever watched the whole way through) and have been a fan ever since – as cliched as it sounds, they are my heroes.
For a tennis fan who's lived in decent proximity to London their entire life, I've seen a serious lack of Tennis matches in person – none, until this year. It always just seemed like something other people did. Last July, as I watched from my sofa as Serena exited Centre Court, with the Rosewater dish balanced on her head, having just won her sixth Wimbledon and twenty-first grand slam title; I vowed to myself that I would do everything in my power to see Venus and Serena in person at Wimbledon 2016.  I couldn't let them retire without witnessing their magic. You know what? I freaking did it.
Wimbledon tickets are notoriously tricky to come by. You either have to be lucky in the ballot, have super-ninja Ticketmaster skills or camp in the daily queue (or, you know, be super rich and either buy a debenture or pay a month's wages to secure a debenture resale ticket!). I was lucky enough to have success in my first ever ballot entry and got allocated Court 1 for the first day of the tournament; then, having found out the queue is generally quieter on women's quarter finals day, I managed to make it to court 1 again. For mental posterity's sake, here's a rundown of my two days at Wimbledon. It was truly fantastic.
June 27th, 2016 – Wimbledon Day 1
With tickets in hand, we arrived at the All England Club as soon as the gates opened. We wandered around the grounds (my goodness they're beautiful) and settled on the first round match between Daria Kasatkina and Victoria Duval for the few hours before play started on Court 1.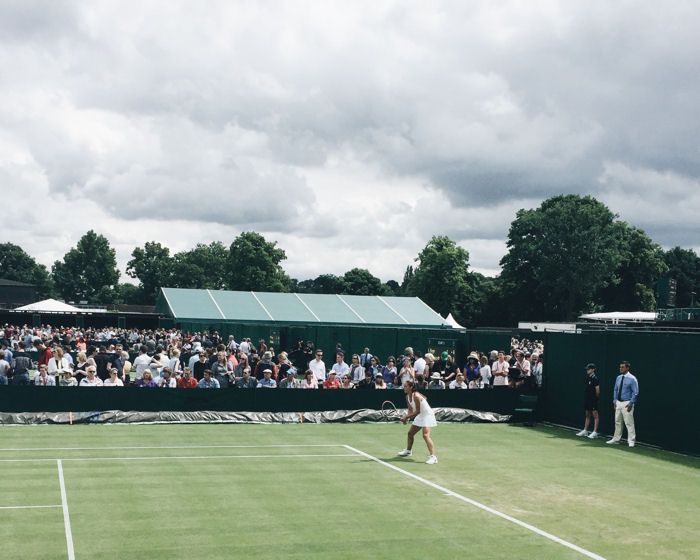 I've watched quite a few of Kasatkina's recent matches and really enjoy the way she plays. After a foot fault call on Duval's very first serve of the match, she seemed to struggle a little and Kasatkina stormed to a 6-0 lead in the first set. The second set was closer, but Kasatkina edged it 7-5. I'm very happy this was the first match I ever saw in person, at only nineteen Kasatkina is definitely one to watch out for in the future.
Luckily that match finished just in time for us to hot foot it over to Court 1 where, by some minor miracle, Venus was scheduled to play her first round match against Dona Vekic. I may have jumped up and down a little (a lot!) when the order of play was released!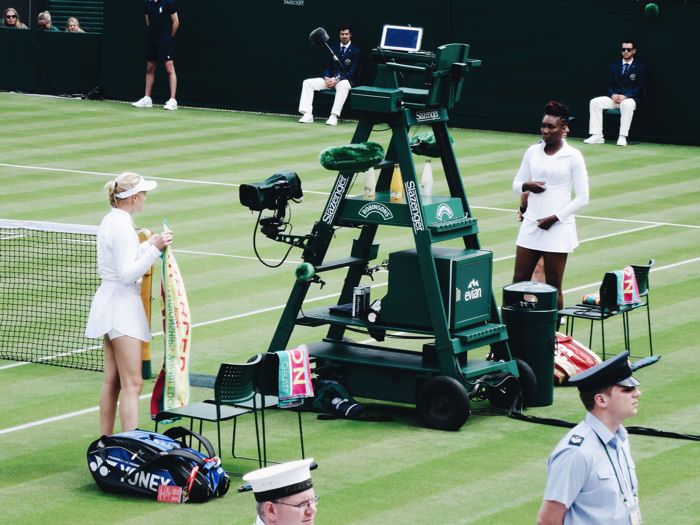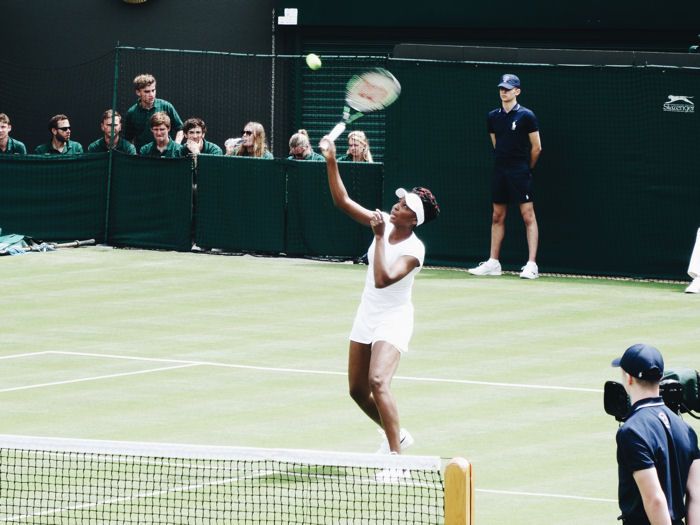 We had incredible seats in the second row, just above one of the scoreboards –  I dread to think how many times my sun suffering face made it onto the television! This match was quite close at times. Vekic was playing well, but Venus kept calm and came through in two sets. Seeing Venus rip winners to the corners of the court was incredible, as was the uncontrollable smile on Vekic's face as she hit an ace to secure a break point in the otherwise somewhat one-sided second set. Other highlights included a rogue ball from Venus's racket heading straight for the umpire and the fact that Wawrinka was sat in Vekic's box.
Next up was Japan's Nishikori against fast serving (like crazy fast serving) Australian Sam Groth. The Australian fan army was definitely out in force, but there were a few Japanese flags dotted around the court too.
Groth's power resulted in quite a few errors and Nishikori came through in three sets despite having the trainer on after the second to work on his rib injury. My point of the match involved Nishikori's racket flying out of his hand after the serve leaving the court open for Groth to hit a winner, only for him to drop his racket too. I mean, WHAT?
The last match of the day was between 2016 Australian Open champion Angelique Kerber and Britain's Laura Robson. Robson's been having a tricky time recently so I wasn't holding my breath for a Brit-win, I did have some hope though, Kerber did go out in the first round at Roland Garros!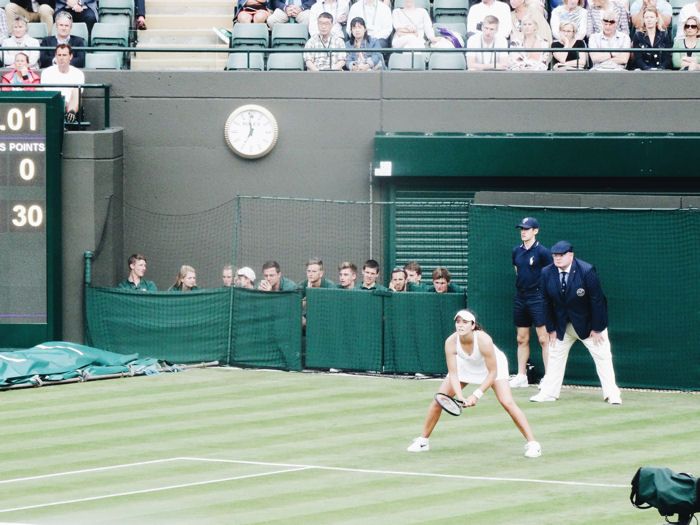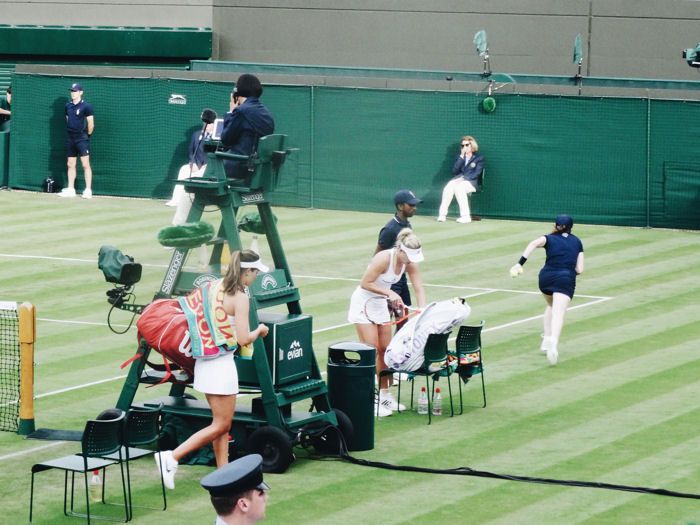 Sadly it wasn't meant to be and Kerber won in a dominant fashion. Robson probably could have done without the added pressure of being on a show court and you know, not playing the fourth seed in the first round.
That was my first Wimbledon experience done and dusted. As I exited through the club's black iron gates I was left with an overwhelming feeling that that couldn't be the end of my Wimbledon 2016 experience!
July 5th, 2016 – Wimbledon Day 8 & The Queue
Obviously by this point seeing Venus had been ticked off my bucket list, hooray! Serena, on the other hand, was still right at the top of it so I tried the daily Ticketmaster allocation for all the days she could be playing, but the rain made it difficult to predict the schedule so when I had a centre court ticket for the Friday show up on my screen I couldn't justify the price without being sure I could see Serena – as it turns out I completely missed my chance (damn you risk averse brain!) and had I bought that ticket I would have seen the Serena/McHale showdown! Ugh.
Anyway, I had no further luck on Ticketmaster, including for the monumental 'People's Sunday', so by quarter finals day, I decided I had to try The Queue. A little bit of research told me that if I got there early morning I'd stand a good chance at the Centre Court allocation (which would mean I could see Serena) but if that failed I'd almost definitely get Court 1 (the Venus QF). Alas, thanks to living in the sticks, I narrowly missed out on Centre Court but happily opted to see Venus again. The pair of them were also due to play a doubles match on an un-ticketed court so I still had hope!
The Queue is an amazing experience. Organised by 'Honorary Stewards' who all seem to resemble that really nice exam invigilator, but happier, it's a really smooth ride. The time went super quickly even though we were standing around for a solid few hours before the gates opened. I'd definitely do it again.
Once our tickets were purchased, we had a little rest in the shade then headed to the practice courts. This might have been the best decision I've ever made. In the space of a few hours we saw Navratilova, McEnroe, Raonic, Tsonga, Cibulkova, Kasatkina, Gavrilova, Querrey, Pavlyuchenkova, Mirza …. then, out of nowhere, Federer magically appeared, like one second he wasn't there and the next he was already hitting forehands. Wow. Murray was also practising in the distance and a tonne more players walked by including Konta and Kerber!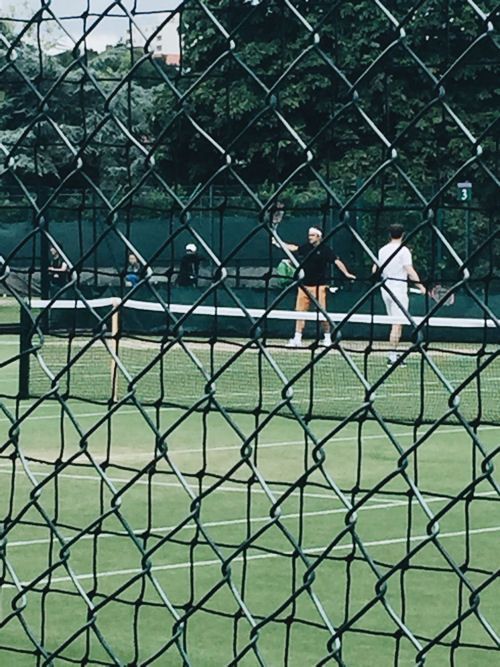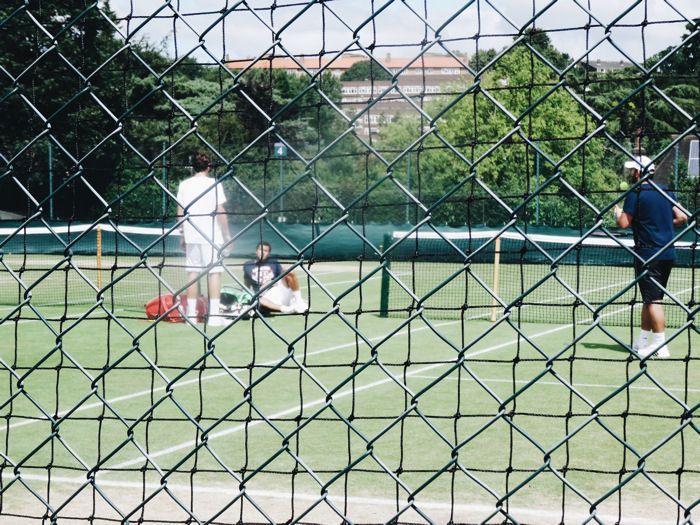 Observations from the practice courts: Tsonga takes a lot of sit down breaks and everyone (including the other players practising) stops to watch Federer.
Soon enough we headed to our (ridiculously good) seats in Court 1 ready for the Venus/Shvedova quarter final.  It's super fun to be sitting surrounded by everyone who was in the queue with you, a very jovial atmosphere!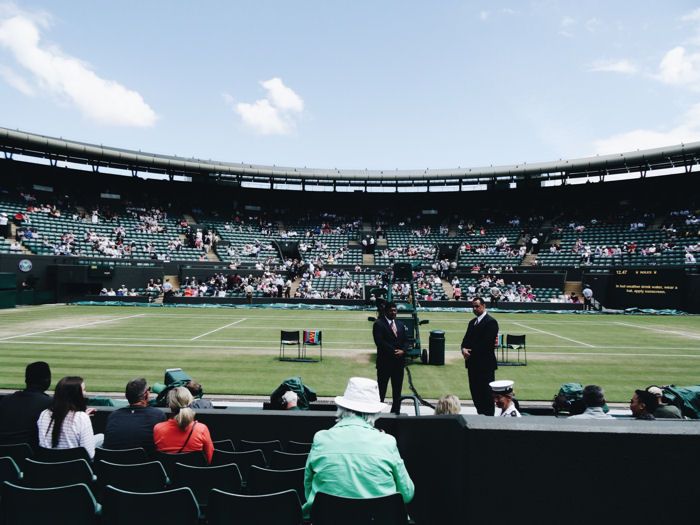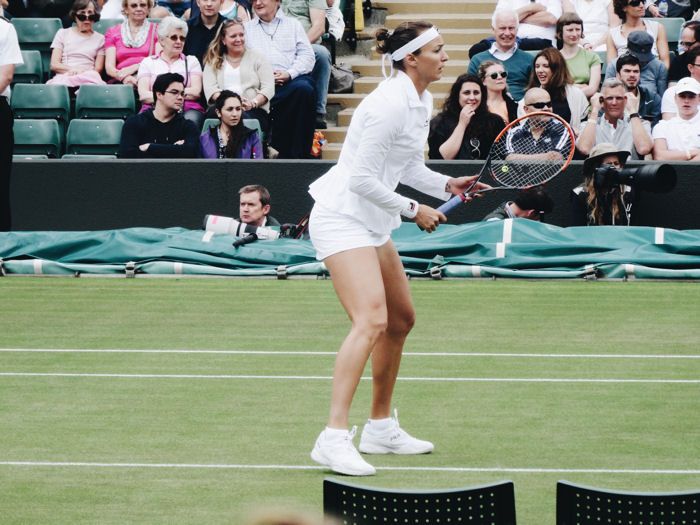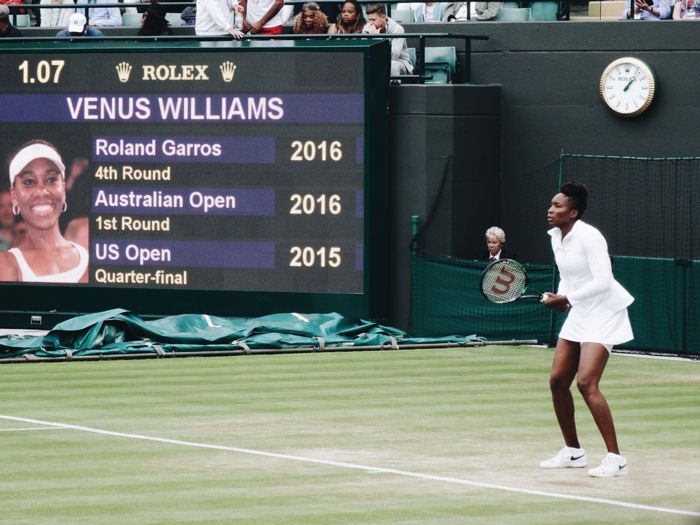 It was an honour to see Venus play again and play so well. I'm so happy she's had a strong run at this tournament. Who'd have thought, back in 2002, that she'd still be making Wimbledon semi finals?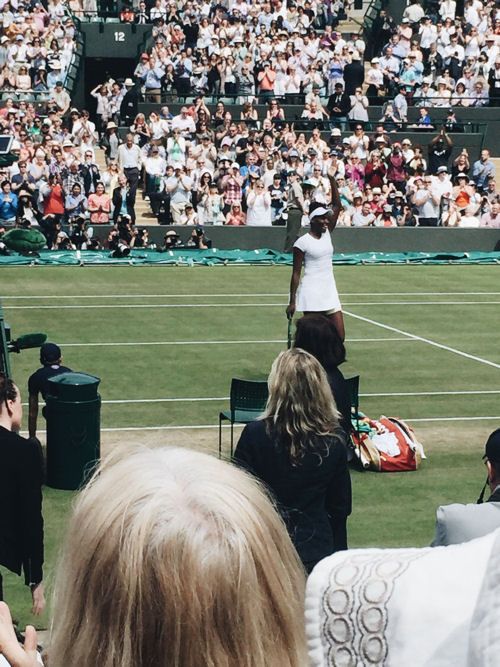 The second quarter final match between Cibulkova and Vesnina was a bit of a slog, so after Vesnina was a set and a break up (and in the knowledge that Serena's semi was about to end on Centre Court) we headed out to Court 3 to try and get seats in preparation for the Williams sisters' doubles match.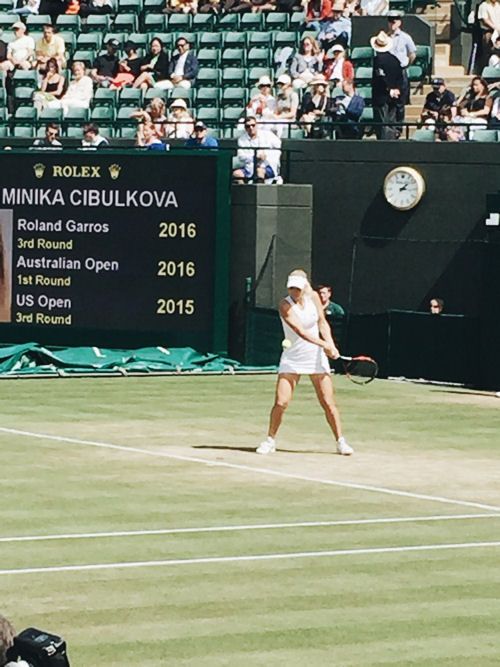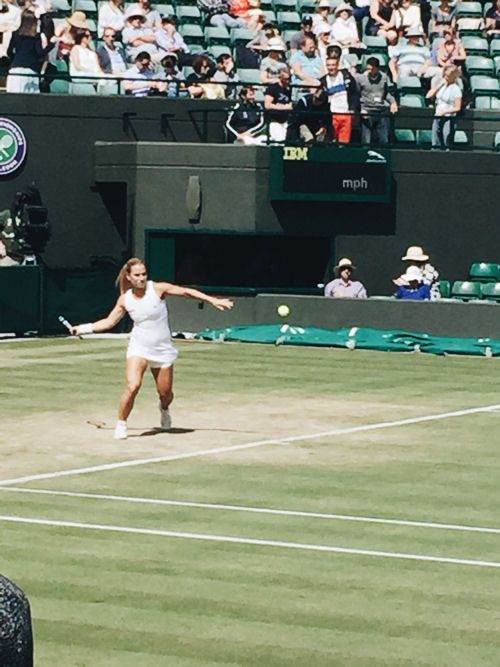 Luckily we arrived early enough to walk straight in, secure great seats and catch the second half of the Petkovic/Tusurnov vs Vesley/Siniakova doubles match. Doubles is always great fun and this was a good match – Siniakova was particularly impressive at the net leading to some great points.
Siniakova/Vesley won in three sets then there was around a half hour break during which time every seat on court three was taken and a queue had started to form around the stadium. I didn't let myself believe I was actually going to get to watch Serena play (I was convinced they would withdraw having both won singles matches earlier in the day) until the Williams sisters' mother took her seat in the stands. Then I got very excited and started to well up behind my sunglasses.
Hlavackova & Hradecka arrived on court way before their opponents which only increased the anticipation in the stadium. Then it happened. Venus and Serena strode onto the court. It was a pure joy to watch the sisters play together.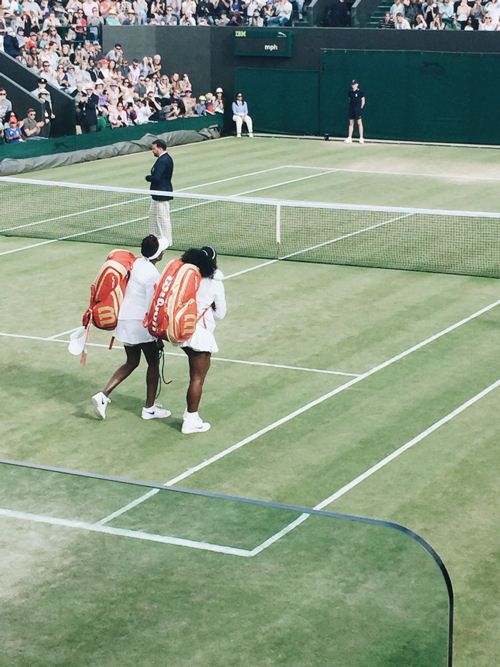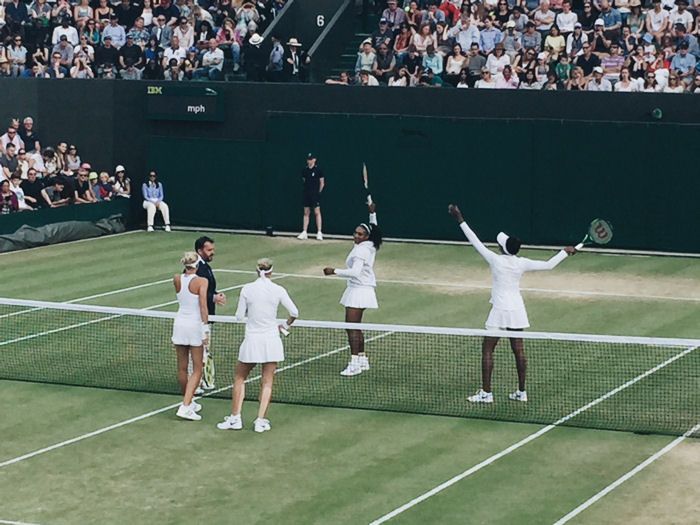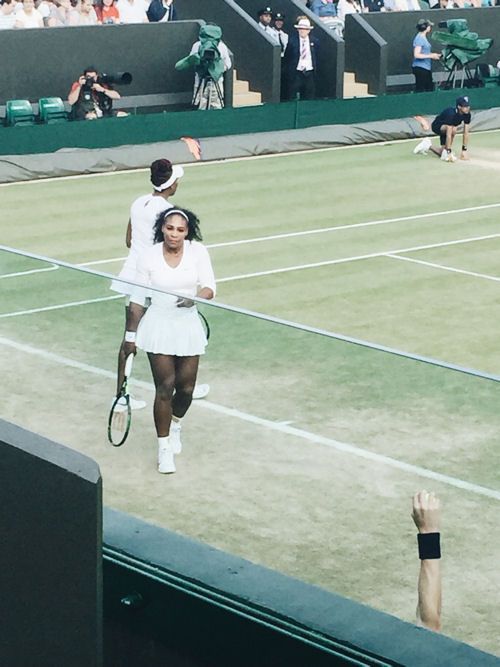 There was so much about this experience that I loved. From Serena's apprehensive sorries to her sister when she shoved volleys into the net …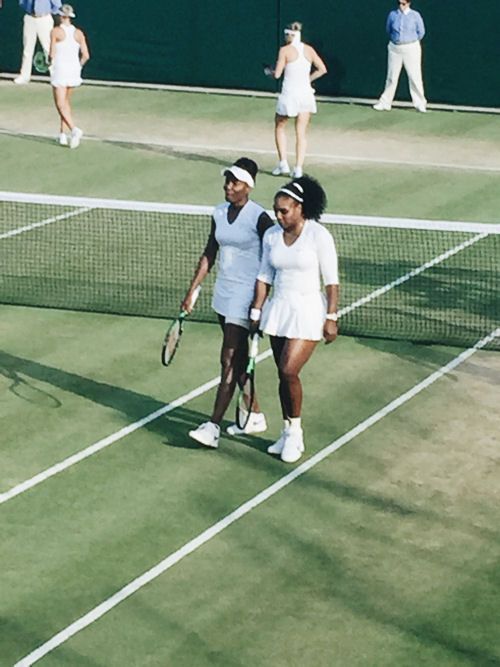 … to Serena's prowling at the net while waiting for her sister to serve …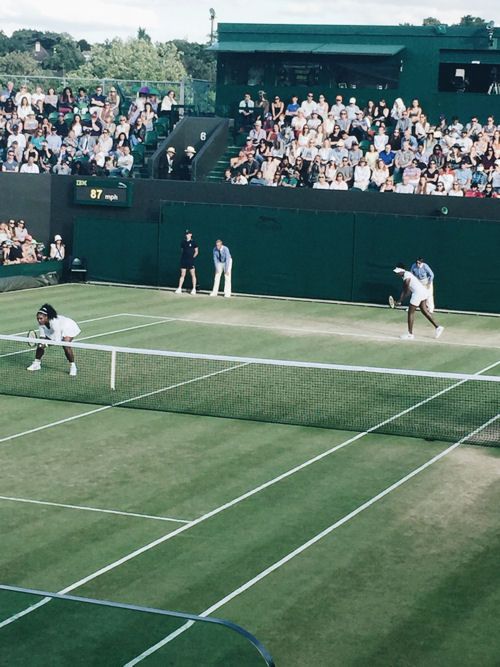 … to the stamping of her feet when frustrated with her serve and the subsequent awe-inspiring aces …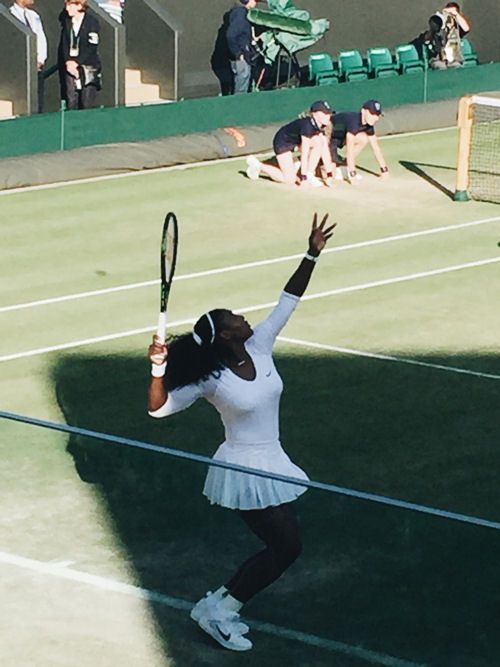 … to the sheer jovial disbelief on the faces of all four players when a powerful smash from Serena's racket went straight to the racket of her opponent and somehow made it back over the net. Then finally, the high five when they secured a two set victory …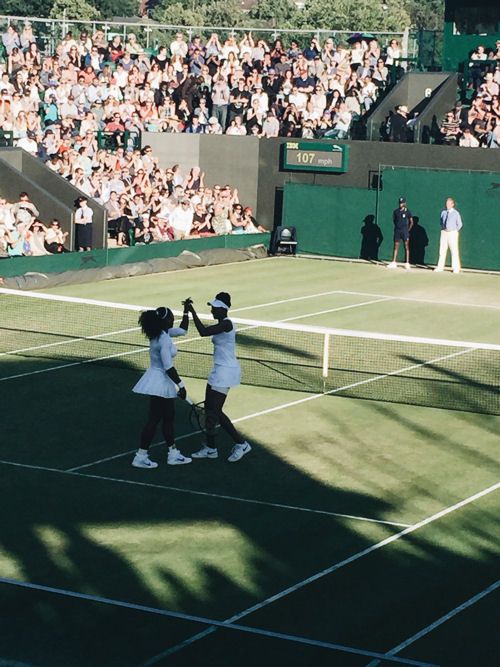 In hindsight, I couldn't have asked for more. Williams sisters' doubles matches are somewhat of a rare occurrence these days, who knows? this could have been my sole opportunity to watch them play together! Seeing Serena play a singles match can wait till next year.
Overall, for a Wimbledon first-timer, I think I did incredibly well, it was so nice to feel part of the event.  I exited the grounds via the Wimbledon shop where I picked up one of the towels as a memento. Believe me when I say I'll be doing everything in my power to be back next year.