Affiliate links are marked with an asterisk. Learn more.
I've just got back from a staycation in St Ives, my second Cornish holiday in as many years having loved Looe last year. We totally lucked out with the weather, arriving at the start of the UK's June heat wave which'll probably end up being the warmest week of the year! St Ives' multiple beaches looked stunning under clear blue skies, properly picture perfect (the kind of thing you'd see in a brochure) but the warm weather definitely brought people out and it was pretty darn busy even though the school holidays don't start for a good few weeks!
St Ives definitely feels like a resort, two of its larger beaches have a life guard presence and the shops are very much holidaymaker orientated, in fact, apart from a few fishermen you'd be hard pressed to pick out a local at this time of year. That being said, it does make for an easy week away, my papa forgot to bring a hat and I forgot flip flops, both of which we found in multiple shops; there's a wide variety of restaurants and always something to do out on the water if you're that way inclined. Easy, fun, but not necessarily very authentic.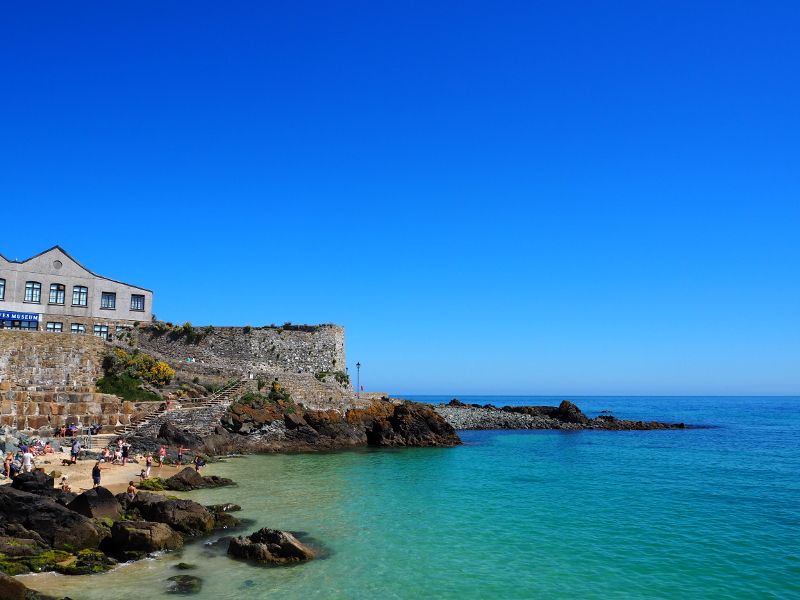 Although we enjoyed wandering around the St Ives coastline I'm not one to sit on a beach for too long; not least because the St Ives seagulls are outrageously vicious. I saw a grown man knocked to the ground as twenty or so of the pesky birds circled on him for the remnants of his ice-cream cone. Instead, we used St Ives as a base to visit some nearby Cornish Landmarks: Land's End, The Minack Theatre, St Michael's Mount (the most perfect castle I've ever seen) and Lanhydrock House. As a location, St Ives suited us very well indeed!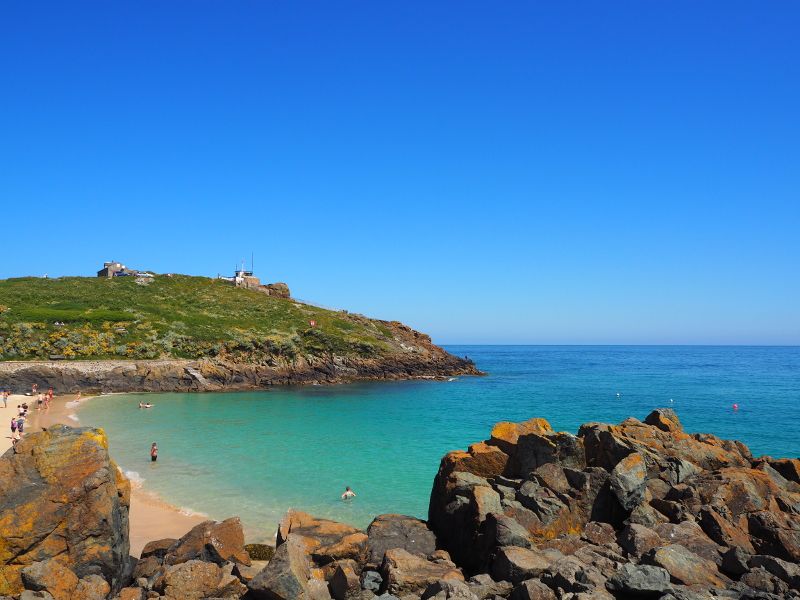 Where to Stay in St Ives, Cornwall.
The best place to stay in St Ives depends on what you want from your holiday. Porthmeor beach is probably the biggest and best in terms of surfing and other watersports and the apartments overlooking it are probably the best options if a beach holiday is what you're seeking. Similarly, The Digey area wedged between St Ives' main shops and Porthmeor hosts quaint little cottages with easy access to both.
When we look for somewhere to stay car parking is our initial concern and I definitely wouldn't want to stay in St Ives without some sort of guaranteed parking space. We also dislike being right in the bustle of the town so ended up opting for an apartment a few minutes walk from the shops, it overlooked St Ives harbour (an absolutely stunning view) and had its own car park behind the property.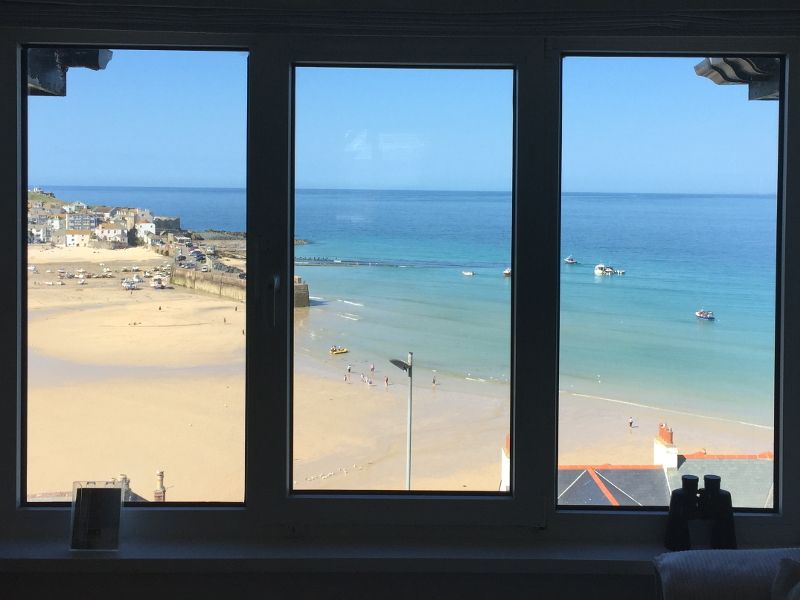 Harbour Lights, Malakoff Apartments, St Ives.
We booked Harbour Lights via Carbis Bay Holidays who made every aspect of our holiday very easy and even provide a cream tea upon our arrival. It sleeps four but would be quite cramped with more than three people, the kitchen is super thin and there definitely aren't enough wall sockets in the twin bedroom for two teens! That being said, the view from the living room and main bedroom is to die for and the car park (although tricky to enter/exit in an estate type car such as ours – lots of reversing back and forth!) brings peace of mind. It's a few minutes walk down to the shops and includes decent wifi. For the view and convenience, we'd stay here again.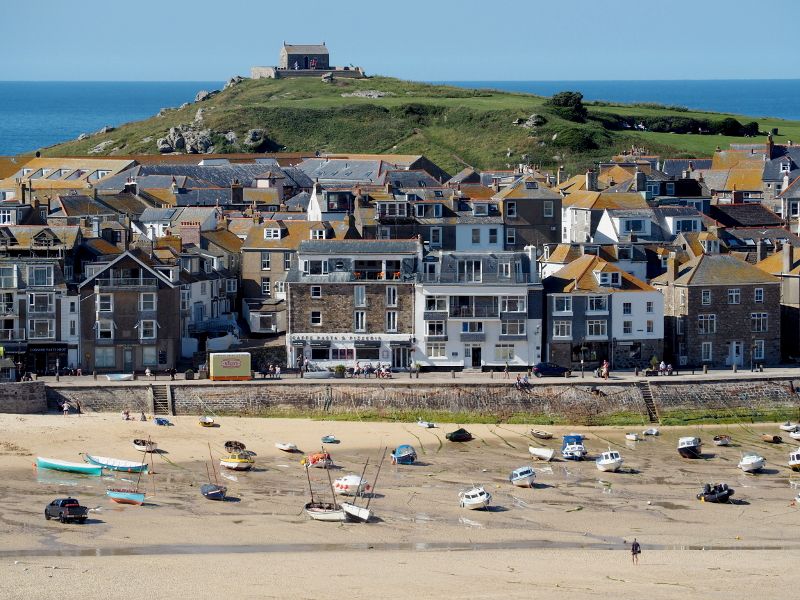 Where to Eat in St Ives, Cornwall.
We only sampled a few of St Ives' many restaurants but were impressed by the array of food on offer. Hub, situated on the harbour front offers a selection of US style cuisine. I really enjoyed their 'Kim Yum Chick' burger – buttermilk chicken with Korean BBQ sauce, it definitely lived up to the yum in its name. Again on the harbour front, Caffe Pasta provides a reasonably sophisticated range of Italian food but their blood orange sorbet was my highlight of the meal.
For quick eats we popped into St Ives' own Wetherspoons (The Hain Line) which was the kind of cheap and cheerful you expect from the brand; had a few too many pasties from The Cornish Bakehouse having adored them last year and enjoyed a very rich hot chocolate at The Cornish Bakery.
Breakfast in St Ives, Cornwall.
By far the best meal of the trip came from the cafe on Porthmeor Beach. We popped along for brunch on our last day and were wowed by the views and build your own cooked breakfast menu. The food arrived super quickly and was possibly the best quality cooked breakfast I've ever had. I really regret not discovering this gem earlier in our trip, the plates of fruity pancakes speeding past our table looked wonderfully delicious as well!
Overall, St Ives is a great spot for a family beach holiday and a good base for exploring some of Cornwall's most famous landmarks. As a town, it's highly convenient for a holidaymaker but doesn't feel particularly authentic.
Have you ever holidayed in St Ives?